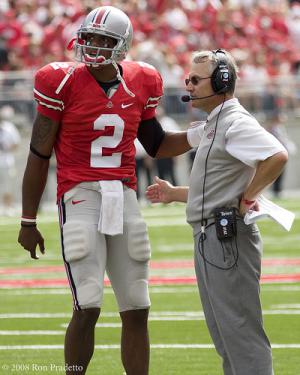 It's a little odd for me to be writing this piece. The first story I ever wrote for this site, all the way back in January while I was still hungover from New Orleans, concerned Terelle Pryor. It looked at the exasperating and exhilerating experience Pryor's journey had been, when there was little hint of the trainwreck waiting to unfold.
Back in the depth of winter, we were all feeling pretty damn good about things. So while the tattoos and memorabilia were troubling, in truth the strongest glare and harshest words came from those who felt he wasn't developing fast enough as a passer, rather then any serious questions about his character. 
In the midst of some semi-serious looks at stats and background on the evolution of our offense, Old Jake, like many of us I think, spared little thought for any real consequences down the road. In fact, I even ended the piece with a less-than-flattering bout of optimism that seems quite foolish in hindsight:
If nothing else he's been entertaining, and I can't wait to see what he'll do in 2011.
I could wait now.
But as easy as it is for many to cast Pryor as the Villian, Tressel as the Martyr, and Buckeye Nation as the Victim, it is also true that Pryor gave three years of his life to Ohio State, tainted as they may have been, and his career here will leave a lasting legacy, both good and bad.
While he may not have been the most important person in Ohio, he was certainly one of the most important figures at Ohio State, and one of the most accomplished players in Ohio State history. With stories about $40,000 kickbacks, a sportswriter advocating blackmail, and mass hysteria, we can often forget how truly exhilerating Pryor was to watch on the field. 
Pryor has always been a human highlight reel, flashing off big runs in a seemingly effortless stride. While other players fly around, legs churning and turf flying, Pryor seemed to glide across the field in slowmotion. More times than I could count, Pryor would slide out of the pocket, whether his protection broke down or he merely panicked, only to turn a corner with a dazzled defended tackling air where he should have been. Even in high school, his preternatural gift for evasion was more than evident. 
Pryor's "arrival" game was, of course, the Rose Bowl against Oregon. Easily his best passing performance (266 YDS, 2 TDs, 1 INT), Pryor played through injuries and still managed to eviscerate an active and tough Oregon secondary led by Mighty Mite T.J. Ward. Even more impressive, shown at 1:03 in the clip below, was Pryor's sheer physical power to go along with his gazelle-like gait. On that play, Pryor literally pushes the Oregon linebacker to the ground. That backbreaking stiffarm served him well throughout his career at Ohio State, and I will miss it. 
Pryor will never be remembered fondly by Ohio State fans, and for good reason. He lead the pack in pushing, and eventually tearing apart, the rules the NCAA set in place. In so doing, he helped to seal the fate of one of the most successful coaches in Ohio State history. But Tressel was a grown man, specifically charged with enforcing those rules. No one forced Tressel to lie to the administration, least of all Terrelle Pryor. So while I am dissappointed in him, and angry with him, I don't hate him. His betrayal was not of the first degree; he destroyed through arrogance and stupidity, not malice aforethought. For all his faults and triumphs, he does not yet deserve forgiveness, but he certainly deserves a shot at redemption.