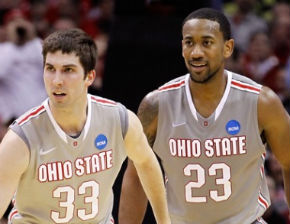 Good morning 11W fans and welcome to your Thursday Skull Session. You get the pleasure of enjoying my company for the second morning in a row, and I promise, no Buckeye football recruiting in this version of the Skully.
Instead, we will discuss tonight's NBA Draft which will take place at the Prudential Center aka "The Rock" in Newark, New Jersey. Yes, I know what you're thinking-that is the same arena the Buckeyes fell to Kentucky in the Sweet 16 last year, but fear not Buckeye fans, this time I think The Rock will treat the Scarlet and Gray a little better in terms of positive news.
There are various mock drafts out there, but here a few that feature some Buckeye power. NBADraft.net has only David Lighty being selected with the 55th overall pick to the Boston Celtics. Draft Express also only has Lighty being picked but a bit earlier to the 76ers at 50th overall where he'd get the chance to team up with The Villian again. Fox Sports Ohio tabs Lighty going 45th to New Orleans, while giving the Threebler some love by mentioning him as one of thng e best left out of the draft, as does NBA Draft Insider.
Final Verdict? It appears David Lighty will definitely hear his name called while Jon Diebler has a shot to be picked, but will most definitely get a shot to sign on with him a team due to the way he can make it rain from 3-point range. Unfortunately for Dallas Lauderdale, he'll probably have to hope someone wants to stash away an average defender who can rebound with no offensive ability on their D-League roster, or take a whirl with international hoops. Hey, if Matt Terwilliger can play for six figures in Germany, anyone can.
Anyway, enough of this NBA stuff. There may not even be a season next year! Time is ticking away and you know what that means.....here come's your Thursday skull session.
Mark Cuban in baseball=AWESOME. Whether you're a baseball fan or not, I think one thing we can all agree on is that bringing Mark Cuban into the game could make things a bit more exciting. Just a few weeks after David Stern had to grudgingly hand over the trophy his arch-nemesis, the Mavericks' owner has jumped back into the news by saying he wants to buy the Los Angeles Dodgers.
The man who brought free Chalupas for 100 point marks to the NBA, has tried to get into baseball before, more seriously in his bid to purchase the Chicago Cubs, and less seriously in conveying interest in buying into the New York Mets. Both times Bud Selig and the league have pushed against having Cuban and his antics enter Major League Baseball, but with the Dodgers in a bunch of financial trouble right now, the league may not be able to resist the money the Indiana alum can provide in an offer. 
Indiana reunion for Cheaney. For a few years now, Tom Crean has been looking for a way to bring back tradition to Indiana basketball. He has reached out to some of the greats, including Bob Knight, but has failed miserably in attempts to instill the Hoosier pride that the Crimson and Cream has been known for over the years. Finally, Crean may have taken a step towards bringing the tradition back, as he recently named Calbert Cheaney as director of basketball operations for the program.
Cheaney is the Big Ten's all-time leading scorer and was named conference and national player of the year for the Hoosiers in 1993. He went on to play in the NBA for 13 seasons with 5 different teams after being selected 6th overall in the NBA Draft. There is no doubt he knows the game of basketball and bringing someone like this back to Bloomington can only help the Hoosiers.
What won't help them is the lack of talent they have on the floor this upcoming season, which may just be good enough to land them an NIT bif. Maybe.
John Peterson throwing jabs. While I promised we won't go into OSU recruiting, I just can't stay completely away. Adam Jardy over at the BSB caught up with Buckeyes' recruiting coordinator John Peterson shortly after the staff got word from Kyle Kalis that he de-committed. Jardy and other media members asked the Buckeyes' tight ends coach about players de-committing and here's what he had to say:
"An old coach told me, 'When you commit somewhere you want to make it solid.' I always correlate it to getting engaged. When you get engaged, you want to make it solid. If you have a doubt, then guess what? You probably shouldn't be engaged. We'll get married in February, but if you have questions then guess what? We don't want to be engaged. We don't want to have a commitment. We want guys who are solid and confident in what they want to do. Those are the kind of guys we want at Ohio State."
I couldn't agree more with John and while many bring up the point that sometimes the Bucks are the beneficiaries of de-commits (Bradley Roby to name one on the current roster), I would counter that point to say that obviously they weren't 100% sure that where they committed was where they wanted to go in the first place so the theory still applies that the player shouldn't have been engaged to the first school.
Nonetheless, it sure seems like J-Pete was speaking between the lines directly at Kalis and took a bit of a shot at the St. Ed's star lineman. All I can say is right now we need people who want to be Buckeyes to help the school get through tough times and if Kalis isn't one of those players, maybe it's best he goes somewher else.
Adam Rittenberg fail. Let me preface this by saying that while you may or may not like ESPN, Adam Rittenberg does a darn good job over there on the Big Ten Blog. Now, with it being established that I enjoy Rittenberg's work, I must say I have to disagree with his Big Ten Wide Receiver Rankings released yesterday.
Rittenberg ranked DeVier Posey 8th on his list, putting Jeremy Ebert, Derek Moye, Marvin McNutt, Roy Roundtree, Damario Belcher, BJ Cunningham, and Da'Jon McKnight ahead of the Buckeyes #1 receiving target. While those are all really good players, I'd probably put a decent amount of money on the odds that Posey gets taken before all of them in next year's NFL Draft.
Of course, Posey has been inconsistent at times and won't have an experienced quarterback throwing the ball his way (although he'll now have one that knows how to throw a slant properly), but in terms of straight up talent I'd probably put Posey up against anyone in the country.
Out of the four players currently on the roster that will be suspended the first five games, I think the Buckeyes are going to miss Posey the most. What are your thoughts and where do you think DP8 should be ranked on this list?
Welcome the new basketball Buckeyes. The other day I whipped a piece up on the OSU football class of 2011 (sans Ejuan Price) arriving to campus. What I didn't touch on was that the basketball class of 2011 arrived as well and are ready to get to work.
The newest version of the "Thad Five" is made up of McDonald's All-Americans PG Shannon Scott and C Amir Williams, Michigan F/C Trey McDonald, Chicago F/G Sam Thompson, and New Jersey F LaQuinton Ross. Williams is the only one yet to arrive on campus, as he awaits clearance for paperwork on his last test score, but his high school coach said he should be headed to Columbus in no time.
Each of these players brings something different to the table and all can help the Buckeyes in pursuit of their first national title since 1960. The aforementioned Williams stands at 6-10 and will be able to bring an athletic big man for Matta to play alongside Jared Sullinger. Scott is a true point guard who has great floor vision, but also possesses the ability to score by either pulling up and shooting or driving to the lane to create his own shot. McDonald is long and athletic, but will need some seasoning as he is a bit raw. Thompson is an athletic freak and can play above the rim better than anyone on the roster. Finally, Ross may end up being the best pure scorer in this class and can put the ball in the hoop from anywhere on the floor.
It's safe to say that even without these five players that the hoops team would be a national title contender his upcoming season. Add these five players to the mix, and you have the recipe for something very special.