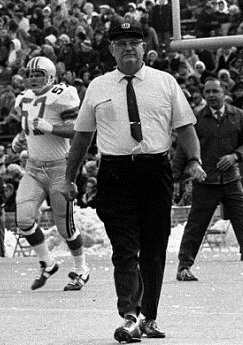 Ever since Jim Tressel resigned as head football coach at Ohio State, commentators have been trying to assess his record and his legacy. One thing is certain: he has cemented his place as one of the all-time greats, not only at OSU but in college football. However, the way his career at OSU ended, as much as his record, invites comparisons with the greatest of all coaching legends at Ohio State: Woody Hayes. As we will see, there are plenty of other reasons why the comparison is relevant. Before that, let us examine the experiences and events that shaped them in their youth.
Wayne Woodrow "Woody" Hayes was born in Clifton, OH, a small village between Dayton and Springfield in land-locked western Ohio. Growing up on the other side of the state in Newcomerstown, he struck up a friendship with legendary baseball pitcher Cy Young. Hayes attended Denison University in Granville OH and played offensive tackle for the football team. He served in the U.S. Navy in World War II, eventually reaching Lt. Commander. Hayes became head football coach at Denison right out of the Navy, and never served as a college assistant.
Jim Tressel was born in Mentor OH, a suburb of Cleveland that sits on the coast of Lake Erie in northeast Ohio. His father, Lee Tressel, was a football coach at Mentor High School, and he ultimately moved the family to Berea OH when he accepted the job as head coach at Baldwin-Wallace College.  While there, Jim Tressel became friends with legendary Ohio State and Cleveland Browns kicker Lou Groza. Tressel attended Baldwin-Wallace and played quarterback under his father. After graduating, he served as an assistant at Akron and Ohio State before accepting the head coaching job at Youngstown State. 
One man was shaped by his military experience and his personal experience playing offensive line. The other was shaped by his father (who also served in the Navy during World War II) both as a football coach and a man. One was known for his fiery temper as much as for his wins. The other is known for his calm, cerebral manner and for his less-than-exciting interviews and press conferences. Looking at the years and events that forged them as individuals, it would seem that they are as different as two men can be, aside from their shared interest in sports. 
The similarities begin when considering their time at Ohio State. Woody Hayes was hired even though he was less well-known than others who were considered for the job, including former OSU head coach and future Pro Football legend Paul Brown. Ohio State hired Tressel over Minnesota head coach Glen Mason and Pitt head coach Walt Harris. Both were expected to turn the program around after humiliating home losses to Michigan. Neither of them set the world on fire in their first season.
Woody Hayes ultimately coached at Ohio State for 28 years, winning 76.1% of his games for a record of 205-61-10. Tressel coached the Buckeyes for 10 seasons, winning 82.8% of his games for an overall record of 106-22. Hayes won 3 consensus national championships and 5 overall. He also won 13 Big Ten conference crowns. Tressel won a national championship at OSU, plus 4 others at Youngstown State to make it 5 overall. He won 7 Big Ten championships in his 10 years as Buckeye coach. Hayes beat hated arch-rival Michigan a record 16 times; Tressel 9 times. 
Despite the similar success they had on the football field, the biggest similarity between the two men was how they took care of their players off the field, and how they taught their players how to succeed in life. The story of how Jim Tressel guided his troops with a message of public service and sacrifice has already been described in detail here. However, in doing so, he was following in the footsteps of the great one. 
The stories about Hayes from former players are as legendary as his coaching record. One player said that Hayes would send coaches over to your dorm if you missed a single class. Another said that the old coach was the biggest reason he was motivated to attend law school. Hayes regularly visited Childrens Hospital and Riverside Hospital in Columbus, and usually brought gifts with him. He made a special effort to visit patients that had not had many visitors. And he frequently brought his players to the hospital with him, especially the star players. 
It would be easy to fill this space and many more with stories and anecdotes about the human side of Woody Hayes. The theme would be the same one that prevailed with Tressel: a man doing the right thing at a time when the cameras were not rolling and the reporters were not watching. Most people who have heard of Hayes know about the angry outbursts and about "the punch" but how many know about the hospital visits and the academics? How many know that Hayes was an amateur historian who was admired by many of the university professors for his dedication to the subject? 
Ralph Waldo Emerson once wrote
"In the order of nature we cannot render benefits to those from whom we receive them, or only seldom. But the benefit we receive must be rendered again, line for line, deed for deed, cent for cent, to somebody."
Woody Hayes was familiar with this passage, and the idea it embodies became the basis of his "pay forward" philosophy. The players who benefit from their time at Ohio State cannot ever pay the university back for all that they receive. Thus, they need to pay the community forward with acts of service and sacrifice. 
Ultimately, this is the biggest similarity between Hayes and Tressel. While it is true that both men were forced out "in disgrace", they both lived out their convictions off the field in the area of public service. They paid it forward, and all of us who have been part of the central Ohio community are beneficiaries. Both men have left a legacy that will carry on long after they have passed away. Neither ever asked for a pat on the back for their efforts. And that is as it should be.