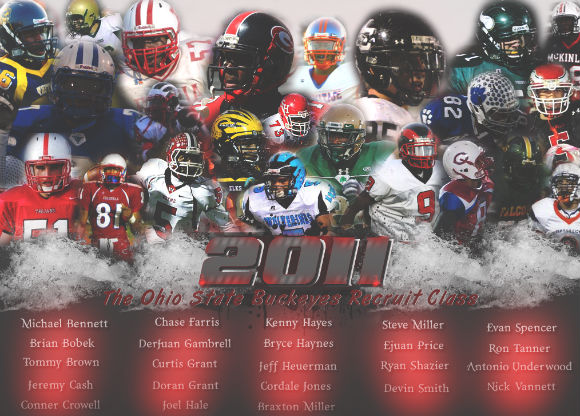 February 2, 2011 seems light years ago, but on that day just four months ago, The Ohio State University football program accepted the national letters of intent from 24 of the country's best high school football prospects who decided they would take their talents to Columbus to play for the Buckeyes.
Ranked as a consensus top 10 recruiting haul across all media outlets, the class had an average star ranking of 3.54 according to Scout.com and included 9 players that were ranked within the top 10 at their position nationally. The group featured 7 players who were either Army or Under Armour All-Americans and Scout ranked 9 of the players in it's top 100 high school prospects for the year. In summary, it's no secret that the OSU recruiting class of 2011 was a special one with tremendous potential.
The reason we speak about this class with such high regard on this Monday afternoon is because today marks the first day that the newest crop of recruits are officially enrolled at OSU for their first quarter of classes. This is the first deep sigh of relief for new head coach Luke Fickell, as it was unknown for a while how some of the recruits would react to the on-going issues currently facing the program. While the staff saw 24 letters of intent roll in earlier in the year, only 22 players will be starting classes today, but nonetheless this a great feat and exciting time for the future and new era of Buckeye football.
Ejuan Price became the lone defector of the class after receiving his release from his LOI late last week to pursue other opportunities. Price was always a little "iffy" about his pledge to the Bucks and it seems Jim Tressel resigning last month was the final straw in this recruiting saga. It is probably best for all parties involved that this move occurred now instead of a year or two down the road.
The other prospect who is not yet enrolled is former Glenville quarterback Cardale Jones. Jones will be enrolling in prep school throughout the fall to get some valuable reps at a high level of competition while gray shirting. He will enroll at Ohio State in January with four years of eligibility remaining. I think this is a great move for both parties as Jones has the opportunity to learn and develop and created either one or two (if he redshirts in fall 2012) years of separation between himself and Braxton Miller.
As for the players who are actually reporting on time, the Buckeyes were fortunate to have seven players enroll early. LB Ryan Shazier, S Jeremy Cash, DL Joel Hale, TE Jeff Heuerman, and QB Braxton Miller all began their OSU careers in January, while OL Tommy Brown and S Ron Tanner came on board in March for spring quarter. Having 1/3 of the class being able to participate in spring practice while also getting a head start on acclimating themselves to the challenge of balancing playing high level college football and handling a college curriculum is invaluable and will go a far way come fall camp when these players are way more prepared to begin the season than your average freshman.
The rest of the players aren't far behind, though, and have all been working out and participating in track, basketball or other sports prepare for their careers in Scarlet and Gray. It seems many of them have been in touch, especially in recent light of the events that have gone down since December. The good news for Buckeye fans, based on the words of Curtis Grant, is that hard times seem to have brought this group close together before they even stepped foot on campus.
Speaking of Grant, he appears to be a leader in this class and should vie for immediate playing time both at linebacker and on special teams. The other players enrolling today that will be joining him on the defensive side of the ball include CB DerJuan Gambrell, DE Steve Miller, DE Kenny Hayes, DL Chase Farris, LB Conner Crowell, and DT Michael Bennett. While OSU seems to be stacked on defense this year, any of the aforementioned players are capable of cracking the line-up for some playing time throughout the season in addition to Hale, Shazier, Cash, and Tanner who have a leg-up through getting reps during spring ball. As always, the future is bright for the new crop of Silver Bullets and the talent is certainly abundant.
On the offensive side of the ball, we welcome to town C Brian Bobek, OL Antonio Underwood, OL Chris Carter, WR Evan Spencer, WR Devin Smith, TE Nick Vannett. The lone specialist in the class is LS Bryce Haynes. Out of this group of players, I full expect Underwood and Carter to redshirt, while I expect to see both Spencer and Smith push for playing time in a wide receiver corps that is thin in terms of depth and proven on-field production. Bobek and Vannett could go either way, as both aren't necessarily needed this season, but are talented enough to play as true freshman. I anticipate Haynes taking over long snapping duties immediately and never giving them up until he walks the stage for graduation in four years. Finally, it seems like a done deal at this point that you will see plenty of Braxton Miller and Jeff Heuerman this fall, but it appears Tommy Brown needs some more seasoning and could be headed for a redshirt along with the other linemen in this class.
Overall, this is one of the more talented recruiting classes Jim Tressel brought into Columbus throughout his 10 years as Buckeye boss. This group is made up of not only some of the top players for 2011 in Ohio, but some of the best players from across the nation. While times seem bad in Buckeyeland, the arrival of this tremendous crop of talent provides fans with a bright spot and something to look forward to in the future, no matter what transgresses in the next few months. Thank you class of 2011 for providing light at the end of the tunnel to us today.