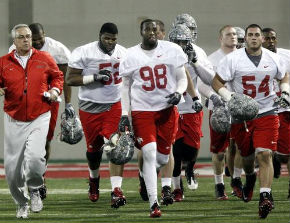 It's no secret that the 2011 football season is going to be a challenging one for The Ohio State Buckeyes. If losing their head coach on Memorial Day and starting quarterback a few weeks later wasn't enough, the team will have to play the first five games of the year without some key offensive players, all the while trying to "silence the doubters" with a cloud of NCAA sanctions hanging over their heads.
The offense will certainly have some growing pains this year, having to break in a new quarterback (possibly a freshman) who will be throwing to a relatively inexperienced group of receivers in a system that doesn't have a true offensive mind calling the plays. Add in Mike Adams, Boom Herron, and DeVier Posey serving the aforementioned suspension for basically half the season, and you really can't expect much out of this unit heading into the new season.
On the contrary, the defense will come into 2011 with high expectations, as there are many players returning to the group that have shown they have the ability to play at an elite level. The Silver Bullets may have lost key contributors like Cameron Heyward, Ross Homan, Brian Rolle, and Chimdi Chekwa, but this is a unit that reloads year after year. With the circumstances surrounding the team this year, it will need to be a group that rises to the occasion, much like many Ohio State defenses before them have done with great success.
It's time to take a look at the 2011 Silver Bullets and how you can expect them to be the backbone of success for Ohio State's 2011 football season.
The Defensive Line
There may be no more important group to the defense's successes or failures than the defensive line. It's all but a proven fact that games are won and lost in the trenches, and I think that will be the case for the Bucks this year, as their defensive line will set the tone for the rest of the unit.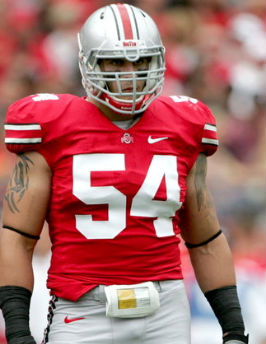 The group is lead by junior John Simon, who had a bit of a "sophomore slump" last year despite notching 41 tackles (8.5 for loss), 3 sacks, 2 fumble recoveries, and a touchdown. A year like that normally wouldn't be considered a slump, but expectations were very high, perhaps unfairly high, for the Youngstown native in his first year as a starter.
I personally think you can raise the bar even higher for 2011 expectations, as Simon is now a veteran on the defense and based on his spring performance, looks like he's ready to become a household name across the nation.
Joining Simon in the rotation at defensive tackle will be Garrett Goebel, John Hankins, and Joel Hale. Hankins made a splash as a true freshman last year, and the 6-3/330 sophomore should be even better this upcoming season. Goebel had a lot of promise as a member of the infamous 2008 recruiting class, and by the looks of it is finally living up to the hype.
Finally, Hale enrolled in January after graduating high school early and turned heads immediately. He is of the same mold as Simon (see: workout warrior) and should learn a lot from "All Flannel Tops" on the practice field, in the weight room, and in the film room. You can also expect Hale's fellow freshman, Michael Bennett, to compete for time at tackle as well.
At defensive end, Nathan Williams is the go-to-guy, returning for his senior year. Williams didn't put up the sack numbers many fans thought he would last year, but he did get to the quarterback 4.5 times last season in addition to 46 tackles (9.5 for loss), 4 pass deflections, 2 fumble recoveries, and an interception. He'll get some help coming off the edge from Sugar Bowl stand out Adam Bellamy, Solomon Thomas (after his 5 game suspension), Melvin Fellows, JT Moore, Darryl Baldwin, and freshmen Steve Miller and Kenny Hayes. Expect some combination of Bellamy, Fellows, and Moore to play opposite Williams with the other players providing plenty of depth.
All in all this should be a very good group. They are all relentless in pursuit of the quarterback and can defend the run with great success as well. The should be able to set the tone for the defense and take some pressure off the linebackers and defensive backs who play behind them which will be the key to the group's success as a whole.
the Linebackers
Penn State is called "Linebacker U" but during the last decade the Buckeyes can make a case to get that title as well. This year should be no different as Luke Fickell brings back another group of very talented athletes at the linebacker position.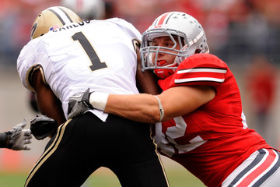 The two players you can pencil in to start are Etitenne Sabino and Andrew Sweat. Being that the Buckeyes play the STAR as the third linebacker most of the time, these two will be the linebackers that see the majority of the snaps at the MIKE and WILL positions respectively.
Sabino was the most highly rated defensive player in OSU's 2008 recruiting class, but his physical athletic ability has yet to click with the mental part of the game. The proverbial light apparently went on this off-season though and Sabino is ready to bring his talents to the middle linebacker position that Anthony Schlegel, James Laurinaitis, and Brian Rolle have manned so well over the last few seasons. The Bucks absolutely need him to have the type of year he is capabale of after taking one for the team and redshirting last year in order to save a year of eligibility.
Sweat dodged that same redshirt last year after beating out Sabino for the SAM linebacker spot in pre-season after coming off a knee injury the previous year. As previously mentioned, the SAM comes off the field often in favor of the STAR, but Sweat still racked up 41 tackles (3 for loss), 2 passes deflected, a forced fumble, and an interception last season. Moving to the WILL position previously manned by Ross Homan, Sweat will be expected to step his game up and I fully expect him to meet the challenge. I think by season's end he will be regarded as better than Homan and will make a ton of big plays for the Buckeyes, while providing a veteran presence and leadership to the defense.
The front-runners to take Sweat's SAM position are Storm Klein and Jonathan Newsome. Both players have in-game experience in the past and will get the chance to compete for the job in the spring thanks to Dorian Bell's likely departure once he finds a new home to transfer to. I think in the end that Klein will be the one to win the job and will have a big role in the defense, especially against the run.
Finally, other places in the mix to see playing time include Jordan Whiting (suspended the first game), Tony Jackson, and freshmen Curtis Grant, Ryan Shazier, and Conner Crowell. I expect Shazier, who was enrolled at OSU for winter quarter, and Grant, who is the most highly rated defender in the 2011 class, to be the two out of this group to see the field at most, pushing Klein/Newsome for time at the SAM position, as well as making an impact on special teams. These are two very special players who have the talent and intangibles to be in a position to see the field earlier than many of their peers do.
In short, the linebacker group is loaded with talent once again. Being that the Buckeyes use two linebackers on the field most of the time, this is a unit that goes three-deep strong at both positions and is set up for success not only this year, but for 
The Defensive Backs
Antoine Winfield, Nate Clements, Shawn Springs, Mike Doss, Chris Gamble, Donnie Nickey, Dustin Fox, Donte Whitner, Ashton Youboty, Nate Salley, Malcolm Jenkins, Donald Washington, Chimdi Chekwa, and Jermale Hines are just a few defensive backs to play at Ohio State and continue their careers in the NFL over the last 15 years or so. That chain continues with the 2011 defensive back group donning the Scarlet and Gray.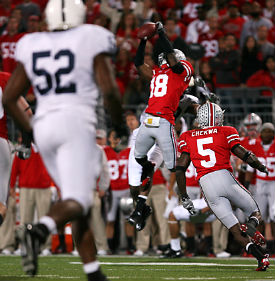 It all starts with Travis Howard who has been self-proclaimed "Howard Island" heading into this season. Howard emerged on the scene during the second half of 2010, after doing much of nothing his first year and a half of action in Columbus. Following a break through performance in the Penn State game in which he returned an interception for a touchdown, Howard went on to finish the season strong, notching another interception in the Michigan game and playing a big role in the Sugar Bowl win after Chimdi Chekwa exited the game with a broken wrist. Howard discovered a newfound confidence and swagger in that game that is carrying over into his redshirt junior campaign in 2011.
Competing for the corner position opposite Howard will be Bradley Roby, Dominic Clarke, and Dionte Allen. It appears as of now that Roby has the lead on the spot following spring ball, but Clarke and the FSU transfer Allen are sure to fight for the starting gig throughout fall camp. No matter who ends up starting, all three players are expected to see significant playing time at corner and on special teams during the season.
In addition to the aforementioned players, don't count out true freshman Doran Grant who arrived on campus last week. Grant is an extremely talented athlete who was rated as a top five cornerback in the nation across the board and has the ability to come in and play right away. His lack of experience at the college level is likely to keep him out of the starting role to begin the year, but he will definitely play a role on special teams and I wouldn't be surprised to see him starting at some point throughout the year.
At safety, Orhian Johnson and CJ Barnett return as starters at free safety and strong safety respectively. Johnson had an up-and-down year in 2010, his first as a starter, but another year of film study and learning on the field should help him be more consistent in 2011. Barnett had a surprisingly great start to the season last year, but saw his 2010 campaign end early, as a knee injury put him on the shelf for the year just three games in. He has made a full recovery and is expected to pick up where he left off.
Backing up Johnson and Barnett at safety will be Zach Domicone, Jamie Wood, Corey "Pitt" Brown, Jeremy Cash, and Ron Tanner. Domicone is likely to be a career special teams player and back-up, but Wood and Brown seem to be on the cusp of hitting their potential and could be very valuable down the road for the Buckeyes. Cash and Tanner are true freshmen who enrolled early this year, something that will be beneficial to them in seeing the field, at least on special teams, in 2011.
Finally, the STAR position will be taken by Tyler Moeller who returns for his sixth year as a Buckeye. Moeller has certainly been on a crazy roller coaster ride during his career at Ohio State, and if anyone deserves a fully healthy season in 2011, it's him. Before a torn pectoral cut his 2010 season short, Moeller was arguably the Bucks' best defensive player and should have a similar game-changing impact this upcoming year.
Providing depth behind Moeller will be Christian Bryant, Nate Oliver, Scott McVey, and Chad Hagan. Hagan and McVey likely won't see the field much after coming off injury-ridden redshirt freshmen seasons, but Bryant and Oliver have plenty of experience under their belts to have an impact on this year's edition of the Silver Bullets.
Bryant filled in admirably for Moeller at the STAR position during his freshman season before his own injury caused him to miss some time. He showed great ability to defend both the run and the pass, something that will suit him well when he makes the transition back to being a full-time safety down the road. He should see plenty of time this year spelling Moeller, while also providing a breather for Barnett and Johnson at either safety spot as well.
Oliver is a seasoned veteran who is likely to be no more than a special teams contributor, but he has enough time in the system to allow Luke Fickell to trust plugging him in to the line up. He never lived up to the potential he had coming out of St. Edward's in Lakewood, Ohio, but he has made some strides the last couple of years and has been a nice reserve player for the Buckeyes.
Summing things up, the Buckeyes defense should be back and ready to go once again in 2011. While greatness is usually expected out of and brought by this unit, this year's Silver Bullets will have to take things to the next level, as they will carry the team, at least through the early part of the season, while the offense adjusts to new personnel and an adverse situation. It should certainly be a wild ride with lots of unexpected things, but as long as the defense is on their game, the Bucks will be just fine this season.