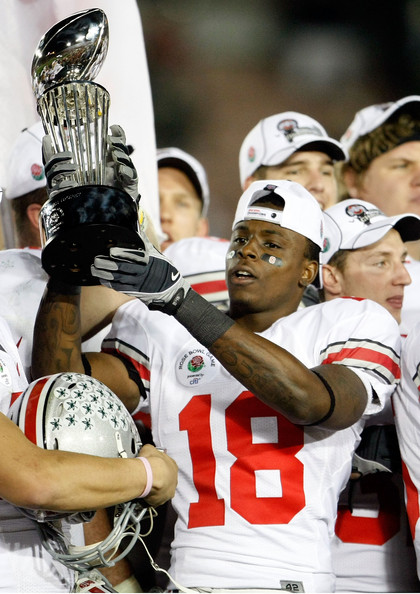 Ohio State will need to replace 10 starters this year and that's not including the five contributors that will be out for the first five games of the season. As such, we'll be profiling several of the potential new contributors over the coming weeks. Previously: Ken Guiton, Marcus Hall, Jack Mewhort.
Travis Howard

| POS | # | HT/WT | YEAR | HOMETOWN |
| --- | --- | --- | --- | --- |
| CB | 7 | 6-0/190 | Junior (RS) | Miami, Florida |
The beginning of the narrative that brought Travis Howard from the sun-kissed confines of Miami, Florida to Columbus, Ohio arise from two contrasting cliche observations of soapbox recruiting analysts a plenty in the Jim Tressel-era. Scout listed Howard as but the 24th best cornerback in the class of 2008 and graded him out as but a 3-star overall. Queue the myopic "Jim Tressel needs to be bringing in more 4 and 5 star national guys, just like the SEC schools do." Tthe same critics that are  of course apropos of nothing with respect to Tressel's track record with turning 3-star after thoughts from the ilk of James Laurinaitis, A.J. Hawk, and Malcolm Jenkins into first and second round NFL Draft picks. Rivals was a bit more forgiving, slotting Howard as their 19th best and giving him a late bump to 4-stars overall. On the flip side, Howard fit perfectly into the "let's bring in some boys from the ol' speed state!" mantra sure to follow the same dead horse beaten "floppy belly" v "fleet of foot skinny o-linemen" alternating memes that controlled the idle chatter on message boards in years past.
Regardless of which side of the aisle you fell on with respect to Howard, upon closer observation, it became harder and harder to dismiss his ceiling as something far more akin to Malcolm Jenkins than say Rocco Pentello. Howard was clocked in the 4.4 range by several in the camp circles and recorded 50 tackles his junior​ year in high school. By comparison, NFL corners Brandon Flowers, Joe Haden, and Bradley Fletcher were but amongst the few in 2010 that accrued greater than 50.
The offers began rolling in en masse by the summer before Howard's senior season. Amongst them were the hometown Miami Hurricanes, in-state powers Florida State and Florida, Butch Davis and North Carolina, Phil Fulmer's Tennessee Vols, as well as Wisconsin and Ohio State. Georgia Tech also piqued the young defensive back's interest with Howard said to favor the two ACC schools interested in him and the two teams that went head to head in the 2003 Fiesta Bowl. Perhaps the greatest sign for optimism to those following Howard's recruitment were high school teammate and close friend Etienne Sabino's high interest in heading north to play for the Buckeyes. The two as a pair came up in late October of 2007 on an official visit and despite leaving without a written offer from the Bucks, with target Brandon Harris not wavering from his own early interest in Miami (of Florida), the wagons began to circle with Howard as a possible target to help fill the Buckeyes' secondary depth chart. But a few days later, procedural bureaucracy came to a resolution and Howard both received and accepted an offer to join Ohio State's 2008 class.
Despite Ohio State having a history in Florida, it seemed somewhat surprising at the time for Ohio State to not just land one Miami product but two. While the original link is lost the annals of recruiting lore (via Bucksnut's migration to 24/7), one of Howard's high school coach had this to say on his abilities:
Krop assistant coach and former Florida State star Lamont Green is sold on Howard, saying the two-year starter is "our best football player."
High praise particularly considering the sort of buzz surrounding Sabino during his respective recruitment.
Flash forward to Coach Tressel's (now) annual National Signing Day Presser at the beginning of February, 2008. With the then baby faced informal class magnate Michael Brewster at the podium, the lauding of Howard continued:
Travis Howard, I think, was the steal of the class because no one really knew about him, but after seeing his film, he's definitely a special player, good guy.
Even in his infancy as a Buckeye, it's hard to miss the obvious Tressel'isms though still certainly still some very flattering commendation to get from someone you'd yet to play with yet.
Howard's first year in Columbus was largely forgettable with some minor ankle trouble and a bevvy of experienced warm bodies in front of him keeping him from seeing the field of play as a true freshman. After biding his time in 2008, Howard saw the field as a then redshirt freshman in 2009 though almost exclusively on special teams. 2010, particularly the latter part of the season, would prove to be Howard's chance to shine and mostly re-ignite the spark amongst all those that had seen his high school tape and dreamed of the next 6-0"+ corner controlling an entire side of the field in the Shoe.
After having the defense turn into a venerable M*A*S*H unit midway through the 2010 campaign, Ohio State turned to some unorthodox rotations which included #1 corner Chimdi Chewka sliding over to safety ultimately elevating Howard into some rather prime real estate right coincidentally as the schedule turned somewhat meaty. Echoing the Malcolm Jenkins comparisons from some three years prior, Howard jumped on a pass late in the Penn State game and housed it for a 30-yard return touchdown ultimately capping another victory over the Nittany Lions and generating "Moxie" jokes a plenty from those watching from home.
The Michigan game would also prove to be a turning point in the young corners' still evolving ohio State career with he going on to register three solo tackles, a fumble recovery, and yet another interception. Howard admiration subsequently evolved into a full on mancrush amongst many Buckeye devotees around the same time. Some even debatably called for him to draw the majority of the action over the likes of the senior corners Chimdi Chekwa and Devon Torrence. An unfortunate injury to Chekwa would ultimately force the issue and result in Howard going against Arkansas' elite level wide receiving corp but a month later in the Sugar Bowl. While Howard was occasionally out of position and didn't quite show the same knack for play making as he did in the contests' prior, he still looked befitting of the competition at hand and left little doubt as to what the future could potentially hold.
Despite the sometimes tough road that required much patience to get to the point of making plays in Big Ten conference competition, Travis Howard's willingness to never dodge situations necessitating physical, on the ball play and an increasingly more instinctive approach towards the game should continue to serve him well as he enters summer ball as the probable number one corner. Further he's quickly turned into a vocal favorite amongst those in media circles and should have every bit to be a leader during what's likely to amount to a focus trying season for the Bucks. For additional evidence, see the intensity and confidence oozing from every talking point: