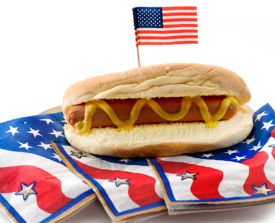 Good morning Buckeye fans and welcome to your Friday Skull Session. It's a great day, not only because Memorial Day Weekend festivities kick off later on, but also because you got to wake up this morning without having to hear some media outlet absolutely going to town on the integrity of the Ohio State football program (knock on wood).
While Memorial Day is a time to remember those who have died while serving this great nation, the weekend surrounding it is a great time to step back, relax, and let all the worries in the world drift away for a few days while enjoying the company of friends and family. I'm personally extremely excited for the upcoming weekend, as I'm heading down to the Jersey Shore where I'll be meeting up with some OSU buddies who are coming in from around the nation. In addition to doing some hardcore fist pumping, we'll be barbecuing, day drinking, and enjoying what will hopefully be decent weather just feet away from the Atlantic Ocean. We definitely won't be worrying about what happens August 12 and that's something I'm sure looking forward to.
What are your plans for the weekend? Anyone taking advantage of the weekend and getting a full Friday to Monday off? Heading anywhere interesting? Let us know after the jump where you can find your Friday Skull Session.
Greg Paulus in the house. Yes, that Greg Paulus. The same Greg Paulus you probably loathed watching when he played point guard for Duke and laughed at when he played quarterback for Syracuse. I hope your not still laughing too hard, as that same Greg Paulus is now a member of the Ohio State University basketball coaching staff. 
Thad Matta brought on the former two-sport athlete who originally hails from the Syracuse area and had this to say about the hire in the official release yesterday:
We are excited to have Greg join our program. I have known Greg dating back to when I recruited him out of high school. He brings a wealth of knowledge as a young man who has played basketball at the highest level in addition to his year as a full time Division I coach. He is a rising star in the coaching business."
I think the Paulus move is a good one. Not only do you get someone on staff who is hungry to be a great coach, but you get a guy young enought that the players can relate to. Playing under Coach K and having the experience of competing at the highest level at the point guard position can only help Aaron Craft and Shannon Scott as they work through the ups and downs sure to come during their careers. I can't stand Duke one bit and hated Paulus while he was there, but I'm very happy to welcome him into the Buckeye family.
USC ripple effect. While the two events are completely different from each other, there definitely has to be some thought that the decision by the NCAA to uphold USC's punishment can't bode well in setting precedent for schools like OSU when they face the hammer in the future. I personally feel that an institution paying players to come play for them and a coach withholding information from the NCAA of violations his players committed is like comparing apples to oranges, but new NCAA president Mark Emmert seems to be trying to lay the smack down on rule breakers these days. I really have no clue what is going to happen August 12, but I have a hard time believing the penalties will be as harsh as the Trojans suffered. What do you think?
Country roads, take me home. New WVU offensive coordinator and head coach in waiting, Dana Holgorsen, was escorted out of a casino this past weekend after inappropriate behavior forced police to ask him to leave Mardi Gras Casino and Resort. Holgorsen apologized publicly yesterday, saying: 
"As a football coach, I am always in the public eye and I have to hold myself to a higher standard, which is what I ask our players to do. I'm sorry that this incident has put the university and the football program in a difficult position. I will not put myself in that situation again."
Somehow, that apology is enough to get the coach off without anything but a slap on the wrist, and all is forgotten for the man who made the Oklahoma State offense one of the most exciting in college football. I guess when I think about it, this did happen in West Virginia and if Bob Huggins has been able to slide "DUI free" for this long, I should have known Holgorsen would get away with something this minor.
Tate must be delusional. Speaking of USC, the "great" Tate Forcier has decided Miami isn't the place for him and is looking at a whole new group of schools which features the Trojans and defending champion Auburn. Forcier claims he's making the move, not because he's scared of competition at The U, but rather to be closer to his family who lives in California. I'm not buying that for one minute, as in addition to Auburn being nowhere near California, Tate's list also includes Montana and Kansas State, with USC, San Diego, and San Diego State being the only schools he's considering that are actually significantly closer to his San Diego home. I don't know who he thinks he is, but if he couldn't even lock down the starting gig at Miami, he's certainly not going to do it at Auburn or USC. Keep us entertained Tater Tot.
Indiana in hot water. Although it was buried in the college hoops section front, ESPN actually broke a story about potential violations at schools other than Ohio State. Read that sentence again because for a short time I really thought that wasn't possible. The linked story focuses on the Indiana Elite AAU program and their borderline sketchy relationship with a few college programs, such as IU. This story coincides with an ongoing investigation into 2012 Hoosier recruit Hanner Perea, who supposedly received improper benefits from multiple schools. Keep an eye on this one, as I don't wish violations upon anyone, but it will certainly be nice to see someone else on burn notice......if it isn't buried underneath some more OSU news.
Big move for the Nittany Lions. For some bizarre reason, Ed DeChellis decided to leave a somewhat on the rise Penn State program in favor for Navy where it is extremely hard to recruit with both academic and service requirements. I'm in the crowd who believes that either something fishy was going on and DeChellis was forced out by PSU officials, or that there was some sort of rift between Ed and the administration, possibly over the lack of dough the school chooses to dish out to their coaching staffs. Whatever the reason, the Nittany Lions are now left coach-less and the decision of who they replace DeChellis with could define the future of the program. 
Being someone who loves seeing the all-star coaching roster we've had in the Big Ten over the last few years, I really hope PSU goes to make a big splash and brings in a big name coach who can actually do something with all the resources that school offers. That's highly unlikely though, thanks to Joe Pa, who makes pennies compared to some of his counterparts across the nation. Because of Joe Pa's unselfishness in not sucking all the money out of the school, it becomes extremely hard for the AD to justify paying a basketball coach more than the legendary football coach makes, especially at a school rich in pigskin tradition. I may hate them and think they go overboard in their treatment of opposing fans too often, but Penn State fans are just too passionate to not have the proper coach running their hoops team. Here's to hoping the Nitts actually hire a coach who has a swinging chance of making the Lions relevant on a consistent basis---only for the strength of the conference.