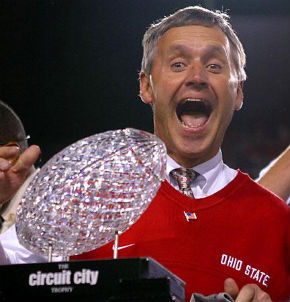 The original plan for my article today was to run various interviews I had done over the past week with Buckeye recruits from around the nation. That plan was scratched quickly upon opening my eyes this morning to my phone ringing off the hook with some shocking information. On a day that is supposed to be about remembering those who proudly served this great nation throughout the years, the country woke up to the news that Jim Tressel had announced his resignation as football coach of The Ohio State University.
After 10 years at the helm, the Tressel era is finally over. Writing that sentence was extremely hard for me, as I have seen first hand what kind of coach and person the university had in JT leading this team. Coming to Columbus as the little known coach from FCS Youngstown State, nobody has possibly ever had a bigger impact on a school and a community than Tressel had during his tenure running the OSU football program. Because of this, it is important to take a step back from analyzing this situation in order to appreciate the man who is responsible for bringing Ohio State back to prominence over the last decade and who will forever be endeared by the Buckeye Nation despite recent transgressions.
During his time as head coach at Ohio State, Jim Tressel compiled a 106-22 overall record, good for a winning percentage of .828, which is better than Woody Hayes's .761 and only second best to Carroll Widdoes' .889 (only two seasons). He won the Buckeyes' first national championship in over three decades, seven Big Ten titles, and held a 9-1 record against rival Michigan, turning the tables on the series right after fans endured the 2-10-1 record John Cooper held against "that school up north". He brought the team to a bowl game in every season while in Columbus and held a 6-4 record in those games, including a 5-3 record in BCS games. It's scary to say this after how much Woody Hayes is put on a pedestal at OSU, but Jim Tressel may have just been the best football coach in school history.
While he was a great coach, Jim Tressel was an even better man. What outsiders and even many fans don't realize, is how much Tressel cared for his players, students, and the community that was Ohio State. He has attended countless events benefitting various causes, donated thousands upon thousands of dollars to education and cancer research, has spent weekends visiting schools, hospitals, and others in need, and has given his time back to appreciate all that the US Armed Forces have done for this country. How many coaches around the country can you say that about? Probably less than the number of fingers on your hands, making this coach more special than you can even imagine.
So how did we end up talking about Jim Tressel's resignation on Memorial Day 2011? We can thank one little mistake that I compare to pulling a loose thread on a t-shirt. In lying by omission about his players selling their memorabilia and executing the worst press conference in the history of press conferences to go public about his actions, Jim Tressel fed himself to the hounds. Reporters from around the country began flocking to Columbus, believing there was more to the story than what was out and started to pry and dig at all angles to uncover any more dirt on the players, coaches, and culture of athletes receiving improper benefits at OSU.
The thread was pulled a little bit at first when stories of possible car deals for athletes and their families came out. It was loosened a little more when rumors of pending stories about apartment complexes giving players discounts on rent floated to the surface. Finally, it started to completely unravel when rumblings of a Sports Illustrated article started to become more truemor than rumor, and information about the contents of that article made its way to the administration in the OSU Athletics Department. That thread was finally yanked out of the shirt this morning when whatever the latest news that Gene Smith's team got its hands on must have been so bad that either the school forced Jim Tressel to resign or the coach truly felt it was in the best interest of the school to step out of the way so they could move forward.
The Jim Tressel era is officially over and while more information is surely on it's way, the question now is what lies ahead for the Ohio State Buckeyes? For starters, this season can go one of two ways. The players are likely to try and rally around their fallen coach and dedicate the 2011 season to Jim Tressel, which could empower them to accomplish more than you could ever imagine. The other way the season could go is complete disaster, in which the focus and direction of the team could be completely lost under the inexperienced Luke Fickell and the Buckeyes have to build their program from square one again at season's end. I tend to think "option 1" will be the way the seniors like Mike Brewster lead this team, but I'm just not sure how a bunch of 18-22 year old kids are fully capable of not letting this effect them to some extent.
The second thing to look at here is the future of recruiting for the school. OSU was already having a tough time bringing in players this year, despite it possibly being the most talented Ohio football class in years, because of the on-going issues at the school. The one thing many recruits said was that as long as Jim Tressel was there, they would still highly consider Ohio State. Well, now Jim Tressel is gone and that is sure to effect the thinking and decisions of many of the Buckeye targets. What's even tougher is that while Luke Fickell is the head coach this year and is a man many players and recruits adore, it is uncertain if he will remain at the school at season's end. Recruits are likely not going to commit to a play for a school in which they don't know who they will be coached by, so don't be surprised to see a standstill in commitments until December or January when the head coaching picture is a bit more clear. This could be the most devastating ripple effect when you take into account the future of the program moving forward where they left off pre-Tatgate.
Finally, speaking of the head coach, it is certainly going to be interesting to see how that plays out. Many think this is Luke Fickell's job to win (or lose) with the opportunity to coach now throughout the entire 2011 season. While he is not a "sexy" hire to many, the guy played for the Buckeyes, has coached for the Buckeyes, is the best recruiter for the Buckeyes, and has the trust of many players on the Buckeyes. Theme here? This guy is all Buckeye and had the build you are looking for in an OSU head coach. I think if he can steer the ship right and lead the team to a successful season throughout this tumultous time, that Gene Smith shouldn't even hesitate to permanently make him the 23rd head coach in school history. If it becomes clear Fickell clearly isn't ready for the big stage yet (only 37 years old), the national search will be on and the names you will be hearing will include Urban Meyer, Jon Gruden, Bo Pelini, Bob Stoops, Tony Dungy, Gary Patterson, Darrell Hazell, Mark Dantonio, and every other former Buckeye player, coach, or big name professional in the industry. This will certainly be a storyline you will not be able to run from throughout the 2011 season.
In sum, this has already been some Memorial Day. It's extremely sad to see a coach and man like Jim Tressel go out like this, as he clearly deserved better. Ironically, just like Woody Hayes' departure as head honcho at OSU, Tressel made a mistake that created an inevitable end to his run as coach of the Buckeyes and most likely ended his career as a college football head coach. The future for both Jim Tressel and the Ohio State Buckeyes' football program is uncertain at this point, but the one thing I do know is that for the rest of my life I will certainly remember this Memorial Day for all the wrong reasons.