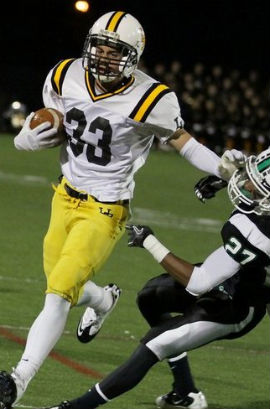 With Dane Sanzenbacher and Taurian Washington lost to graduation and DeVier Posey suspended for the first five games of the season, the lack of depth at the wide receiver position has become quite apparent during this year's spring practice. James Jackson saw the writing on the wall and ditched town, Chris Fields has been unable to turn incredible speed and athleticism into results, Corey "Philly" Brown can't seem to hold onto the ball, James Louis' twitter handle is more well known than his name amongst fans, and so on.
Even with the emergence of Verlon Reed and the anticipated arrival of freshmen Devin Smith and Evan Spencer this summer, the staff was fully aware that they'd need wide receivers in the class of 2012. There are many talents available both in the state of Ohio, as well as across the country, and the coaches have a nice pool of players to extend scholarship offers to. Amongst the national talents are two of the nation's best in Dorial Green-Beckham and Jaquay Williams, but when looking at the in-state products, Jim Tressel knew who his number one target was. The player was Frank Epitropoulos.
Frank Epitropoulos is a 6-3/195 athlete from Upper Arlington High School, just down the road from the campus of The Ohio State University. He has started since his sophomore season on the Golden Bears roster and has become a standout on three sides of the ball, playing wide receiver, safety, and punter during his high school years. Timed in the 4.4's in the 40-yard dash and recording a vertical leap over 40", Epitropoulos has the athletic ability and genealogoy (his dad and his uncle played for the Buckeyes) to be an extremely successful player at the next level at any of his three positions.
Committing to the Buckeyes on April 26, Epitropoulos became the 6th member of the Ohio State class of 2012, joining RB Warren Ball, RB Brionte Dunn, OT Kyle Kalis, OL Jacoby Boren, and LB Josh Perry. He chose to follow his legacy and attend Ohio State over offers from Stanford, Michigan State, Wisconsin, Louisville, West Virginia, Syracuse, Duke, Boston College, Purdue, and others. We got the chance to sit down with Frank to discuss his decision to commit to Ohio State, his feelings on the tough times the program is currently going through, what position he'll play when he gets to campus, and much more. Join us after the jump to learn about the newest member of the Buckeyes family.
You recently committed to OSU. How did it feel to finally make your decision and why did you choose to commit when you did?
I felt relieved when I finally chose OSU because the recruiting process was finally over and now I could focus on my senior season. I committed a couple days after the spring game because going there as a recruit really opened my mind and gave me some good memories as a kid of going there to watch the games. Now I'm going to have a chance to play there.
Michigan State, Wisconsin, and Stanford all recruited you hard as well and it seemed you liked them too. What was it about OSU that made it the right place for you? How much did both of your parents being Buckeyes play a part in that?
I really liked the other three schools but Ohio State is the team I grew up watching and I couldn't pass up the opportunity to be a part of it. I think it definitely helps that both my parents went there and my sister currently goes there, but it was ultimately my decision so I did what was best for me.
You play wide receiver, safety, and punter. Is OSU looking at you at one of those positions or might they look at you at more than one? If so, which positions?
Coach Tressel told me he is bring me in as a wide receiver but if I'm the best punter also then he won't hesitate to play me at both punter and receiver. He did make it clear that I was being recruited as a wide receiver first.
Obviously there is a lot of turmoil with the program right now. What are your feelings about what is going on with Coach Tressel and some of the players right now?
With everything going on, it doesn't change my opinion of Coach Tressel or the program because I know Coach Tressel is a great person and keeps the safety of his players in mind.
What do you feel are your biggest strengths on the football field? What do you feel you need to work on before you get to OSU?
I feel like my best strength would be my speed right now and in the off-season I have been working on running more crisp routes.
Tell us about Frank Epitropoulos off the field. What kind of person are you? What do you like to do in your spare time? What are your plans this summer?
Off the field, I'm a leader and a hard worker. I have my priorities straight and study for school while making time to hang out with friends. In the summer, I plan on attending Ohio State's football camp.
Your dad and uncle played for the Buckeyes. What did they say to you when you told them you were going to play for OSU?
They were both very happy for me and congratulated me, but also reminded me that I have a lot of hard work ahead of me.
Have you met any of the other players committed to the Buckeyes yet? Do you plan to help the coaches recruit other high school players they have offered?
Yeah I have met some of the commits like Warren Ball, Kyle Kalis, and Josh Perry. They all talked to me before I committed and told me they want me to commit. I think that strategy works, so yes, I will talk to some of the offered kids to help recruit them as well.
What are your goals for your senior season? What are your goals for your Ohio State career?
Our ultimate goal for next year is ,of course, to win the state championship. Some goals for my OSU career are to become a more developed wide receiver, reaching my full potential, and winning a National Championship.
If you could tell Buckeye Nation one thing what would it be?
I would let them know that I'm going to work as hard as I can to win games and get Ohio State its 8th National Championship.
 
HIGHLIGHT REEL