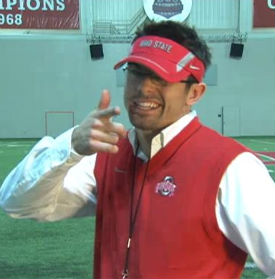 Good morning Buckeye fans and welcome back to another edition of Thursday Skull Session. We've been hearing a lot about Jim Tressel once again on a national level, and to be quite honest it's quite annoying. It's so annoying that my one friend who is an Indiana fan and alum, wouldn't even let ME talk about Jim Tressel because he's sick and tired of hearing about the issue on every sports television outlet and website, as well as from our other friends who went to Michigan, Miami, and Penn State, a.k.a they're flat out jealous of the Buckeyes. So, to make your morning (and mine) a little brighter, I will bring you today's Skull Session sans any talk about Jim Tressel.
This is definitely going to be a bit more challenging, as right now, the news is the news. Fear not, though, Buckeye fans, as there is plenty going on around the country. Sure, it takes a little bit more digging to find writers who aren't licking their chops to bash the Buckeyes, but since I tend to stay away from those cynical a-holes anyway, it shouldn't be that bad. I won't ramble on any further to take up more of your morning, so without further notice, I bring you today's Skull Session.
First bowl team locked in. The 2012 football season isn't within sniffing distance, yet already BYU has an invitation to the Armed Forces Bowl. I get that the newly independent team is a hot commodity, but come on here people. I always thought things like this were rather silly, and I will continue to think so, as it's just not fair to invite teams to bowls before they play their seasons out.
Also, speaking of bowls, it appears a pending NFL lockout could have an effect on when 2012 bowls are played. I personally don't think there will be a lockout, but if there is and the season gets pushed back, the bowl committees may have to go to "Plan B" scheduling to avoid holding games on the same nights as some primetime professional games. The No Fun League just can't let anyone win, can they?
Speaking of bowl games. The NCAA is looking at it's oversight in bowl games, much thanks to the Fiesta Bowl fiasco. President Mark Emmert will meet with the NCAA licensing committee to discuss exapnding the financial criteria for bowls, as well as the amount of control the NCAA has over that criteria. I think it's quite interesting that the association is sniffing it's nose further in this business, but I sure hope they continue to do so. The more they sniff around, the closer we have to be to a stronger push for a playoff right? Well, at least here's to hoping so.
The Big Ten going exotic. Talk about the conference being pioneers. First the Michigan State basketball team agrees to play UNC on an aircraft carrier on Veteran's Day. Now, Illinois has agreed to play a few games in Italy. The Illini will practice for a couple weeks before heading overseas to face four to five professional teams, while also touring Como, Florence, Rome, and Venice before returning to the states. Both ideas are flippin' awesome and I would love for the Buckeyes to be involved in such experiences. I would also love to be one of the team managers for these teams who get to go to a couple awesome trips all for the price of getting water and wiping sweat off future NBA players.
It's draft night. What would this Skull Session be without mentioning tonight's NFL draft held in New York City? While Cam Heyward is likely the only OSU name you will hear called this evening, look for as many as 8-10 former Buckeyes to hear their names called at some point this weekend. The guy I'm personally rooting for the most is Dane Sanzenbacher, who did everything right both off and on the field during his time in Columbus. Matt Markey of the Toledo Blade did a nice piece on the Toledo native awaiting the draft, and after reading, I can only continue to root for this guy more. Good luck to all the 2011 Buckeye seniors over the weekend!
Big Ten Bits. Former AAU teammate of Jared Sullinger & co., Juwan Staten, is transferring from Dayton to Penn State. Illinois RB Jason Ford was arrested for suspicion of driving with a suspended license (LOL). The Nebraska student section is stepping up their game in prep of joining the Big Ten. The Detroit News did a Q&A with Spartans' QB Kirk Cousins. Ryan Kerrigan is a first round lock, but isn't the only defensive lineman Purdue has produced. DJK's future still remains unclear, while NFL draftee hopeful, Christian Ballard, isn't helping himself out much. Finally, new Wiso linebacker coach, Dave Huxtable, is beasting it on the recruiting trail so far.