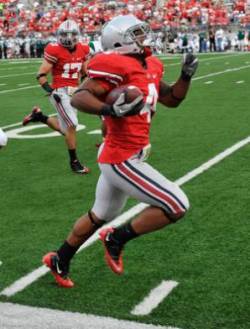 Spring football is in the air and Ohio State fans are starting to emerge from their scandal-induced shells to focus on scrimmages and position battles. Most of the attention is centered on the quarterback position, and rightly so since Terrelle Pryor will not be available for the first 5 games of the season. However, at Ohio State the running game is still king, and the RB position is equally important for the success of the offense in 2011.
The departure of Brandon Saine and the suspension of Boom Herron have created an enormous opportunity for four youngsters eager to show what they can do. At this point, no one knows whether it will be Jaamal Berry, Carlos Hyde, Roderick Smith, or Jordan Hall toting the rock for the Buckeyes at the beginning of the season, but we do know they have big shoes to fill. Herron rushed for nearly 1200 yards last season, and he was at his best in big games when the team needed his production the most.
As I was analyzing the battle at this position, I decided that each of the runners had his own particular strengths, and that some combination of the backs would probably be a perfect mixture of those strengths. However, looking back through the glorious history of great running backs at OSU, it's easy to see that none of them were truly perfect. There are essentially three main areas where a running back might excel, and those are speed, power, and elusiveness. While there are other aspects of the position that are important (receiving, pass blocking), most of the great ones excelled in one or more of the main three categories.
It is inevitable that young players are compared with greats from the past, especially when the youngsters in question have not played enough to make an impression on the fans. However, I thought it might be interesting to make some comparisons based on the little we do know about current crop of OSU ball carriers. Here is a breakdown based on the three main categories, with an eye toward comparing the young guys with the legends.
SPEED
When looking at Buckeye running backs of the past, there is no shortage of guys who could fly. Archie Griffin, Calvin Murray, Tim Spencer, Robert Smith, Eddie George, Michael Wiley, Antonio Pittman, and Beanie Wells were all deadly breakaway threats. Even a guy like Keith Byars, who was mostly known for his power running, frequently left opponents in his dust. Of these, the one who stands out to me is Robert Smith. Smith could take even the most ordinary play and turn it into a long touchdown run. I once saw him take a sweep play 80 yards for a TD against Purdue on a play where I wasn't even sure he would get around the end. Smith's time at OSU was regrettably short, but he had more long TD runs in that time than I've seen from anyone else.
Of the current Buckeyes, Jaamal Berry seems like the one who has the best breakaway potential. He not only has great straight-line speed, but his acceleration is frightening. Jordan Hall has also been impressive in this category. Last season, he left several defenders grasping for air on punt returns. Rod Smith looks good on paper, as his 4.5 40 time seems impressive for a guy that is 220 pounds. However, he played against inferior competition in high school, so it might not be until the spring game that we really see how quickly he gets through a line.
POWER
The most powerful runner in OSU history is probably former fullback Pete Johnson, who rushed for 25 touchdowns in 1975. Johnson was known for disappearing in a pile of players and moving the pile downfield several yards. Others who excelled in this category are Keith Byars and Beanie Wells, with Eddie George showing that rare combination of power and breakaway speed. Even Archie Griffin and Antonio Pittman were underrated in this category, both showing surprising punch for guys as small as they were.
Carlos Hyde is the power guy in the current group, with his north-south running style and his powerful lower body. Rod Smith is said to be a strong runner for someone as tall as he is, and his big frame will allow him to continuously put on weight as he matures. Jordan Hall seems to be in the Griffin mold, as he shows more strength than you would expect from a guy who is 5'9".
ELUSIVENESS
Archie Griffin sets the standard in this category. The two-time Heisman winner was very difficult to locate as he dodged back and forth between the OSU linemen when he ran. Griffin had tremendous vision, and he ran with great anticipation, seemingly always knowing where the next defender would be. Also excelling in this category were Eddie George, Robert Smith, and Beanie Wells (his leaps over defenders were almost as famous as his "Stiff Arm of Justice").
Among the current Buckeyes, no one is as elusive as Jordan Hall. His punt return against Miami is one of the highlights of the early part of 2010. Surprisingly, Carlos Hyde also seems to have some good moves, as he excels at bouncing plays outside when the middle is jammed up. As for Jaamal Berry, one pundit wrote that he seems to move in three directions.
The one thing that all of the current Buckeyes lack is experience, and that could prove costly in some of the early games. However, there appears to be no lack of talent at the position, and OSU fans can look forward to seeing all of them display their various talents in the first 5 games this season.