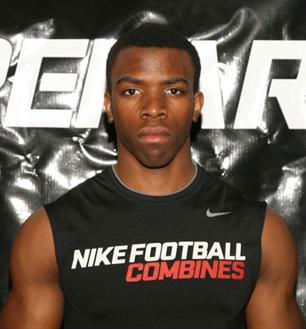 [Ed: Please give a warm welcome to new 11W intern Danny. His first assignment, aside from the daily donut and coffee runs, was taking in the North squad's practice ahead of Friday's Ohio All-Star Classic at Ohio Stadium (kickoff is 4pm). Here's his report.]
On an unusually cold prep day for the 66th annual Ohio All-Star Classic (formerly known as the North-South Classic), the North squad kicked off practice at 4:00pm sharp. Four Buckeyes were in action -- WR Devin Smith (Massillon), DE Steve Miller (Canton McKinley), DB Doran Grant (Akron SVSM) and DE Chase Farris (Elyria) -- and the chilly air was soon forgotten when helmets went on.
After getting in some light stretching, the team quickly moved to kickoffs. Smith was deep for the return team, but all kicks wisely sailed to the opposite side of the field. Miller and Farris evidently got a kick out of this as they spent this time cracking jokes on the sideline and contributing to the relaxed, joke-filled atmosphere as a lot of the players seemed fairly familiar with each other.
The team soon split up into groups: the wide receivers with the defensive backs and the linemen with the running backs. Smith got off to a bit of a slow start, dropping his first two passes. Throughout the session, he was thrown to on a lot of short passes or used to stretch the field for another underneath receiver. It's too early to tell how he'll be used Friday afternoon or even in the next few years at Ohio State, but he's very quick and creates excellent separation.
SVSM's Grant spent most of his time in the WR/DB drills lined up across from Smith. He played him very physically and more than did his part to help keep the shifty receiver in check.
At 6'6 ft. and 265 pounds, Chase Farris looks every bit as big as the roster indicates. Even though they're only running the line drills at half speed, Farris is still motoring on every play. Typically lining up on the left side, where he appears more comfortable, Farris was able to consistently get into the backfield and disrupt things and looks to be a standout performer for the North. While a beast in the trenches, his personality shines through in a humorous way as he spent a lot of downtime joking with his teammates and coaches.
Playing opposite Farris was McKinley's Miller. His teammates spent plenty of time cracking on his "chicken legs", but he's still explosive off the line. Just like Farris, he took up residence in the backfield. The two look as if they will be the anchors of a very intimidating defensive line.
Finally, to conclude practice, the offense matched up with the defense and ran a few plays, ones vs. ones. Miller and Farris continued their havoc-wreaking ways, while Smith isn't thrown to once, thanks again to Grant's defending.