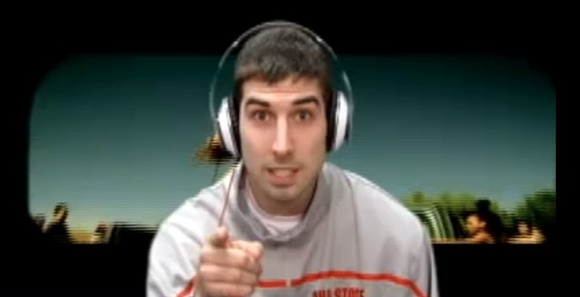 Hump days. They're always easier following your favorite team's sharpshooter going absolutely HAM on Senior Night in Happy Valley, aren't they?
Jon Diebler was simply unconscious on the way to banging in 10 bombs (nine-straight at one point) to lead the Buckeyes in an 82-61 laugher over Penn State and why wouldn't he be. Ohio's all-time leading prep scorer who once dropped 77 in a game only to follow it up by going 27/28 from the charity stripe in another has progressed from a lanky and inconsistent pup to a cold-blooded assassin. Already the Big Ten's career leader in threes, Diebler's effort broke his own single game Ohio State mark (which he shared with Jay Burson at nine) and for good measure, set the record for most three pointers at Bryce Jordan Center.
The win gave Matta a share of his fourth conference title at Ohio State, putting him in the company of Walter Meanwell, Bob Knight and Tom Izzo as coaches that have won four Big Ten titles in their first seven seasons.
For the year, Threebler is making a toasty 49.7 per cent of his shots from long range and he, along with David Lighty, William Buford, Aaron Craft, Dallas Lauderdale and Deshaun Thomas, give the Buckeyes the versatility and weapons to back up Sullinger and go for a long run into the NCAA Tournament.
But first we get to welcome our good friend Bo Ryan to town to try to close out an unshared Big Ten title.
"Chimdi" is Igbo for "Damn, that dude is fast". Despite sporting a soft cast for the right wrist he destroyed in the Sugar Bowl, Chimdi Chekwa managed to clock an unofficial 4.33 seconds in his first attempt at the 40 in Indianapolis. At the time, it was the fastest mark on record for the 2011 event, and though it was later adjusted to a 4.40, it was still good enough to top Rich Eisen by about two seconds and leave Chekwa with the third-fastest time among the DBs, behind Miami CB DeMarcus Van Dyke (4.28) and LSU's Patrick Peterson (4.34).
Because of his injury, Chekwa was limited in what he could do in Indy, but his blistering 40 time and great character should help propel him into the second day despite not impressing NFL Network analysts Mike Mayock and Deion Sanders with his work in the transition drill. Best case scenario for Chimdi is a team in need of secondary help snatching him up in the third round (or maybe earlier if Al Davis gets infatuated).
Unfortunately, Devon Torrence did not fare as well on the track, putting up a 4.65 and a 4.60 on his two runs but his Ohio State pedigree and baseball work will probably earn him a flyer from a team.
All nine of the Buckeyes in Indianapolis will have an opportunity to further impress scouts at OSU's Pro Day on March 11, save for Cam Heyward, who's still recovering from surgery himself and will workout on his own on March 30.
SUPER HUGE SCREAMS OF DEATH PENALTY RUMOR. A rumor of a major program about to take a hit for recruiting has been making its way through message boards and blogs for the better half of a week, but yesterday things got real when ESPN's Colin Cowherd brought it up on his radio show:
I received an interesting text about 10 days ago, and this should be very frightening if you're a fan of college football, that a major program in this country is going to be outed very soon for major recruiting violations. It is a top 10-12 program. I know what I think it is according to both my sources; I received another tip last night. I went to Vince Doria, who is sort of the journalistic editor at this company. He had heard the exact same thing. We are pursuing this story with vigor. A major publication is about to unseat a major college football power on recruiting violations. I will tell you from my source, it is not — it is not — Auburn. I will leave it at that. It is a major program and a major publication. When we can validate more… I have not been able to validate it nor has this company. We're both pursuing it.
Whether there's any truth to this or not, we'll have to wait and see, but early speculation by folks on the internet who are NEVER WRONG IN ANY WAY indicate it's SI or Yahoo! driving this and the school in question could very well be the Oregon Ducks. John Canzano of the Oregonian thought enough of it to request comment from Oregon's athletic department only to be told that the school hasn't heard a peep from the NCAA. Which... doesn't really vibe with assumption that a major publication is driving this whole thing.
Oh well, this is your offseason when there are no conference expansion rumors to chase. What's perhaps most interesting, however, is the fact that there are 15 fanbases collectively shitting themselves. Ah, college football. Glass houses everywhere.
Random bits: Gus Johnson highlight from last night: "William Buford is a sweet looking basketball player!"... Gus Johnson lowlight from last night: Asserting that Buford was the 2nd-best basketball player to ever come out of Toledo, which puts him ahead of Kelvin Ransey and Dennis Hopson without any debate... After weathering a storm of criticism, Bleacher Report embarked on a campaign to improve writer quality a few months ago. So far, so fail... The Peace Corps: Launching Careers and Inspiring Lives... Know the difference between Bros and Not Bros... Happens to the best of us... DERP.