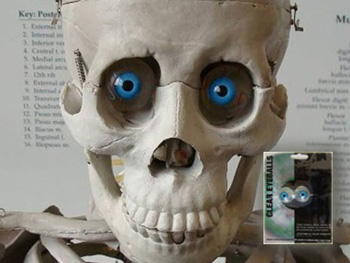 Happy Tuesday everyone, and welcome to your morning Skull Session. We're screwed!
Or are we? Yes. No, that is silly. Maybe? Probably we are... not. Yes. NO. No.
No.
...Yes?
What I am of course referring to is a truly epic trollbomb thrown down yesterday on Twitter by the elder Sullinger brother, JJ, that sent much of Buckeye fandom into a tizzy. In it, he intimated that despite all claims to the contrary (which we'll get to shortly), Jared "Sully" Sullinger was not going to be coming back for his sophomore year at Ohio State and would instead be entering himself into the NBA draft. A scary thought? To most fanbases, sure.
But to a Buckeye nation already on the most razor of edges, JJ's tweets showed us exactly how close we all are to completely losing it and locking ourselves in our collective basements with a tv, a 2002 Fiesta Bowl dvd, and six months of rations.
Look, it is entirely possible that the football program in more hot water as the months wear on in the offseason, and I would be lying if I told you I wasn't still smarting from the loss to Kentucky. But the one thing that you can count on at this point, like a tiny Werther's Original at the bottom of a 50 gallon barrel of horse manure, is the fact that Jared Sullinger will in fact be back next year, ready to slam some glass and whup some ass.
OR WILL HE?
Yes. Or rather, "yes," assuming that both Jared and his father have not decided to make the New York Times look like fools in a spectacular father-son trolling tandem. The reasons given for his decision include wanting to up his skill set to better suit the actual position he would be playing in the NBA, which would most likely be power forward. Matta, who also commented on the situation, mentioned wanting to improve Jared's conditioning a bit as well. That's all fine and good, but if Sully's trademark rear end goes the way of the dodo, I am going to be angrier than I have ever been.
Also Satch Sullinger speaks entirely in sports cliches, so that's fun:
"Yesterday is history," Satch likes to say. "Tomorrow is a mystery. Today is a gift. That's why they call it the present."
Y-Yeah. Yeah! Sure it is, Satch! Sure it is!
Pearls Of Wisdom ESPN's (collective groan) Andy Katz breaks down the various incidents that eventually led to the firing of Bruce Pearl as the Tennessee men's basketball head coach, and in doing so gives me a bit of a cold sweat. One thing that I want to make absolutely clear is that I do not think that Jim Tressel is nearly as dirty of a coach as Bruce Pearl was/is. But I will say this: even despite the incredibly egregious NCAA violations that Pearl had committed, the University of Tennessee initially stood by their man and dismissed firing him to be a possibility.
However, what appeared to be the final straw was a non-NCAA related incident where a student violated a substance abuse policy, and was held out of several games, but owing to an injury rather than a violation. Take note, Buckeye fans. That was all it took for the UT athletic department to turn on Bruce Pearl. If you want Jim Tressel to keep his job, pray that something similar doesn't come to light in the coming weeks and months.
How Can You Not Love A Man Named Shaka? VCU making a historic run to the Final Four is pretty terrific for a lot of reasons. First, it made Dick Vitale really, really angry. That should honestly be reason enough, but as an added benefit we now have the possibility of an 11 seed winning a national championship in something, the opportunity to watch America's coolest basketball coach, Shaka Smart, go insane for a couple of hours every time his team is on the court, and since we no longer have a dog in the fight, we can root for complete chaos with total abandon. The Wall Street Journal has nicely provided a breakdown of the great story that is VCU, and as a side benefit you do not have to make a Sophie's Choice esque decision on whether or not to read said article or leave it for another month.
In Which We Make Fun Of The Gopher's New Football Coach Some people have raised a skeptical eyebrow to new Minnesota football coach Jerry Kill's coaching techniques. To wit:
Kill made an example of cornerback Michael Carter for an undisclosed reason, making him sit out practice to do a strenuous workout while wearing a shirt that said, "I let my teammates down" and "Minnesota Lophers."
And yes, to many that may seem childish and silly and perhaps not a great way to endear yourself to young men in their late teens and early twenties, but on the other hand...
But he also sprinted up to players to reward great effort by patting them on the backside, telling them, "Good job."
See? Jerry Kill. Great coach.
Not To Pile On, But... Here are 1760 words about how the BCS is better than March Madness, as explained to us by The Daily Gopher, using prose that is Ayn Randian in both content and length. Have fun!