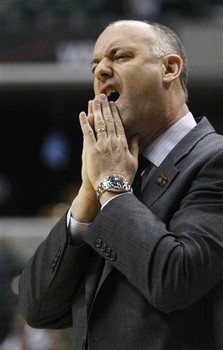 Having dispatched the rodents from That School Up North 68-61, Ohio State now attempts to wrap up the Big Ten Tournament championship as they take on the surging Nittany Lions of Penn State. Talor Battle and company put an end to Michigan State's upstart bid for the B1G finals by smacking down the Spartans 61-48. No doubt many fans will feel confident entering this game, as the Buckeyes easily downed Penn State at State College the last time the two teams met, a mere 12 days ago.
However, it would be foolish to overlook how well PSU has played of late. They have won 5 of their last 6, and 7 of 9. Their only two losses in that stretch were to #1 Ohio State and #10 Wisconsin, the latter of which was avenged on Friday when the Lions won an ugly contest against UW 36-33. Yesterday's win over Michigan State is especially impressive considering that the Spartans had just wiped the floor with #9 Purdue the previous day.
The two teams will have very different motivations entering this game. Ohio State is trying to maintain the #1 ranking and also seal up the overall number one seed in the NCAA tournament. Meanwhile, Penn State is trying to make the Big Dance for the first time in 10 years, and the first time ever for senior superstar Talor Battle, who is now PSU's all-time leading scorer.
| # | Name | PTS | REB | ASST | POS | # | Name | PTS | REB | ASST |
| --- | --- | --- | --- | --- | --- | --- | --- | --- | --- | --- |
| 44 | William Buford | 14.2 | 3.9 | 3.1 | G | 23 | Tim Frazier | 5.5 | 3.8 | 5.0 |
| 33 | Jon Diebler | 12.3 | 2.5 | 2.4 | G | 12 | Talor Battle | 19.8 | 4.4 | 3.0 |
| 23 | David Lighty | 12.2 | 4.2 | 3.3 | F | 15 | David Jackson | 10.2 | 4.5 | 0.6 |
| 0 | Jared Sullinger | 17.4 | 10.0 | 1.2 | F | 25 | Jeff Brooks | 13.3 | 6.5 | 1.8 |
| 52 | Dallas Lauderdale | 4.4 | 3.3 | 0.2 | C | 22 | Andrew Jones | 6.3 | 5.4 | 0.7 |
Opponent
In defeating Tom Izzo's Spartans handily yesterday, the Lions discovered a new star in point guard Tim Frazier. Frazier hit 9/13 shots from the field and 3/6 from the line in scoring a season-high 22 points in 39 minutes of play, while also leading his team in rebounds and assists with 8 and 6 respectively. He had been averaging less than 6 points per game on the season, and had not hit for double figures in 5 games. Frazier complemented the bounce-back performance of Battle, who poured in 25 in putting Friday's abysmal performance behind him. As a team, the Lions held MSU to 32.1% shooting and out-rebounded them 36-28. This was after holding Wisconsin to 29.4% shooting and out-rebounding them 26-25.
Fans who watched OSU dismantle Penn State back on 3/1 might forget how difficult Ohio State's first game against them was. The Buckeyes needed a pair of Jared Sullinger 3-point plays to forge a 69-66 victory after the Lions hung around for the entire game. In that game, senior forward David Jackson kept it close with 19 points on 6/9 shooting. Jackson was one of the few bright spots for Penn State in the 2nd game against OSU, hitting 5/9 shots for 12 points. The Lions will need a solid contribution from Jackson, along with fellow senior Jeff Brooks, if they are to upset Ohio State. It would also help if Battle was able to shoot better than he has in the first two games against OSU.
With the 2 wins over Wisconsin and MSU, the Lions have probably bought themselves an NCAA bid whether they win today or not. They have a nice blend of size, speed, experience, and talent and will present a challenge for anyone that they meet there. Considering their RPI and strength of schedule, it will be difficult to overlook them.
Buckeye Breakdown:
OSU started rather sluggish on Friday against Northwestern and they were fortunate to come out of that with a victory. They looked much sharper against Michigan, especially in the 2nd half when William Buford seemed to take over the game. Michigan was able to stay close, and actually got within two points at 47-45 with just over nine minutes left, but Ohio State poured on an 18-3 run to rip momenturn away from the Wolverines and ultimately held on for the win. Jared Sullinger was a beast as usual, hitting for 14 points and grabbing 13 rebounds (many of which were of the Herculean variety) as Ohio State reached the Big Ten tournament championship game for the 3rd straight time and 5th in the last 6 years.
Buford continued his excellent play, taking over in the 2nd half the way you would expect an experienced leader to do. More disappointing was David Lighty, who got into early foul trouble and never was a big factor in the game (although he did have one highlight-reel-style offensive rebound put-back after a missed free throw). Jon Diebler, despite a short bout with the turnover monster in the 1st half, actually played a strong all-around game, hitting 6/12 shots on his way to 16 points, 5 rebounds, and 6 assists. Aaron Craft also struggled with fouls, but he still played 23 minutes off the bench and contributed 9 points and 3 assists.
All the foul trouble put to the test what is seen by some as one of the few weaknesses of the team: lack of depth. Playing their third game in as many days will test the fatigue factor of a team on which several starters play nearly the whole game every game. Nevertheless, I still believe the Buckeyes will prevail. Overall, Ohio State has too much talent and experience for this Penn State team. Although I expect PSU to keep it close early, OSU will eventually wear them down and pull away for a victory.  
Etc
Penn State's 36-33 win against Wisconsin was the lowest scoring game in Big Ten Tournament history, and it's not even close. The 69 combined points were 16 lower than the 85 points scored in the previous lowest scoring game.
Ohio State is now 16-8 all-time in the Big Ten Tournament, including wins in 12 of their last 15 games in the tourney.
Jim Nantz will call the game for CBS, with commentary from former OSU great Clark Kellogg.