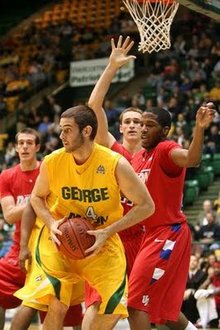 After taking care of business against the Roadrunners of UT-SA (whose playing style did not live up to their nickname), Ohio State now takes on the team whose 2006 tournament run is the very definition of the NCAA "Cinderella". Eighth-seeded George Mason comes to a hostile Quicken Loans Arena in Cleveland looking to begin another magical run to the final four against the top-seeded Buckeyes.
The Patriots defeated Villanova 61-57 in the 2nd round (remember when the first round was actually called the first round?) in a classic 8 vs. 9 match-up. After trailing by 10 in the first half, GM rallied in the 2nd half to tie the game 54-54 with 1:34 remaining. They then fell behind 57-56 with 31 seconds remaining, but forward Luke Hancock hit a 3-pointer from the right side with 20 seconds left to give the Patriots the lead for good. 
Ohio State is 3-0 all time against George Mason, and 9-2 all time against teams from the Colonial Athletic Association. One of those losses came in an NCAA tournament game back in 1982 as the Buckeyes fell to James Madison 55-48. 
| # | Name | PTS | REB | ASST | POS | # | Name | PTS | REB | ASST |
| --- | --- | --- | --- | --- | --- | --- | --- | --- | --- | --- |
| 44 | William Buford | 14.5 | 3.9 | 3.0 | G | 45 | Andre Cornelius | 9.6 | 2.3 | 1.6 |
| 33 | Jon Diebler | 12.5 | 2.7 | 2.5 | G | 20 | Cam Long | 15.0 | 4.6 | 2.9 |
| 23 | David Lighty | 11.7 | 4.1 | 3.3 | F | 14 | Luke Hancock | 10.9 | 4.2 | 4.3 |
| 0 | Jared Sullinger | 17.0 | 10.1 | 1.2 | F | 24 | Ryan Pearson | 14.2 | 6.8 | 1.1 |
| 52 | Dallas Lauderdale | 4.3 | 3.3 | 0.2 | C | 22 | Mike Morrison | 6.8 | 5.5 | 1.7 |
Opponent
George Mason was 10-5 overall and 2-2 in the CAA standings on January 8th after losing to Old Dominion. After that, the Patriots rattled off 16 consecutive wins to put themselves squarely in contention for an NCAA bid. They lost to Virginia Commonwealth in the 2nd round of the CAA tournament, but received an invitation to the big dance anyway. They made the most of it with the win over Villanova, and now they set their sights higher as they attempt to take down the tournament's highest seed. 
GM coach Jim Larranaga is a New York native who coached for 11 years at Bowling Green before taking over the program at George Mason. He became a national celebrity during  the Patriots' tournament run five years ago where they took down Michigan State, North Carolina, and Connecticut before bowing out in the national semi-final game against Florida. Larranaga is also known for his "Full Court Scramble" defense, which puts extreme pressure on the ball-handler and creates numerous turnovers that the Patriots turn into points. If Mason plays this game the way they normally do, it will be the exact opposite of the slow-down tactics employed by UT-SA.
Buckeye Breakdown:
Ohio State showed no rust or complacency on Friday as they dismantled the Roadrunners. It took a few minutes to adjust to the slow-down tactics but after that the Buckeyes rolled. UT-SA double-teamed Jared Sullinger and so the freshman frequently passed out of the post, leaving wide-open jumpers for Jon Diebler and Will Buford. The only alternative is to let Sully go at it against your best post defender one-on-ond, and in fact it may help to generate some fouls when he tries to move in heavy traffic. However, since Sully has been pretty solid at the free throw line throughout the season, it may not pay to play the "Hack-a-Sully" game today.
The challenge for Ohio State today will be to keep their focus on George Mason and not think ahead to Kentucky or any of the other tough teams in the East Region. This lack of focus is what caused the close call against Xavier back in the 2007 NCAA tourney when OSU had to scramble just to get the game into overtime. If the Buckeyes bring eveything they have against GM, they should prevail. It'll be a faster game, probably a higher scoring game, but probably not more challenging than the Big Ten Tournament final aginst Penn State. 
Etc
In OSU's first meeting with George Mason back in 1995, the Buckeyes set a school record for most points scored (121).
In post-season play Ohio State is shooting 46 percent from the field (99-216) and has outrebounded opponents by 9.3 boards a game.