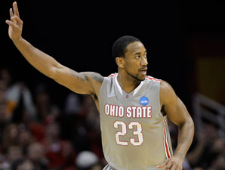 Well the day is finally here and if you're anything like me, the anticipation has been almost unbearable all week. The thought of being able to take down Kentucky, North Carolina, Arizona or UConn and Kansas en route to a National Championship is chub worthy and would solidify this program and Thad Matta as one of the tops in the land.
But first things first, Slimeapari and the Wildcats, who enter this game on an 8 game winning streak, including the SEC tourney title and wins over Princeton and West Virginia last weekend. The 'Cats are much like Ohio State, a mixture of veterans and youth, but are primarily lead by their youngsters in the scoring department and could be the most athletic team the Bucks have faced all year.
While Kentucky won thier first 2 games by a combined 10 points, the Buckeyes enjoyed some home cooking in Cleveland, by not only the Ohio State faithful, but also Mama and Grandma Lighty, who whipped up a solid dinner for the boys on Saturday night before they steamrolled George Mason.
| # | Name | PTS | REB | ASST | POS | # | Name | PTS | REB | ASST |
| --- | --- | --- | --- | --- | --- | --- | --- | --- | --- | --- |
| 44 | William Buford | 14.5 | 4.0 | 3.0 | G | 12 | Brandon Knight | 17.4 | 3.9 | 4.2 |
| 33 | Jon Diebler | 12.6 | 2.7 | 2.4 | G | 20 | Doran Lamb | 12.6 | 2.2 | 1.7 |
| 23 | David Lighty | 12.1 | 4.1 | 3.3 | F | 34 | DeAndre Liggins | 8.5 | 4.1 | 2.5 |
| 0 | Jared Sullinger | 17.1 | 10.0 | 1.2 | F | 1 | Darius Miller | 4.2 | 4.7 | 1.7 |
| 52 | Dallas Lauderdale | 4.3 | 3.3 | 0.2 | C | 3 | Terrance Jones | 16.1 | 8.7 | 1.7 |
Opponent
Kentucky comes into the game averaging almost 76 points per, while holding their opponents to 64. The Wildcats rank 62nd in the nation shooting 46.2 percent from the floor, including 39.6 from deep, but struggle a bit from the line at 71.5 percent. They're 11th in FG defense, holding teams to 39.3 percent, including 33.1 from beyond the arc. They have outrebound their foes 38 to 34 and force them into 12 TO's, while commiting just 10 themselves. If there is a glaring weakness, it's in the assists department, where they rank 176th with 12.7 per game.
The Wildcats are thinner than OSU, typically running with 6 guys. Josh Harrelson, a 6'10" senior will come off the pine, though he started most of the season, playing about 28 minutes. He is shooting 60% from the floor, scoring 7.2 points and grabbing 8.8 boards per contest.
We joke about Calapari's past, but their is no doubt he can coach and he doesn't shy away from tough competition, handing this young team the 11th toughest schedule this year, including games against Oklahoma, Washington, UConn, UNC, Notre Dame and Louisville. There's no doubt this team struggled early on in the SEC, losing 6 of their first 13 games, but it was by a combined 18 points.
Admittedly, I have not watched much Kentucky hoops this year, though he is a good coach, I don't like Calapari and don't give him much of my time. Therefore, I reached out to the fine Kentucky blog, A Sea of Blue and their editor Glenn Logan, who was kind enough to take some time to give us some great insight into this team. As you will see, even if you haven't watched much of this team like me, after reading his answers, you'll be better prepared for tonight's matchup. I've strayed away from the traditional Q & A to give his answers, but the information that follows is straight from the source.
Brandon Knight and Terrance Jones have been in the "best freshmen" discussion with Jared Sullinger all year and they each have their own style of play. Knight has explosive speed and quickness, who is an excellent shooter from everywhere on the floor. He will look to attack the rim aggressively and can score in traffic, doing a nice job of finishing at the rim. He is a blur on the fast break and will push the ball at every opportunity. He is also an oustanding passer and good ball handler. His weaknesses are on defense, which is not up to his offense and sometimes he doesn't respond well to physical play. Knight has had 7 games this year of at least 5 turnovers, some of them are very untimely and at times he tries to take too much of the scoring burden upon himself.
As for Jones, he is a lefty, which can give him an advantage over most opponents. He is an excellent rebounder, defender and ballhandler for a player his size. At 6'8" he can shoot the ball with range and runs the floor well for his size. He'll attack from the both the post and perimeter, and is nearly impossible to stop of the bounce. He has the ability to overpower smaller players and blows by bigger ones. He handles the ball like a guard, can post and face equally well and will do it throughout the entire game. Jones is a very good shot blocker and gets fouled a lot. On the flip side, he can get into foul trouble himself, but has only fouled out of only one game this year. He is an inconsistent shooter, tending to burn hot or cold and does not always run hard in transistion. He also has a bit of Darius Morris in him(my take), where he can hang his head when his offense is off.
Kentucky is primarily a man-to-man team, but Calapari has thrown in a 3-2 zone a few time this year to confuse opponents or protect players in foul trouble. It is very unlikely that Ohio State will see a zone defense from Kentucky due to their excellent outside shooting. The difference in the 'Cats 8 game win streak is toughness. After the Arkansas game, the Wildcats apparently realized that if they could not be as physically tough as their opponents, their entire season could be in jeopardy.  Since then, Kentucky has responded strongly to physical challenges, and it has produced winning results.
Buckeye fans should be concerned about Kentucky's team speed, which is really good thanks to Brandon Knight. All Kentucky's players run the floor, particularly Josh Harrellson, and it is very dangerous for any team to send their guards to the offensive glass. Kentucky is also a deadly 3-point shooting team, and even though they don't have a player quite as adept as Jon Diebler, there are some like Doron Lamb who are very close. Kentucky can score from every position. If I were a Buckeye fan, I would really worry about Terrence Jones, since there doesn't seem to be a player on your roster who can guard him. (Editor: You hear that Lighty?)
I asked Glenn if that FT percentage was a concern. It depends on who winds up there. Terrence Jones can be a little unsteady at times, and Josh Harrellson has shot free throws poorly this year, for some reason.  Brandon Knight, Doron Lamb, and Darius Miller are all very solid free throw shooters. DeAndre Liggins has had moments of shakiness, but has been very good lately.
Kentucky plays the Dribble Drive Motion Offense, which is a 4 out 1 in offense based on the Attack-Attack-Skip-Attack-Attack offense developed by Vance Walberg, former coach of Pepperdine and now an assistant at UMass. The offense stations the 5 on the weak side block, and the attack may be initiated from any spot in the offense where a player gets a matchup advantage. The initiator attacks his man off the dribble and makes reads. If he beats his man, he goes for a layup, and if rotation comes, he dumps to the open 5 or kicks to the open wing. Here you can find a more detailed description of how the offense works.
The DDM can be initiated straight away, off a ball screen, or from the weave. Calipari uses all three sets to start the offense, which is designed to attack the rim, force help and create either a layup or a three. Both Doron Lamb and Brandon Knight shoot midrange shots from this offense as well, although in its pure form, that is discouraged.
Kentucky also runs sets, primarily the pick and roll and pick and pop. Darius Miller is particularly deadly as the screener in the pick and pop. Calipari's offense this year is designed to give players the maximum freedom to exploit their advantages in one-on-one situations. Kentucky runs a lot of hand-offs which act like the pick and roll, only reducing the risk of an offensive foul. This has been a particularly effective way to initiate the DDM.
With so many early departures from last year's team, I asked how Harrellson and the other veterans have influenced this team. DeAndre Liggins has emerged as one of the best defenders ever at Kentucky with his length and quickness. He is also a very capable shooter off the bounce and on the perimeter. He is the emotional and defensive leader of this team. Darius Miller has been inconsistent this year, but he has been much better lately. Whether exploiting a smaller player by backing him into the paint for a jumper, attacking bigger defenders off the bounce, or making 3-point shots, Miller has grown into a reliable third scorer.
Josh Harrellson has become a truly remarkable player. His work ethic is matched only by that of Brandon Knight, and his dedication to rebounding the ball with fundamentals has made him an indispensable member of the Wildcats, something that nobody would have predicted in the early season. Harrellson has absolutely maxed out his natural talent, and is the only player on Kentucky's team who has successfully done so.
Buckeye Breakdown
As I told Chris ealier this week, I'm pumped Ohio State gets to play in an arena this weekend, as compared to a dome. This team relies on the 3-point FG quite often and a dome can give shooters fits with the different background. Ohio State made 28 three-pointers, on 50 attempts last weekend and shot 58.6 percent from the floor. Perhaps the most remarkable feat in the opening weekend was their 49 assists on 65 field goals, including Aaron Craft's school record 15 against George Mason, which was the 4th most in NCAA Tournament history.
Hopefully Lighty's mom cooked for him again last night, as her dinner fueled his 7/7 from downtown against George Mason, which was the second best in NCAA tourney history and he is now 9/10 from deep in the first 2 games. Lighty scored 33 points in his hometown and the Buckeyes will need him to continue that pace tonight, even though he'll be usuing plenty of energy on the defensive side, more than likely drawing the tough task of guarding Terrance Jones. 
The WB has been the leading scorer for the Bucks thus far, averaging 18 points over the first 2, connecting on 14/26 from the floor, including 7 of 12 from deep. He had also grabbed 11 boards and dished out 7 assists, but has only had to play an average of 30 minutes. Diebler hit 8 of 16 from deep last weekend, scoring 27 points and dishing out 7 assists. As Jonny pointed out yesterday, Diebs game has developed nicely this year and if Kentucky tries to stick him close beyond the arc, he will try to drive the ball into the lane.
This could be the toughest frontline Jared Sullinger and Ohio State has faced all year. Sully is scoring 15.6 points and 11.8 boards in his 5 post season games this year and if he can draw fouls early on, that would go a long way in helping the Buckeyes to a win. As I mentioned last week, Dallas Lauderdale will be the X-Factor in any run to Houston and that will definitely hold true tonight. Lauderdale is playing the best basketball of his career, hitting 5/6 shots last weekend, to go along with 6 boards and 6 blocks in 29 minutes. If Sullinger picks up an early foul, Lauderdale will have to give him some blows in the first half to avoid Jared getting his second.
Another key player tonight will be the Tank. Thomas had 20 points and 9 boards in 33 minutes last weekend, hitting 8/14 shots. He needs to be mentally focused from the beginning and have the ability to give some quality minutes to Matta off the pine.
I think Ohio State needs to go inside early and often, trying to draw as many fouls as possible in the first half. As mentioned, UK is thin and if the Bucks can get the ball to Sully, but also drive the lane, it's going to open up things for them on the perimeter. They have won their 5 postseason games by an average of 17 points and they have experience on their side. We have rarely seen this team get rattled this year and there's little doubt Kentucky is going to get their runs. If OSU can limit their fast break points, continue not to foul and pound the rock inside, they should be playing for a trip to the Final Four on Sunday.
Like most of you voted yesterday, I am caustiously optimistic about this one, but still think Ohio State's physical defense gets to this young UK team, especially Craft on Knight. I can only hope their hot shooting followed them to New Jersey and the Bucks pull away late, 76-69.
Etc
UK is 10-9 all-time against Ohio State, though OSU is 5-0 in the NCAA tourney against UK.
If you missed it, J.D. Weatherspoon is back with the team and has traveled with them to NJ.
Jim Nantz and Clark Kellogg will have the call tonight.