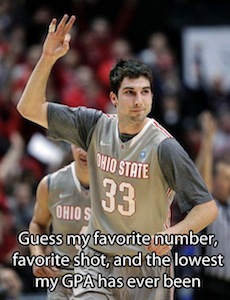 Good Monday to you, my fellow Buckeyes, patriots, 11Dubsylvanians, and under appreciated heroes of your respective domains. Pretty whirlwind weekend, no? Let's refresh, shall we?
Ohio State wins three in a row including over rivals Michigan and Penn State en route to their second consecutive Big Ten tournament championship.
Ohio State's seeeded #1 overall and given a path to Houston that starts in the friendly confiens of Cleveland then travels to Buckeye rich Newark, New Jersey for the regional final.
Nothing additionally damning befell the football program.
All in all, a pretty sweet bridge to Pi Day (3.14), no?
On the outside looking in. Before we look ahead to what we're colloquially calling the F7U12 bracket, let's look at just who didn't quite make the cut. Even with an expanded field of 68 teams, poor Seth Greenberg is left to his own devices to imagine wild and crazy conspiracies and the like. As Jason mentioned, it wouldn't hurt to play tougher teams and actually, you know, win those games. But how about those who also didn't have fate smile on them this should be national holiday (meaning we need Monday off to fill out our brackets, duh) Sunday:
Cleveland State 26-8

Saint Mary's 25-8

UTEP 25-9

Wichita State 24-8 

Harvard, 23-8

Colorado 21-13

Boston College 20-12
So maybe not exactly a murderer's row of teams meriting our empathy. Steve Donahue and BC will have plenty of other chances. Assuming Tad Boyle can continue to recruit at the clip program builder (*queue audience laughter*) Jeff Bzdelik was, he'll not have to worry about being "shocked" and "dismayed" once he kicks off Pac 12 play. Oh, and speaking of sensational overreactions? This.
 How to win it all. I share this reluctantly as I love to horde information and things awesome in nature to myself so I seem super slick when they inevitably maybe pan out, but none the less I'll pass along these beads of pearly wisdom. The immortal Ken Pomeroy has his log5 analysis of the NCAA tournament field up and the findings include some surprises, to say the least. Amongst them, Belmont (LOL Wisconsin potentially, but we all saw that coming, right?) enters into the picture as the 19th most likely team to go onto win it all though just 39% likely to advance to the third round (formerly the second round; it's confusing, but we're all doing our best). Utah State even bests the Bruins, checking as the 18th most likely team to win it all but with a far more palitable 60% likeliness to advance past the first full two days of play. Gonzaga also checks in as somewhat of a surprise with a 53% chance of advancing (22nd best overall to win the whole shebang). Math: how does it work?
Things More Likely To Happen Than You Running The Table With Your Picks. The Houston Chronicles' Joseph Duarte knows there are many things you are more likely to see/achieve/experience than bracket perfection. To humble and return your cockiness back to far more tolerable levels to those with desks nearby, here a few of those are:
-The Astros, Rockets and Texans all have a better chance of winning their respective championships in the same season for four straight years. (ED. NOTE: As fans of these teams, THIS AIN"T HAPPENING.)

-It would be easier to predict the winner of every presidential election (Democrat or Republican) though 2260.

-There are more than 147.5 quintillion ways to fill out a bracket with this year's 68-team field. (But relax! Most big online games are sticking with their Thursday start and 64 teams.)


For the record, there has never been a documented perfect bracket.
On that note, why DON'T we pick the First Four games? While the original play-in contests have often proven difficult to gauge by record alone in the past, particularly those featuring the teams playing their way onto 11 or 12 lines are ones that many of us have seen and could potentially impact our predictions on the next round. What's the worst that could happen? Even earlier squashed delusions of bracket immortality? Screw it, I'm going all in. Y'all can hold me to it: UNC Ashville, Clemson, UTSA, and VCU are my horses. Mock me tirelessly when these (evidently meaningless) guesses fail miserably.
Final Thoughts. Here are a few parting shots, King's Things style. The committee did right by the so-called mid majors, largely avoiding the possibility of fratricide with but Old Dominion (I can't get over how much this sounds like a forty ounce malt beverage) and Butler (I can't get over how much this sounds like someone named Reginald or Geoffrey) squaring off. Particularly with respect to the two play-in contests containing the non-fringe tourney worthy auto-qualifiers, we see mid v. BCS conference teams. Well done committee.
Florida a 2? LOOOOOOOOL. In the interest of better acquainting myself with the way the committee puts these bracket things together, I did some research, crunched some numbers, and put together a list based on a combination of subjective and objective analysis towards how I'd put things together with respect to the top three seedlines if it were up to me (the committee obviously leans heavily on the heavily flawed RPI, which I tried to avoid as much as possible). My results: one seeds (Ohio State, Kansas, Pitt, Duke), two's (SDSU, ND, Texas, UNC), three's (BYU, Purdue, Syracuse, Wisconsin). The actual results? Ohio State, Kansas, Pitt, and Duke as your ones, SDSU, Florida (!!), Notre Dame, and UNC as your twos, and lastly Syracuse, Purdue, BYU, and UConn as your three's. I can feel Connecticut, particularly after the mammoth run they just put together in Madison Square Garden (quick aside: they have to regroup and play Thursday? Cold bloooooded /RickJamesvoice), but the Florida slot seems so out of the ordinary, particularly in lieu of the monster beat down put on them by Kentucky on a neutral court, a team that ultimately would be seeded two slots lower. Oh, Gene. Between that and the brVtal brackets facing the Bucks, let's just say we would've graciously accepted your charity.
Finally, to pretty much directly quote the fine KJ from The Only Colors: our friends from Michigan sure sung a different tune Sunday night about a team who achieved much and left a lasting impact but was later found guilty of NCAA violations than they were earlier in the week, didn't they?
[Oh, don't forget to get in on the 11W Bracket Contest. To the winner goes two of the finest t-shirts in circulation.]