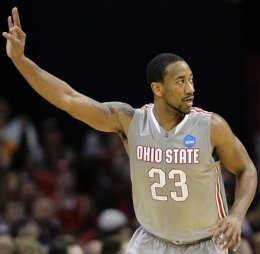 Playing at home in Cleveland, David Lighty led four Buckeyes in double figures with 25 points on a magma-esque 7/7 from distance (ties career high) and 9/10 from the floor overall as Ohio State sent another message to the rest of the NCAA tournament field via a 98-66 demolition of George Mason.
William Buford added 18 points (7/14 FG) and Jared Sullinger put up an 18 point (7/10 FG), eight rebound effort while Jon Diebler chipped in 13 points on 4/8 from beyond the arc. Setting up the fearsome foursome was Aaron Craft and his 15 assists. 
Ohio State set a school tournament record with 16 triples in 26 tries, good for an insane 62%, in the most lopsided tournament win in school history. The Buckeyes shot 61% overall while holding the Patriots to 44% on the afternoon.
Playing without an ill Luke Hancock, the Patriots took a quick 11-2 lead following a Ryan Pearson bucket but that would be the extent of the good news for George Mason as Ohio State turned on the afterburners unleashing a hellish 50-15 run - that's right, a 50-15 run - over the final 16:23 to take a commanding 52-26 lead into the locker room.
Looking swig-straight-from-the-2-liter comfortable in his hometown, Lighty drained 6/7 shots including 5/5 from downtown in a 17 point 1st half outburst. Lighty started the flogging with a triple and after a Buford layup, he assisted on a Sully flush and splashed back to back threes, one of the step-back variety, giving OSU a 15-14 with 13:25 left.
On the next possession, Lighty forced a Patriot turnover and OSU capitalized as Craft fed Sully for another rim rattler. After a rare bucket from George Mason and a pair of free throws from Craft, Lighty bottomed his fourth trey of the half giving OSU a 22-16 lead.
Already on a 31-13 run, Lighty drained his fifth triple putting OSU in front 36-24 with 4:49 left in the half. His teammates took over from there as Diebler dialed up from distance, Sully converted two free throws and a bank shot on the low block before Buford knocked a trey. After George Mason called a timeout to try and stop the massacre but promptly misfired again, Diebler hit another triple to cap a 13-0 run tucked neatly inside the 50-15 before hitting another three in response to a Pearson layup with :14 left in the half. Pearson's bucket ended a near 10 minute FG drought for the Patriots.
Possibly the most overwhelming 20 minutes of tournament basketball I've ever witnessed, Ohio State shot 63% overall, 75% from distance on 9/12, won the glass 18-10 and posted 12 assists against six turnovers despite the aforementioned 11-2 deficit at 16:23.
Everbody had highlight moments in this one though Lighty stole the show. Diebler's trey to end the 1st half was sick, so was the find from Craft to set it up. Craft had another nasty assist to Diebler for three early in the 2nd half, via a stop, drop and roll pass, and his laser from halfcourt to Sully for an and-1 to make it 29-22 Buckeyes was nearly unfathomable. Dallas Lauderdale played an active 21 minutes with six and four in addition to altering a handful of shots. Buford started slow hitting just 2/7 but caught Lighty-culosis and hit 5/7 in the 2nd half. Craft had two freaking turnovers against those 15 dimes.
On the afternoon, the Buckeyes assisted on 23 of 36 FG's against nine turnovers while forcing 17 George Mason miscues.
The win sets up a showdown with Kentucky this Friday night in Newark, NJ.