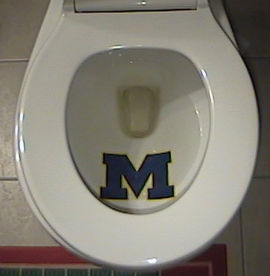 Welcome to your Friday Skull Session everyone and happy April to you. The weather is supposed to be getting warmer and the grass is supposed to be getting greener, but right now we're all freezing. What was that they said about global warming? All I know is that Al Gore guy is full of crap.
It's April and you know what that means? Baseball season is here! Oh yeah and that thing called spring football practice kicked off yesterday as well. Whether you were worried about who was getting reps with the first team or how Edison Volquez faired on the mound, one thing is certain this Friday, and that is that there's nothing better than reflecting on the great history of our bretheren to the north: the Toronto Blue Jays.
Seeing the future. There are many thoughts on how the OSU football team will perform this upcoming season, but some writes have some bold (and we mean BOLD) predictions for you. It is absolutely shocking that nobody has ever had the innovative thoughts that the OSU backfield will carry the load throughout the suspensions or that OSU will cruise past Akron and Toledo in the first two weeks. These guys make Nostradamus look silly and I wouldn't be surprised to see them make the daring prediction in the near future that Luke Fickell will lead the troops while Jim Tressel is suspended.
Satch Daddy here to stay. Breaking news Buckeye fans: Satch Sullinger is joining the OSU coaching staff. The move was likely done in order to keep Jared from jumping to the NBA, but hey, whatever wins championships. If he can give birth to three D-I athletes, including a 6-9/280 monster, he has to be able to coach them too right? This sounds an awful like the situation in Memphis a few years back when Milt Wagner got a coaching job shortly after Dajuan Wagner committed to the Tigers. Thad Matta better watch out for the Yahoo! crew coming back to town.
The end draws near. The end is coming for Jim Tressel. Our good friend HD Handshoe does a great job of putting together a career retrospective of The Senator before he bows down to the wishes of many in the college football world and just resigns following this football season. While Tressel has said he never considered retiring, it's obviously clear that once the NCAA investigates futher and uncovers that JT has been snorting lines off sorrority girls' stomachs on the reg that he will clearly be forced out by angry boosters who never got sweet dude frat bids during their time in Columbus.
College Hoops' Hottest Fans. Who nees Kemba Walker splashing wet jumpers all night when you can look at The Final Four's hottest fans? I know that despite my hate of Coach Calipari, I don't mind seeing Ashley Judd strut her stuff in the stands. Take a look at the list and while it's pretty solid, none would top these hotties had OSU made the cut to get to Houston.
S-E-C! S-E-C! S-E-C! Just when you thought it was over, apparently it's not. Losing in the second year in a row to an SEC team, it's now  apparent that the Buckeyes and the Big Ten are inferior to the conference down south. Don't pay any attention to the fact that OSU was 5-0 against UK in the tournament prior to the loss last weekend, but instead know that the "OH and TWO" cheer is the new "OH and NINE".