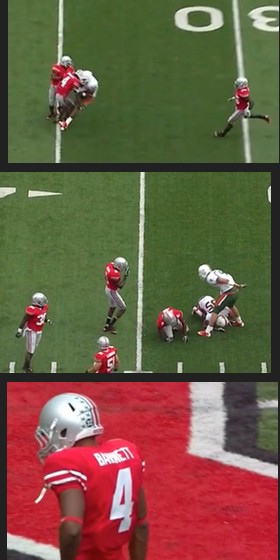 When C.J. Barnett took advantage of a leg injury to Orhian Johnson to seize the starting strong safety job last season, it didn't take long for him to live up to the lofty standards set forth by his predecessor in number and position (and prep teammate at Northmont), Kurt Coleman. Barnett assumed the role of the sledgehammer in the secondary and announced his presence with a 1st quarter blast on Miami wide receiver Leonard Hankerson, sending the larger wideout to the sideline gasping for air.
After Barnett deflected a pass in Ohio State territory that lead to a Nathan Williams interception, fretting over the youth in the secondary was officially no longer hip.
And then, just as soon as it had started, the party was over. With a half minute remaining in the third quarter and OSU nursing a 36-17 lead over the Hurricanes, Barnett came up to make a stop on Hankerson and rolled awkwardly over the receiver. Within seconds his helmet was off as he was squirming on the turf and you just knew something serious had popped.
That something turned out to be the rumored MCL/PCL combo in his right knee, but the good news is he's recovering nicely and expects to be back for spring ball after spending the better part of a redshirt year bonding with Tyler Moeller in the training room.
Players have a habit of being more optomistic than coaches or the medical staff when predicting their return to action, but if you'll recall, Aaron Pettrey was banging in 45-yard field goals in the Rose Bowl just two months after tearing his medial collateral ligament. The MCL/PCL stack is obviously an order of magnitude more severe (typically the five to nine month range for recovery), but getting Barnett back and healthy for spring ball would obviously be huge.
The secondary will be young this season with the departures of Chekwa, Torrence and Hines, but it will be seasoned youth, thanks to all of the injuries sustained last year.
The NCAA, doing work. Add UConn basketball to a large and growing list of BCS programs that have essentially dared the NCAA to "come at me bro" only to be served up a hot plate of violations. Two years after a Yahoo! report painted a former team manager as aspiring agent, the NCAA Committee on Infranctions hit the Huskies on the recruiting front, but passed on the postseason punishment:
Calhoun was cited by the NCAA on Tuesday for failing to create an atmosphere of compliance within his program and was suspended for the first three Big East games during the 2011-12 season.

The NCAA also hit UConn with scholarship reductions for three academic years, recruiting restrictions, permanent disassociation of a booster and three years' probation.
Calhoun, as you would imagine, is disappointed with the findings. You can bet an appeal is on its way, but let's face it, avoiding a postseason ban was the best case scenario for them in this situation. Matta's first Buckeye squad was not as fortunate in the aftermath of a very similar situation.
Speaking of violations, the NCAA continues to talk about tougher punishments, which is a good thing, because the SEC cheaty cup could soon runneth over. Corroborating an earlier report, Tennessee has apparently been served. The charges: Infractions by the men's basketball, football and baseball teams with largest bomb heading Bruce Pearl's way. Pearl, already $1.5M poorer and fresh off an eight game suspension for lying to the NCAA after he was busted for having Aaron Craft over for a barbeque, may find himself out of work if an unethical conduct charge sticks. Lane Kiffin was also reportedly singled out, but you already knew that.
Finally, former Auburn DE Stanley McGlover is rumored to have told HBO's Real Sports that he was provided with improper benefits during his time at the school. McGlover's transgressions fall outside of the NCAA's five year statute of limitations, but with the Cam Newton investigation ongoing (lulz), investigators descending on Thibodaux, Louisiana while investigating other potential Auburn recruiting violations and former Mississippi State player Kenny Rogers set to also speak with HBO, now is not the best of times to be a Tiger fan.
The McGlover case hits home as he was a Buckeye commit up until signing day when he switched to Auburn at the last minute. Wonder what caused the switch?
If man can bet on something, he will find a way to do so. Bodog has released prop bets for the NFL Combine, so if you've always wanted to plop down coin on who runs the fastest 40 between Jake Locker and Cam Newton or Julio Jones and A.J. Green, now's your chance. If the field is more your style, over/under for fastest 40 of the combine is 4.30, which seems about right as just six players have broken that mark since 2000 (Jacoby Ford clocked a 4.28 last year in Indy).
Random bits: Tubby Smith has had it with your vulgar chants (directed at OSU), Gopher fans... Having trouble keeping track of all of the mock brackets for the tournament? The Bracket Mix is here to save the day... An open records request has turned up a string of emails between Iowa administrators while 13 players were in the hospital for rhabdomyolysis. Exhibit A, B and C in how to fail at PR.