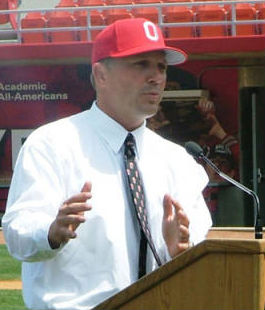 Good morning Buckeye fans and welcome to this edition of Thursday Skull Session. As winter rolls out and spring comes in, the smell of baseball and spring football come in, while the magic of the OSU hoops season carries on for another six weeks or so (we hope).
Speaking of baseball, while many of you cheer for the Reds or Indians, you might want to pay attention to a certain team in Columbus. No, I'm not talking about the Clippers, although I do love a good Dime-A-Dog Night. Rather, I am talking about the Ohio State baseball Buckeyes, and in case you didn't know, the Bucks are about to begin a new era in the sport.
Out goes coach Bob Todd, who "stepped down" last year after 27 years at the helm, but in comes Greg Beals who has coached 21 MLB draft picks at Ball State over the last eight seasons. Beals is known as a younger, energetic guy who is an excellent recruiter and kicks off his mission to bring Buckeye hardball to the top of the conference starting tomorrow in the Big Ten/Big East challenge against "rival" Cincinnati. Keep your eye on this team as I'm pretty certain Coach Beals will have them winning rings sometime soon.
No NFL? No problem. While many of you sit eagerly awaiting the results of the players association and commissioner's office negotiating a new CBA for professional football, some of you (like me) are wondering how a potential lock out will effect bigger things in life such as video games. Fear not, gamers, Madden 2012 will be produced no matter what and the only effect a lock out will have on the all-time classic is a reduction in exclusive rights price for EA Sports. What would our society be without video games?
Slow days for Mr. Rittenberg. Adam Rittenberg is the Big Ten football blogger for ESPN.com and does a terrific job, but this time of year isn't the most eventful. We feel for you Adam, because if we didn't have Buckeye hoops right now, we'd probably be writing pieces similar to this one on what will happen when Northwestern (NU) takes on Nebraska (NU) in the new Big Ten. I personally agree with going with a simple NU and NW or if you don't want to discriminate and make one change, just go NEB and NW. The decisions college football producers have to make are sure tough.
Breaking down 54 college hoopsters. That's what an anonymous scout did with Seth Davis. The only Buckeye on the list was Jared Sullinger, but "Finch" is going to have to include William Buford soon if he keeps on this tear. This is what the scout had to say about Sully:
I love him. He's like Elton Brand but he's a better basketball player. If he's not No. 1, he's not lasting past the top three. He'll get his shot blocked just like Kevin Love did, but his shooting percentage already accounts for that. He's comfortable with both hands and he makes free throws. He just has a great feel for the game, and you can tell winning is important to him. My concern is that he doesn't have a lot of upside, he's a finished product. And he's not a great athlete, so he has a ceiling.
We love him too and we'd love him even more if all the buzz on him returning is true. On one hand I wouldn't be upset if he left and took the top three draft pick money, but on the other hand, imagine how good he'd be next year. What do you think is truly the best move for Mr. Sullinger?
The next great one. OSU has had some pretty good big men come through in the Thad Matta era, but the next great Buckeye could be a point guard. A week after being named a McDonald's All-American, Shannon Scott was named to the Jordan Classic game. Scott is a 6-2/175 point guard who has developed a nice shot to go along with his tremendous ball handling and smooth passing skills. The son of former UNC star Charlie Scott, Shannon is the type of player who can have an impact in year one and will likely play alongside Aaron Craft, just like Mike Conley did with Jamar Butler. I'm really excited to see what Scott and the rest of the incoming freshmen can do with this past year's class.
You will get caught. I'm not one to harp, but on this I shall harp. Cam Newton was guilty. You cannot convince me otherwise and I know he will get caught one day. Apparently the NCAA is in the same thinking as myself and many others as their investigation into Newton and his recruitment is still on-going. It just doesn't add up that he'd ask for money from his "dream school" in Mississippi State, and when he didn't receive it, went to Auburn for free. Why wouldn't he then go to MSU anyway if no other schools offered him money? Auburn and Cam are dirty cheaters and one day the Heisman Trophy and MNC will be returned. Too bad at that point Cam will be rolling in millions made in the NFL.