All of the LOIs are in and after a few late surprises, Ohio State finds itself with a class of 23, finishing in the top 10 of all three major recruiting services (we're being generous here and including ESPN in that group). Scout has the class as the 3rd-best in the country, Rivals puts it 10th and the Worldwide Leader has it 7th.
Heading into today, the Buckeyes held commitments from 22 players, but added two on Signing Day while Chris Carter, a previously committed player, found himself in late legal trouble and is unlikely to join the team. First to join the group was Glenville quarterback Cardale Jones. He signed but was given a grayshirt as he's off to prep school to improve his academic standing. Later on, big news hit when the nation's top linebacker, Curtis Grant, chose the Buckeyes at a live presser televised by ESPNU. Grant was a huge get and joins Ryan Shazier, Connor Crowell and Ejuan Price as part of perhaps the best linebacker class of the Tressel era.
As widely expected, the Buckeyes did miss out on Glenville's Aundrey Walker, who chose the Trojans earlier today, leaving the class desperately thin at offensive line (Carter's issue only compounded things) and will look to bounce back next season with a monster OL haul.
Ultimately, this is about who we have, not who we don't have and once again, Jim Tressel and the staff have pulled together an impressive class, landing 23 of the 30 players they welcomed for official visits.
| PLAYER | POS | HT/WT | HOMETOWN (SCHOOL) | RIVALS | SCOUT | ESPN | VIDEO |
| --- | --- | --- | --- | --- | --- | --- | --- |
| Michael Bennett | DT | 6-3/275 | Centerville, OH (Centerville) | ★★★★ | ★★★★ | 80 | |
| Brian Bobek | OL | 6-2/278 | Palatine, IL (Fremd) | ★★★★ | ★★★★ | 79 | |
| Tommy Brown | OL | 6-5/310 | Akron, OH (Firestone) | ★★★ | ★★★ | 78 | |
| Jeremy Cash | DB | 6-2/185 | Plantation, FL (Plantation) | ★★★ | ★★★ | 80 | |
| Connor Crowell | LB | 6-1/215 | Waldorf, MD (North Point) | ★★★ | ★★★ | 78 | |
| Chase Farris | DE | 6-6/265 | Elyria, OH (Elyria) | ★★★★ | ★★★★ | 79 | |
| DerJuan Gambrell | DB | 6-2/180 | Toledo, OH (Rogers) | ★★★ | ★★★★ | 77 | |
| Curtis Grant | LB | 6-3/222 | Richmond, VA (Hermitage) | ★★★★★ | ★★★★★ | 81 | |
| Doran Grant | DB | 5-10/171 | Akron, OH (SVSM) | ★★★★ | ★★★★ | 81 | |
| Joe Hale | DT | 6-4/290 | Greenwood, IN (Center Grove) | ★★★ | ★★★ | 79 | |
| Kenny Hayes | DE | 6-5/240 | Toledo, OH (Whitmer) | ★★★★ | ★★★★ | 79 | |
| Bryce Haynes | LS | 6-4/185 | Cumming, GA (Pinecrest) | ★★ | ★★ | 73 | |
| Jeff Heuerman | TE | 6-5/240 | Naples, FL (Barron Collier) | ★★★ | ★★★ | 80 | |
| Cardale Jones | QB | 6-5/217 | Cleveland, OH (Glenville) | ★★★ | ★★★ | 78 | |
| Braxton Miller | QB | 6-2/185 | Huber Heights, OH (Wayne) | ★★★★ | ★★★★★ | 81 | |
| Steve Miller | DE | 6-4/230 | Canton, OH (McKinley) | ★★★★ | ★★★★★ | 82 | |
| Ejuan Price | LB | 6-0/235 | Pittsburgh, PA (Woodland Hills) | ★★★ | ★★★★ | 79 | |
| Ryan Shazier | LB | 6-3/205 | Plantation, FL (Plantation) | ★★★★ | ★★★★ | 81 | |
| Devin Smith | WR | 6-1/175 | Massillon, OH (Washington) | ★★★ | ★★★★ | 78 | |
| Evan Spencer | WR | 6-1/185 | Vernon Hills, IL (Vernon Hills) | ★★★ | ★★★★ | 81 | |
| Ron Tanner | DB | 6-1/190 | Columbus, OH (Eastmoor) | ★★★ | ★★★★ | 78 | |
| Antonio Underwood | OL | 6-3/295 | Shaker Heights, OH (Shaker Hts) | ★★★ | ★★★ | 75 | |
| Nick Vannett | TE | 6-6/230 | Westerville, OH (Central) | ★★★★ | ★★★★ | 80 | |
Mike Bennett (DT, Centerville HS, Centerville, Ohio): Talented lineman who has excelled on both sides of the ball … first team Division I all-Ohio, all-southwest Ohio … two-time GWOC conference player of year … team captain … helped Coach Ron Ullery's Elks post a 9-3 record and reach the regional semifinals … broke the school record for knockdowns by 150 in his career … U.S. Army All-American Bowl … 2011 Team USA vs. The World Game … USA Today all-USA … also a track and field letterman, making the state quarterfinals in shot put and discus … son of Mike and Connie Bennett
Brian Bobek (C, William Fremd HS, Inverness, Illinois): Skilled offensive lineman who was a three-year starter for Coach Mike Donatucci at Palatine's Fremd High … U.S. Army All-American Bowl … Parade All-America … first team all-state from Chicago Tribune, Champaign News Gazette, Rivals, Daily Herald … Chicago Sun-Times all-suburban Cook County … conference champion in shot put and discus … honor roll … son of Jeffrey and Therese Bobek … father was an Iowa lineman and mother played women's basketball for the Hawkeyes … brother Jeff is a Michigan State fullback
Tommy Brown (OL, Akron Firestone HS, Akron, Ohio): First team all-Ohio, all-city, all-district as an exceptional two-way lineman … recorded 58 tackles, 22 sacks, one safety on defense as a Falcon senior … all-academic and most valuable lineman for Coach Tim Flossie … city champion in shot put and discus … two-year bowling letterman … yearbook staff leader … son of Tommy and Theresa Brown … plans to enroll at Ohio State for the spring quarter
Jeremy Cash (DB, Plantation HS, Plantation, Florida): Hard-hitting free safety prospect from Florida … recorded 96 tackles, 23 TFL, 7 sacks, 5 forced fumbles as a junior for Coach Steve Davis … missed five games as a senior with a knee injury … Offense-Defense Bowl … also a track and basketball letterman … 4.0 student … son of Alisha and Byron Moore … enrolled at Ohio State in January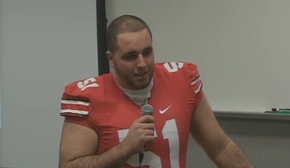 Conner Crowell (LB, North Point HS, Waldorf, Maryland): Outside linebacker with a number of athletic skills … totaled 212 tackles, 9 sacks, 5 interceptions during his junior and senior seasons … four-year varsity letterman who also played fullback for Coach Ken Lane's Eagles … Washington Post all-metro … son of Lori and Richard Crowell
Chase Farris (DE, Elyria HS, Elyria, Ohio): First team all-Ohio player on both sides of the football … team, county, conference, district defensive lineman of year … all-Lorain, all-northeast Ohio, all-district teams … recorded 95 tackles, 11.5 sacks, 31 TFL as a senior for Coach Steve Hamilton …defensive MVP of Offense-Defense Bowl … Ohio North-South Classic, Big 33 Game … also a basketball letterman … MAC Scholar … son of Dina Farris and Rodney Moore
DerJuan Gambrell (CB, Rogers HS, Toledo, Ohio): Speedy cornerback prospect from Toledo's Rogers High … first team all-city, all-Blade, all-district for Coach Rick Rios … missed four games as a senior due to injury, but still accounted for 551 yards, 7 TD rushing and 24 tackles … Offense-Defense Bowl, Ohio North-South Classic, Big 33 Game … regional champion at 400 meters … goes by the nickname "Peewee" … son of Wanda Gambrell and Darryl Elston … brother Darryl runs track at Arizona State
Curtis Grant (LB, Hermitage HS, Richmond, Virginia): Three-year all-Richmond metro defender … 134 tackles, 15 TFL, 6 sacks as a senior for Coach Patrick Kane … Parade All-America and USA Today all-USA … leading tackler for the East in the U.S. Army All-American Bowl … son of Gloria Grant and Curtis Raynard Grant
Doran Grant (CB, St. Vincent-St. Mary HS, Akron, Ohio): Versatile athlete who excelled as a receiver, corner and kick returner … two-time all-state honoree for Coach Dan Boarman … recorded 203 tackles, 6 interceptions for the Irish, along with 88 catches for 1,115 yards and 25 TD … Under Armour All-American Game, Ohio North-South Classic, Big 33 Game … USA Today all-USA … Dapper Dan selection … state champion in the 110m outdoor and 60m indoor hurdles … also a basketball letterman … son of Tonya Grant and Ted Jones … father was a receiver at Michigan State
Joel Hale (DT, Center Grove HS, Greenwood, Indiana): Outstanding defensive line prospect for the Buckeyes … recorded 40 tackles and 9 forced fumbles as a senior … defensive line Mr. Football for state of Indiana … all-county, all-MICC conference, all-state for Coach Eric Moore … also lettered in track … son of Dawn Whitaker and Khris Hale … enrolled at Ohio State in January
Kenny Hayes (DE, Whitmer HS, Toledo, Ohio): Rangy pass rusher who was district defensive player of the year at Toledo's Whitmer High … 47 tackles, 11 TFL, 7 sacks and a blocked kick for the 12-2 Panthers … all-state, all-Toledo City League, all-district, all-Blade for Coach Joe Palka … Offense-Defense Bowl … all-city in basketball … son of Talaya and Al Davis
Bryce Haynes (LS, Pinecrest Academy, Cumming, Georgia): Specialist who took top honors in long snapping at a number of national camps … rated as the nation's top prep prospect at that position … first team GISA all-region playing defensive end for Coach Charles Wiggins … also a basketball and track letterman … National Honor Society, Spanish honorary, school senate, newspaper … son of Laura and Billy Haynes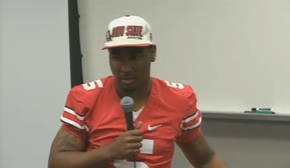 Jeff Heuerman (TE, Barron Collier HS, Naples, Florida): Tall tight end who is equally skilled at blocking and pass-catching … team captain for Coach Mark Ivey's Cougars … all-conference, all-area and all-district as a senior … his teams won 3 district 3A titles in 4 years … son of Melissa and Paul Heuerman … father played basketball at Michigan … enrolled at Ohio State in January
Cardale Jones (QB, Glenville HS, Cleveland, Ohio): Quarterback prospect from perennial power Glenville … 24-3 as a starting quarterback for Coach Ted Ginn … passed for 1,689 yards, 22 TD as a senior … 14 career rushing TD … MVP of the Offense-Defense Bowl … Big 33 Game … also a basketball letterman … son of Florence Jones
Braxton Miller (QB, Wayne HS, Huber Heights, Ohio): Highly-rated quarterback who led Wayne High to the Division I state title game … passed for 2,167 yards, 17 TD, and rushed for 658 yards, 17 TD, as a senior for Coach Jay Minton … career record of 31-7 over three seasons … Ohio Mr. Football finalist and first team all-state … Under Armour All-American Game … basketball letterman … son of Kelly Miller and Kevin Miller … enrolled at Ohio State in January
Steve Miller (DL, Canton McKinley HS, Canton, Ohio): Imposing defensive end who was an all-Ohio pick as a sophomore, junior and senior … recorded 260 career tackles, 28 TFL, 19 sacks, 7 forced fumbles for the playoff-bound Bulldogs … three-time all-Stark County, all-Federal League, all-Inland District defender for Coach Ron Johnson … Under Armour All-American Game, Ohio North-South Classic, Big 33 Game … also a basketball letterman … honor roll every quarter, academic champion … son of Josette Armstead
Ejuan Price (LB, Woodland Hills HS, Pittsburgh, Pennsylvania): Physical linebacker who packs a punch … with 100 tackles and 12 sacks as a senior, helped Coach George Novak's Wolverines to their second straight WPIAL championship game … Big 33 Game … serious weightlifter … honor roll … son of Michelle Price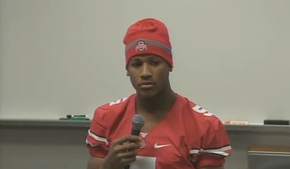 Ryan Shazier (LB, Plantation HS, Pompano Beach, Florida): All-state outside linebacker from Florida … 87 tackles, 19.5 sacks, 4 forced fumbles, 4 blocked kicks for Coach Steve Davis … Broward County most outstanding player … 35.5 career sacks, a school best … Under Armour All-American Game … son of Shawn and Vernon Shazier … enrolled at Ohio State in January
Devin Smith (WR, Massillon Washington HS, Massillon, Ohio): Two-time first team all-Ohio offensive weapon … 110 career catches for 2,119 yards, 24 TD (second-best in school records) for Coach Jason Hall … all-county Independent player of year … state long jump champion and a state qualifier in the high jump and 4x200 relay … also a basketball standout … Ohio North-South Classic, Big 33 Game … son of Atina Smith and Andre Simpson
Evan Spencer (WR, Vernon Hills HS, Vernon Hills, Illinois): All-state offensive weapon with a Buckeye pedigree… scored 19 TD as a senior and 14 as a junior … helped lead Coach Tony Monken's Cougars to the state quarterfinals … son of Gilda and Tim Spencer … father is a former Ohio State running back and assistant coach now on the coaching staff of the NFL's Chicago Bears
Ron Tanner (DB, Eastmoor Academy, Columbus, Ohio): Talented free safety with versatile athletic skills … 104 tackles, 3 interceptions, 15 PBU as a senior … also passed for 1,100 yards and 14 TD … al-city, all-central district, all-metro for Coach Jim Miranda … Offense-Defense Bowl, Team USA vs. The World Game … basketball and baseball letterman … Ohio all-academic, honor roll, National Honor Society … son of Kim and Ronald Tanner … plans to enroll at Ohio State in the spring quarter
Tony Underwood (OL, Shaker Heights HS, Shaker Heights, Ohio): Offensive line prospect blessed with great leverage and power … Lake Erie League conference offensive lineman of the year … team captain and three-year starter for Coach Anthony Watkins … also played nose guard as a senior … Big 33 Game … son of Sharise Thomas
Nick Vannett (TE, Westerville Central HS, Westerville, Ohio): Tremendous receiver/blocker who earned all-Ohio recognition … all-metro, all-OCC, all-district honors … made 47 catches for 606 yards, 8 TD as a senior for Coach John Magistro … Offense-Defense Bowl, Ohio North-South Classic, Big 33 Game … also a basketball letterman … active in community service … son of Carol and Jim Vannett