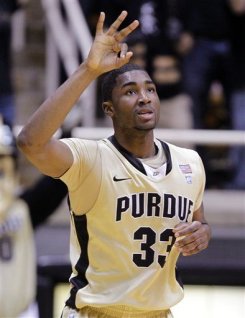 Tip your hat. E'Twaun Moore was a beast today.
Looking for revenge after the Buckeyes harrassed him into a 4/13 shooting night during OSU's 87-64 pasting of Purdue back on January 25th, Moore was a man amongst boys this afternoon netting a career high 38 points on a scorching 13/18 from the floor including a red hot 7/10 from distance as the Boilers posted an impressive 76-63 victory in Mackey Arena.
Not that he needed any help, but Moore received some from teammate JaJuan Johnson (13 pts) and even more from a sloppy Buckeye bunch that had as many turnovers as field goals (18), saw William Buford rack up two fouls in less than three minutes, and David Lighty stink it up at a level I'm not sure I've seen before. Lighty's day consisted of 2/9 from the field, 5/10 from the line, three turnovers and a huge momentum changing sequence in which he missed two free throws with OSU trailing 63-55 with 4:22 left before fouling D.J. Byrd on a three point try at the other end helping Purdue establish a 10 point cushion with 3:55 to play.
Lighty wasn't alone in his struggles however as Ohio State could never get over the hump thanks to untimely turnovers, ridiculously cold 2nd half shooting and the exploits of Moore.
Following Lighty's rough stretch, the Buckeyes went on a modest 6-0 run thanks to two free thows each from Jon Diebler and Lighty before Sullinger converted a steal into a dunk cutting the lead to 65-61 with 2:37 left in regulation. The chance at a comeback was short-lived however as Moore drained a triple out of a timeout pushing the lead to 68-61 and after an errant triple from Diebler, Moore was fouled and converted both free throws to make it 70-61 with 1:49 left to effectively ice the game.
A, shall we say, interestingly officiated game got off to a bad start with Buford's two quick fouls forcing him to take a seat though OSU still managed to jump out to an 8-2 lead as Matt Painter elected to play Jared Sullinger one on one in the paint. Sullinger converted back to back spin moves during the run and Diebler tied the all-time B1G record for three pointers made with a fallaway triple as the shot clock ran down giving OSU an 11-5 lead.
The lead would not last as the Buckeyes committed six turnovers in the first eight minutes allowing Purdue to take an 18-15 lead following a Johnson turnaround in the paint. Finally settling in defensively, Ohio State answered with a 9-1 run to take a 24-19 lead as Buford scored five points via a pair of free throws and a triple from the right wing off a nice downscreen before Sullinger converted back to back putbacks of missed layups from Aaron Craft and Lighty.
On the ensuing possession, Sullinger picked up his 2nd foul on a Johnson and-1 setting off a 18-9 blitz in which Moore scored 14 straight points via three triples, an acrobatic driving scoop shot and a jumper to end the first half with Purdue in front 37-33.
The Buckeyes simply couldn't slow Moore or get out of their own way turning it over nine times while missing four of 10 free throws.
Ohio State threatened a few times in the 2nd half with Diebler's record setting 333rd career three pointer cutting the lead to three at the 19:04 mark and a breakaway layup from Craft making it 44-42 Boilers with 16:06 to play but the Buckeyes would be held scoreless over the next four minutes as Purdue increased their lead to 52-42 with an 8-0 run. The plague of sloppy play ignited the run as OSU lost a back door cutter for an easy layup before Diebler turned it over then inexplicably chose not to foul leading to an uncontested layup. Meanwhile, the Buckeyes were going 0/6 from the floor with three of those coming off the forced hand of Buford.
The cold shooting would continue as the Buckeyes missed 11 of their first 14 shots of the 2nd half while Moore couldn't miss. He hit 6/8 in the final 20 minutes, good for 20 points, and seemingly had an answer each time OSU tried to come back. After a Sullinger dunk cut the lead to 56-51 with 7:15 to play, Moore hit a jumper push the lead to seven. After another Sully dunk got OSU to within four points at 65-61, Moore bombed the triple out of the timeout to again push the lead to seven. And on and on it went.
Sulinger led the Buckeyes with 25 points and six boards but had little help. Diebler finished with 11 points, three turnovers and some truly questionable defense. Lighty did add 10 points, six boards and four assists in 40 minutes but there's no question his day was a tough one. Buford added just seven points (1/5) in 28 minutes and simply never got into the flow after picking up his 2nd foul at the 17:16 mark.
Craft had his moments at the defensive end via six steals and some skin tight defense on Lewis Jackson but despite his 10 points he also struggled at the offensive end commiting six turnovers.
While it shouldn't be shocking the Buckeyes fell on the road to a revenge minded Purdue squad that has yet to lose at home, the overall shoddy valuation of the ball on offense and a lackluster defensive effort helping Purdue shoot 51% was not what I expected to see. The foul trouble clearly impacted the offensive cohesion and with Buford on the pine and Lauderdale also saddled with fouls, the lack of a bench was a bit exposed. Deshaun Thomas was absolutely dreadful going 0/6 in 12 minutes.
For the game, OSU shot just 38% from the floor and 27% from distance (4/15), hitting just 18 total field goals on the day.
The loss drops the Buckeyes to 25-2 overall and 12-2 in the league, one game clear of Purdue's 11-3 mark. The good news for OSU is they now head back to the Schott for a Tuesday date with Illinois, the beginning of a very streakable three game set also featuring Indiana at home before a trip to Penn State.