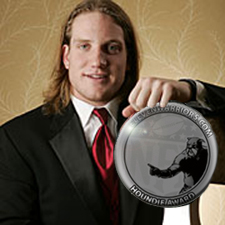 The Houndie is an award formerly known as the Buckeye NFLer of the Week.  After 2 years of existence, we searched for a catchier name, so with the help of a well placed typo and the ensuing 11W comments, the current title was created.
There are many great aspects of being a Buckeye fan, one of which is a particular man crush you may develop on a player while he is in Columbus and watching his talents grow on Sundays. I've always been a Bears fan, but beyond debating whether Cutler is good for the franchise or not, the only reason I watch NFL games is to see what the former Bucks are up to, beacuase I suck at fantasy.
While it may not get the press it deserves quite yet, our sources say that the Houndie has become a prestigious honor amongst the Buckeye alum. Thirteen different players took home the weekly honor in the 2010 season, but only one of them gets to take home the ultimate prize. Before we reveal the winner, let's take a quick look at how the others did.
If there is one constant complaint amongst Buckeye Nation in the Tressel era, it is the O-Line and the fact that OSU only has 2 starters in the league is a telling sign that us fans might be right. After being traded in the offseason, Rob Sims started all 16 games at LG for the Detroit Lions, helping lead a young offense to 4 straight victories to close out the season. The Lions fans were happy with Sims' performance and he should be in Detroit for years to come after signing a contract extension. Of course the other lineman is Nick Mangold, who earned his second straight All-Pro honor after starting all 16 games again for the Jets, running his consecutive games started streak to 90 or every game he has played since being drafted in 2005. We must also gives some props to Ben Hartstock here, who though technically not an O-Lineman, has found a niche blocking for the Jets and their running attack.
We were treated to a Troy Smith sighting in the middle of the 49ers season, as he lead them to consecutive wins in week eight and ten, but quickly fell back to earth in the shutout loss to Tampa in week 11. He had earned the backing of his teammates (along with week 8 and 10 Houndies), but Samurai Mike played musical chairs when Alex Smith returned and the indecisiveness eventually cost him his job. Smith finished the season with a 77.8% QB rating, throwing for 5 TD's and 4 picks, but he more than likely won't be back with San Fran.
Beanie Wells had a disappointing season, trying to fight through a preseason knee injury that never fully healed and an offense that was downright awful. Wells finished the season with 397 yards on a 113 carries, good for only 3.4 yards per tote. He ran for 75 yards in his season debut week 3, but only topped 54 yards twice after that and found the end zone just a couple of times, failing to take home a Houndie in 2010. Needless to say, 2011 needs to be a HUGE year for Beanie, if he is going to stay in Arizona.
At receiver, Santonio and Brian Hartline fought for the best season at the position, each playing in 12 games. Hartline sat the last 4 due to injury and finished the season with 43 catches for 615 yards and a TD, while Holmes snagged 52 for 746 and 6 TD's. Holmes clearly has the better QB and team, but I think we can all admit we are surprised by how well Hartline has done thus far.
The other Brian is still struggling to adjust (though his QB situation is worse off), as Robiskie caught 29 for 310 yards and 3 TD's, all coming over the final three weeks. Robo seem to develop some nice chemistry with Colt McCoy over the last quarter of the season, but with a new regime in Cleveland, he is going to have to prove himself more this season. Down in Atlanta, Michael Jenkins sat out the first five games, but returned to become the Falcons #3 receiver with 41 catches for 505 yards and 2 TD's. If Tony Gonzalez does retire, Jenkins should see more targets in 2011.
It will be interesting to see how the Harbaugh regime treats Ted Ginn Jr., who has yet to live up to his draft status. The 49ers used Teddy primarily as a returner, where his 21.1 average was third lowest amongst the 19 players with 40 or more returns, while his 13.4 punt return average was second best (Devin Hester) in the group of 20 with 23 or more attempts. He only caught 12 passes for 163 yards and a TD in the last game, making him a potential budget cut this fall if Harbaugh doesn't see the value in just a returner.
On defense, we raved about the numbers Donte Whitner put up this year, finishing 5th in the league with 140 tackles. Once again Buffalo stunk up the field and Whitner had his bags packed and locker cleared out in record time after the season. Once they get their act together with the CBA, Whitner is sure to sign with a better team, but who knows, he could go for the money and hometown Browns.
From high to low, Vernon Gholston is more than likely on his way out in New York, after posting a dismal 12 tackles on the season and was inactive for the Jets 3 playoff games. Gholston now has 42 career tackles and zero sacks, yes ZERO sacks in his three years with the Jets. The only positive thing Big Vern did in his tenure was restructure his contract last year so the Jets won't lose as much when they cut him loose.
Malcolm Jenkins had his breakout season as he made the move to safety and was selected second team All Pro with 64 tackles, a FF and 2 picks, one of which was returned for a TD. Jenkins took home the Houndie in weeks 12 and 14 after he settled into his new position nicely. His teammate Will Smith battled injuries for most of the season and saw his numbers dip just a bit. Smith had a career high 13.5 sacks in 2009, but was limited to 5.5 this past season, to go along with 39 tackles. The lack of a threat off the edge allowed teams to move the ball on New Orleans more this year and it was became their demise in the first round exit of the playoffs.
The elder statesmen in the secondary, Antoine Winfield and Nate Clements are still playing at a high level and still a few years away from being done in this league even though they have a combined 22 years experience. Winfield is still considered one of the best tackling corners in the league and would have taken home the Houndie in week 16 if their game wasn't moved to Tuesday of that week. On the season, he finished with 91 tackles, 2 sacks, 2 FF's and 2 picks. Meanwhile, Clements finished with 82 tackles, a sack, 3 FF's and 3 picks, playing in all 16 games for the first time in 3 years.      
Chris Gamble should be on his way out in Carolina, but with a new coach coming in, that could change. Gamble planted himself in the Dog House midseason as he battled a "foot injury" and didn't see the field for the last 6 games. He finished with a career low 35 tackles and didn't have a pick for the first time in his 7 year career. Meanwhile, the opposite happened for Kurt Coleman. After a slow start to his rookie season, Coleman took advantage of injuries to Philadelphia's secondary and started a few games towards the end of the year. He appeared in 15 games, registering 36 tackles and a pick.
For linebackers, the Buckeye flavored corps down in St. Louis helped the Rams reach a near playoff spot, after going 1-15 a year ago. Larry Grant started the year with a bang, winning 2 Houndies in the first six weeks, but faltered the last half of the season, finishing with a career high 24 tackles and 2 forced fumbles, though he appeared in all 16 games for the second straight year. Na'il Diggs sat out the last 4 games due to injury and finished with 36 tackles and a forced fumble. The main stay of the group, James Laurinaitis lead the team in tackles for the second straight year, with 114, which was 6 off his pace of last year. Lil' Animal did set a career high with 3 sacks and added an INT to his resume, as he continues to develop towards greatness.
A special mention goes out to Mike Vrabel and Bobby Carpenter for their play this year. Vrabel had his fewest tackles since 2001, with 48, but his leadership was unquestioned and a huge reason Kansas City was able to turn things around so quickly under their new coaching staff and win the division. If you're wondering, yes Vrabel kept his streak intact, catching a TD pass, which gives him 10 career regular season receptions for 10 TD's. Carpenter had a rough start to the season, after being traded from Dallas to St. Louis in the offseason, he was cut by the Rams, signed and cut by the Dolphins after 4 games and then landed in Detroit. He ended the season with 40 tackles, but earned some rave reviews in the final couple games of the season, after he posted 18 tackles and a safety. Hopefully he has found a home for the next few years, as I hate to say, but Detroit is an up and coming team.
A few guys that hung around on special teams this year were, Donnie Nickey down in Tennessee (6 tackles in 16 games), Donald Washington of Kansas City (22 tackles in 12 games) and of course Will Allen, who after signing with Pittsburgh in the offseason, gets to make his Super Bowl debut this Sunday. Allen finished with 12 tackles in 14 games and will be #26 if you happen to watch the game this weekend.
Finally we get to Packers, who not only reached the Super Bowl after taking down my Bears and winning 3 road playoff games, but also have 3 Buckeyes that will see action this Sunday. Matt Wilhelm was out of work for the first 7 weeks of the season, but signed with the Packers after they were devastated by injury and has done a nice job on special teams. He appeared in 7 games, his fewest since 2004 and registered 5 tackles, he'll be #57 Sunday. One of the keys to the Pack D is Ryan Pickett clogging up the middle of the D-Line, allowing those LB's to run free. Pickett signed a 28 million dollar contract extension last summer and though he was dogged by an ankle injury for the latter half of the season, he finished the year with 30 tackles and a sack in 14 games. He'll be tough to miss in the #79 jersey Sunday and here's to him breaking the nose of Big Ben.
Before we give out this year's Houndie, we would be remiss if we didn't mention Hall of Famer, Dick Lebeau. Once again, 11W favorite Lebeau coordinated the Steelers vaunted defense, which lead the league this year in sacks (48) and points allowed per game (14.5). A humble native of London, Ohio, he is the only reason I don't have as much hatred towards the Steelers as in years past.
But this year's winner was the subject of trade rumors in week 1, after he recorded just 1 tackle in the opening week. However, A.J. Hawk quickly returned to form in week 2 with 9 tackles and didn't look back from there. He is the captain of that defense and once again lead them in tackles for the third time in his five year career, finishing the season with 111, his most in the past 3 years. Hawk also registered a half sack and career highs in picks (3) and passes defended (10).Though some Packer fans still debate whether he was worth the 6th pick or not, he still hasn't missed a game in his 5 year career. The winner of the Houndie in weeks 4 and 17, Hawk was unavailable this week for an interview, but released this statement upon finding out the honor.         
I thought going to the Super Bowl was the highlight of my year, but receiving the 2010 Houndie tops that. It is amazing the clout this award holds amongst the Buckeye alum and I can only hope that my play this Sunday upholds the fine two-year tradition of the award.
We here at 11W wish A.J. and the rest of the Buckeyes participating this weekend all the luck in making it a classic game. I hate both teams, but hope that the Packers come out on top, since they have the most Buckeyes.