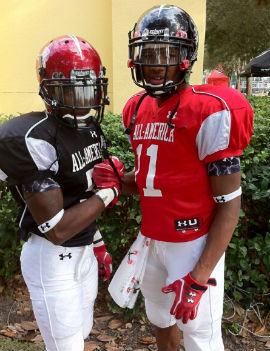 Not sure about any of you, but I know I sure can't stop smiling about Tuesday night. Winning the Sugar Bowl after all the team has been through the last two weeks, and doing it against an SEC team nonetheless, made it all the better. We'll keep you going on your New Orleans high in this Thursday Skull Session, while sprinkling in some things you may have missed while in non-stop party mode the last two days.
 There was a basketball game Tuesday? Yes, indeed there was. If you missed it, the hoops Buckeyes defeated Iowa 73-68 in Iowa City in what was a way too close for comfort game. The Bucks found themselves down at halftime, before taking a sizable second half lead, only to almost blow the game. Maybe this can serve as a wake-up call for an OSU team that has been coasting through the early part of the season. An effort like Tuesday's cannot happen come the brunt of the Big Ten schedule, which is right around the corner. 
 You win some, you lose some In this case, we're talking recruiting, and more specifically the Under Armour All-American Game. The all-star game aired on ESPN last night and featured Buckeye verbal commitments in Braxton Miller, Steve Miller, and Ryan Shazier. OSU prospects Jadeveon Clowney, Ja'Juan Story, James Vaughters, Darius Jennings, Jabari Gorman, and Doran Grant were also players honored to make the trip to Orlando. The latter two announced their college decisions at the game, and as expected Jabari Gorman chose Florida, while Doran Grant picked the good guys. Both of these players would have been nice to add to the depth chart next year, but if we had to pick one, it would be Grant. Consider us happy campers today, as Grant could step in and see time as the nickel back right away next season. 
 Sugar still sweet Yes it is and we have plenty of reading for you to browse at involving the game. Tim May has some short shots about the game, including a note that Terrelle Pryor now has more rushing yards in his career than any other OSU quarterback. Doug Lesmerises and Bill Livingston share their favorite memories from the game. Rob Oller has some humorous observations. Ray Stein has the bottom line on the night in New Orleans. Bob Hunter says the most important thing in Buckeye land isn't Tatgate, but rather the big win....at least for now. SI.com's Andy Staples gives OSU praise, but says it came at a moral cost. Terrelle Pryor has a plan for his senior year. Finally, some solid video by Adam Rittenberg, as he interviews Solomon Thomas and Dane Sanzenbacher.  
 Caught On Camera Bucknuts has some solid shots from the bowl trip, while the Dispatch has the video to give the one-up. Too bad they're all outdone as some handsome editor of a great Buckeye website was caught with THE JHC on Bourbon Street. Sorry Jason, had to get that in one more time! Oh yeah, and one more thing. This is way TOO SOON.
 Two times a charm? Pitt's sure hoping so, as it appears they have hired longtime Penn State defensive coordinator, Tom Bradley. This move seems safe for Pitt who gets a coach who has recruited the state for a long time and is a name well known throughout the college football community. Bradley must know more than any of us about the future in Happy Valley, and it appears that he wasn't in line to take over for Joe Pa in the next year or two when the old man calls it quits (Greg Schiano anyone???). After striking out with Mike "He Hit Me" Haywood, the Panthers had to make a move that could salvage the program. It will be interesting to see how Bradley does as a head coach after spending the last 32 years as an assistant at PSU.