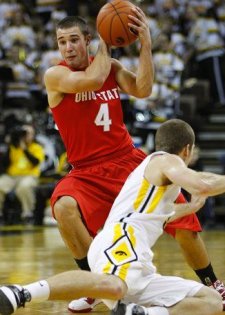 Ohio State puts their #1 national ranking on the line for the first time as they play host to a struggling Iowa Hawkeyes outfit, losers of their first five conference games by an average of 13 points. Four of those losses have come against ranked teams - welcome to the Big Ten, coach Fran McCaffery. Though Iowa is just 2-18 against #1 ranked teams in their history, McCaffery is no stranger to (mildly) upsetting the Buckeyes, as his Siena squad defeated OSU 74-72 (2OT) in the 2009 Dance.
The Buckeyes vaulted to the top spot in the land after slipping past a pesky Penn State group 69-66 this past Saturday in sold out Value City Arena following a loss by Duke at Florida State earlier in the week. Jared Sullinger was money converting consecutive and-1's in the closing seconds on his way to 19 points, six boards and five dimes while Aaron Craft had his finest day as a Buckeye with a career high 19 points (7/11 FG) and seven assists at the offensive end while holding Talor Battle, the conference's then leading scorer, to 15 points on 5/7 shooting.
While most fans may not even remember because they were getting tele-drunk on the Sugar Bowl, the basketball Buckeyes have already beaten Iowa once this year, a too close for comfort 73-68 win in half-empty Carver-Hawkeye Arena as their football bretheren were getting jiggy in the Big Easy. The Buckeyes actually trailed 45-42 in the 2nd half before a 16-0 run fueled by back to back bombs from Diebs gave them some breathing room. Foreshadowing a problematic issue of struggling to step on the opponent's neck, Ohio State allowed Iowa to claw back to 71-68 with :29 left before AC buried two free throws with :16 left providing the final margin.
| # | Name | PTS | REB | ASST | POS | # | Name | PTS | REB | ASST |
| --- | --- | --- | --- | --- | --- | --- | --- | --- | --- | --- |
| 44 | William Buford | 13.6 | 4.2 | 3.5 | G | 24 | Bryce Cartwright | 10.9 | 2.4 | 4.6 |
| 33 | Jon Diebler | 11.9 | 1.8 | 2.4 | G | 5 | Matt Gatens | 13.2 | 2.5 | 2.3 |
| 23 | David Lighty | 12.7 | 3.9 | 3.6 | F | 25 | Eric May | 10.3 | 3.7 | 1.3 |
| 0 | Jared Sullinger | 17.6 | 9.9 | 1.4 | F | 1 | Melsahn Basabe | 9.5 | 7.0 | 0.2 |
| 52 | Dallas Lauderdale | 4.5 | 4.4 | 0.5 | C | 50 | Jarryd Cole | 6.6 | 6.2 | 0.4 |
Opponent
Iowa's five game slide has the Hawkeyes ranked last in Big Ten play in Scoring Defense (78.8) and 9th in Scoring Offense (65.4), resulting in a league worst -13.4 Scoring Margin. They simply aren't making shots (43%, ranked 9th) nor are they keeping opponents from putting the biscuit in the basket allowing a conference worst FG% of 53.5%. They particularly suck at guarding the three, allowing conference opponents to shoot a league high 45.8% from distance. In fact, Iowa has allowed an opposing conference player to drain at least three triples in four of their first five conference games including four from Diebler back on January, 4th. At a glance, they only rank in the top half of all Big Ten teams in two stats. They are 2nd in steals at 6.6 per game and 4th in offensive boards at 11.60 which I guess makes sense considering they miss so many shots. 
Iowa's latest loss came at the hands of a somewhat disinterested Minnesota team that built an 11 point halftime lead before allowing Iowa to play them relatively even in the 2nd half. Far and away their best frontline player, Melsahn Basabe (6'7", Fr.) posted a legit 20 point, 11 rebound effort against Minnesota's bigs while Eric May (6'5", So.), who missed the first game against OSU, added 16 points. Gunner Matt Gatens (6'5", Jr.) scored 13 points but took 21 shots to get there, making just five. A familiar trend, Iowa lost the glass by 10 and also saw the Gophers reject 12 shots. Another familiar occurrence, they shot just 37% moving to 0-5 in league play.
The Minnesota loss was a moral victory in comparison to the 90-71 home loss they suffered at home to Northwestern three nights earlier. The Hawkeyes surrendered an early 24-4 run by the nerds and never threatened thereafter. They allowed the Wildcats to hit 14/28 from distance (53% FG overall) assisting on 23 of 33 field goals. The Hawkeyes did shoot 52% themselves and got a career high 25 points from Compton's own Bryce Cartwright (6'1", Jr.) and another 20 from Gatens but Basabe scored just six points (12 boards).
Basabe was a beast in the first matchup with Ohio State throwing up a thick statline of 22 points, 13 boards and six blocks and Gatens added 14 including the triple that gave Iowa the 45-42 lead before OSU responded with the 16-0 blitz. Interestingly, Jarryd Cole chipped in 14 against Ohio State but hasn't reached double figures since, seeing his minutes decrease sharply. I expect that to change tonight.
Reserves Zach McCabe (6'7") and Roy Devyn Marble (6'5") have seen the most action off the bench recently and 6'9" Andrew Brommer also figures to see action but that could be limited as Craft steals more and more of Lauderdale's minutes giving OSU a smaller look.
Buckeye Breakdown
The Buckeyes have been playing with fire, winning their last four games by a combined 15 points. Granted two were roadies and one was against a Minnesota squad that lured the Buckeyes into a streetfight but having already won 18 in a row, one has to wonder when the Buckeyes will eventually drop a game. It's bound to happen in such a tough conference. But, there's no reason to think tonight is the night the streak ends.
In the first go round with Iowa, the Buckeyes were playing their 2nd straight road contest after opening the season with 11 of 13 in the friendly confines yet still managed to overcome the upset bid in which they trailed 35-29 at intermission with the big 16-0 run and clutch defense and free throw shooting from Craft.
Speaking of Craft, the kid has been a catalyst at both ends of the floor lately as he continues his rapid development. Teams continue to slouch off him and he's responded nicely, reaching double figures in three straight games boosted by 8/14 shooting from downtown while handing out a combined 15 assists. Defensively, he's been a machine most responsible for Talor Battle's 5/17 night, Al Nolen's 2/10 effort and he completely shut down Michigan's Darius Morris for 30 minutes holding him to six points before his late explosion. 
In Craft's wake, Lauderdale is averaging barely over 10 minutes in the last three games as Matta clearly sees his best five is comprised of Craft, WB, Diebs, Lighty and Sullinger. Frankly, Thomas deserves more minutes than Lauderdale at this point. Through five conference games, Twin Cities has 12 boards and 11 blocks. He hasn't blocked a shot in the last three games and has just two points. I'm not hatin' but until the Buckeyes run into some bulky frontlines and/or foul trouble to Sullinger and/or Lighty, I hope Matta keeps his best five on the floor even if that means the incredibly nice guy with the giant wing span has to cheer from the sidelines. He has a place on the floor in certain matchup and situations but I think it's hard to deny Craft and Thomas in the pecking order when it comes to production, especially in close games.
That being said, Lauderdale did log 22 active minutes in the first Iowa tilt with six points, four boards (3 off) and four blocks and I'm sure Matta wants to get him going so expect him to see more than the 10 minutes he's avearaging over the last three plus Cole and Besabe made some noise inside last time so the size-lineup could prove more necessary. At the very least, this is an interesting conundrum to watch as the season wears on.
Bottom line, Ohio State is the 2nd best shooting team thus far in conference action (50.6%) playing against the Big Ten's worst FG% Defense. Combined with the home cooking, they should be able to effectively play outside-in stretching the defense with the perimeter game, eventually paving the way for Sullinger to do damage in the paint. I could be wrong, but I just don't see tonight being Ohio State's fifth straight close game.
Etc
Lighty needs one rebound to join JJ and The Villain as the only Buckeyes to rack up 1,000 points, 500 boards and 300 assists. Of course, JJ and ET did it in three years while Lighty was actually recruited to Columbus by Fred Taylor.
Iowa leads the all-time series 73-68 but the Buckeyes lead 44-25 in Columbus and currently boast an all-time best five game winning streak against the Hawkeyes.
Everytime we play Iowa, I'm reminded of Ed Horton wacking Jay Burson into the basket support back in 1989 causing the scrawny scorer from New Concord to break his neck. Most remember that event but few remember Burson actually suffered the injury midway through the first half yet still managed to log 36 minutes, scoring 25 points, in the eight point loss. Burson nor the medical staff really knew anything was wrong until the next day when Burson started coughing up blood. SI.com has a nice read about the saga. I recommend you check it out if this was before your Buckeye hoops time or if you don't remember how it all went down. I lived and died with the team even back then (early-mid teenage years) and I remember being crushed by Burson's fate. Not only for him personally, but the Bucks were 17-7 at the time and his loss was insurmountable as they lost eight straight and nine of eleven to close the season. Screw Ed Horton. Screw Iowa.