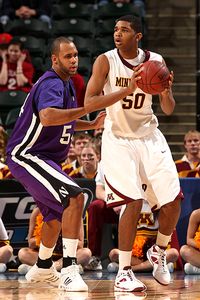 Fresh off their closest game of the season in a road win at Iowa, the Ohio State Buckeyes get the home portion of their Big Ten schedule started as Tubby Smith brings his Minnesota Golden Gophers to town. The Gophers broke a two-game losing streak with a 67-63 victory Tuesday night at home against Indiana. Like Ohio State, Minnesota trailed at halftime before pulling away in the 2nd half. Unlike OSU, the Gophers shot poorly against the Hoosiers and that does not bode well coming into Value City Arena to face one of the Big Ten's better defensive teams. 
Ohio State leads the all-time series 76-55 including a 47-18 record at home. Last season the two teams split their regular season games, with Minnesota taking the first meeting 73-62 in Minneapolis January 9th before OSU returned the favor with an 85-63 spanking in Columbus on February 6th. It didn't get much better for the Gophers when they faced OSU in the Big Ten Tournament final, as the Buckeyes prevailed 90-61. 
Minnesota is shooting barely above 40% in Big Ten play, while holding their opponents to a similar percentage. This game will likely be the polar opposite of the Indiana game, where OSU and IU lit up the scoreboard with points. Minnesota is a team with a lot of height and length and they really get after it on the defensive end. Ohio State will have to match their defensive intensity and grab more than their usual share of rebounds in order to fight off the Gophers. OSU is 81st in the country in rebounding, averaging only 37.8 caroms per game. On the other hand, Minnesota is 17th, averaging almost 41 per game.
| # | Name | PTS | REB | ASST | POS | # | Name | PTS | REB | ASST |
| --- | --- | --- | --- | --- | --- | --- | --- | --- | --- | --- |
| 44 | William Buford | 13.6 | 4.3 | 3.6 | G | 0 | Al Nolen | 8.1 | 3.5 | 3.5 |
| 33 | Jon Diebler | 12.5 | 1.9 | 2.6 | G | 24 | Blake Hoffarber | 13.8 | 3.3 | 4.5 |
| 23 | David Lighty | 12.7 | 4.1 | 3.8 | F | 33 | Rodney Williams | 6.5 | 3.5 | 1.4 |
| 0 | Jared Sullinger | 18.1 | 10.2 | 1.2 | F | 32 | Trevor Mbakwe | 13.2 | 10.3 | 0.7 |
| 52 | Dallas Lauderdale | 5.3 | 5.1 | 0.2 | C | 50 | Ralph Sampson III | 10.9 | 5.7 | 1.3 |
Opponent
The Golden Gophers started the season on a hot streak, winning 11 of 12 games despite the 6-game suspension of longtime starting guard Devoe Joseph. Joseph returned from his suspension by scoring 16 points against Virginia in the ACC/Big Ten Challenge, but it was not enough as the Cavaliers pulled away for an 87-79 victory, handing the Gophers their first loss of the season. After that, Minnesota rebounded by winning 5 straight games before starting the Big Ten season. However, the wheels came off in losses to Wisconsin and Michigan State and the team was hardly impressive in beating Indiana on Tuesday. Joseph has since decided to transfer, and coach Tubby Smith has granted him his release. His 11.2 points per game were sorely missed against IU, and they will be missed today against OSU.
Minnesota's balanced scoring is led by senior guard Blake Hoffarber, a well-known Buckeye killer who hit for 27 points in the win over OSU last season. Hoffarber is shooting over 40% from beyond the arc and he must be defended closely if the Buckeyes are to prevail today. Inside, the Gophers look to 6'11" center Ralph Sampson III, son of former Virginia superstar Ralph Sampson (who once scored 40 points against Ohio State). Power forward Trevor Mbakwe is also a threat on the inside as he is coming off a game in which he scored 11 points and snagged 16 rebounds to lead his team to a win over Indiana. Sampson and Mbakwe can make things very difficult on the inside when other teams are trying to shoot. Sampson averages over 2 blocked shots per game and Mbakwe averages 1.5.  Mbakwe had 5 blocks against IU, which was a career high. If Ohio State wants to get points in the paint today, they will have to earn them. 
Buckeye Breakdown:
Ohio State encountered something rare on Tuesday night: an opponent that stayed with them for 40 minutes. Iowa used a combination of ferocious defense and clutch 3-point shooting to whittle down a 58-45 OSU lead to the point where it stood at 71-68 with less than a minute remaining. But Aaron Craft made a pair of free throws and then the defense held Iowa scoreless on their last two possessions to seal the win. The Buckeyes actually trailed at halftime before going on a 16-0 run to turn the game around. Coach Matta has been critical of his team's defense recently, especially allowing Indiana to shoot over 50%. The effort on Tuesday was much better at that end of the floor, but there were still stretches where it seemed to let up a bit. The close game will serve the team well, as they seemed a bit out of practice in the area of handling the ball under extreme pressure.
Jared Sullinger has continued his excellent production in Big Ten play, hitting for 19 and 24 points against Indiana and Iowa respectively. He will likely find it tougher going against the tall Minnesota defenders, and he will also be challenged by trying to defend Mbakwe and Sampson. Ohio State has shown balance throughout the season, as well as an unselfish attitude as demonstrated by their 1.66 Assists/Turnovers ratio. The ball movement against Iowa was excellent, which allowed them to still shoot over 55% despite the Hawkeyes' outstanding effort on defense. The inside-outside combination will most likely be too much for Minnesota, despite their length. The Gophers are a well coached team but they do not have the ability to score with Ohio State. Look for the Buckeyes to pull away in the end for a solid win.
Etc
The win against Iowa means that Ohio State has opened the Big Ten season with back-to-back road victories for the first time in school history.
David Lighty needs 10 rebounds to join Evan Turner and Jim Jackson as the only players with at least 1,000 points, 500 rebounds and 300 assists in school history.
Tubby Smith's real first name is Orlando, but Smith says that the last person to call him by that name was a 10th grade teacher who did not tolerate nicknames.