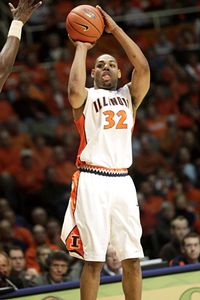 Ohio State moves into a difficult stretch this weekend as they go back on the road to face the #22 Fighting Illini of Illinois in front of what is sure to be a very hostile and very loud Assembly Hall crowd. The 12 Noon tipoff will be nationally televised on CBS, giving many hoops fans a chance to see the Buckeyes for the first time in a while. Seven of OSU's next nine opponents are ranked in the top 25, which makes it important to get the tough stretch off to a good start.
Illinois leads the all-time series between the teams 102-67, and the lead is especially large when the Illini are playing at home (60-24). However, Ohio State has won the last 3 meetings and current Illini coach Bruce Weber is only 5-8 against the Buckeyes. The last meeting between the teams was a classic as OSU prevailed in double-OT in the Big Ten Tournament semi-finals. Last year in Champaign Evan Turner scored 16 points and held his old friend Demetri McCamey to only 9 as the Buckeyes rolled 72-53.  
With the #1 ranking displayed proudly in front of their name, the OSU players will be under more pressure than many of them have ever seen. Each team they play from here on will treat the game like it's a Final Four contest and coaches will pull out all the stops to try to spring the upset. Every arena they visit (in contrast with their home) will be sold out and the fans will be smelling blood. Thad Matta has been there before and so has veteran swing-man David Lighty, and their experience will be invaluable during the next few weeks.
| # | Name | PTS | REB | ASST | POS | # | Name | PTS | REB | ASST |
| --- | --- | --- | --- | --- | --- | --- | --- | --- | --- | --- |
| 44 | William Buford | 13.7 | 4.1 | 3.6 | G | 32 | Demetri McCamey | 16.2 | 3.5 | 7.2 |
| 33 | Jon Diebler | 11.5 | 1.9 | 2.5 | G | 1 | D.J. Richardson | 10.2 | 1.7 | 2.2 |
| 23 | David Lighty | 13.0 | 3.9 | 3.6 | F | 30 | Bill Cole | 5.6 | 2.5 | 1.3 |
| 0 | Jared Sullinger | 17.4 | 9.8 | 1.4 | F | 24 | Mike Davis | 10.7 | 6.7 | 1.6 |
| 52 | Dallas Lauderdale | 4.7 | 4.3 | 0.2 | C | 54 | Mike Tisdale | 9.9 | 7.3 | 1.1 |
Opponent
Bruce Weber's troops got off to a good start in Big Ten play, stealing a win at Iowa and handling Northwestern and Wisconsin at home. But they hit a rocky spot with road losses to Penn State and Wisconsin. Coming back home on Tuesday, they righted the ship with a solid win over Michigan State. In that game, Paul came off the bench to score 20 points, hitting 4 triples in the process. All of the Illini's losses this season have come on the road or on neutral courts, which shows exactly how difficult it is to get a victory in Champaign. 
Illinois is a tough team to play mostly because of their combination of front-court size and back-court savvy. The offense starts with McCamey, but he is far from a one-man show, as his league-leading 7.2 assists per game will attest. As a team, the Illini lead the league in both 3-point percentage and 3-point percentage defense. McCamey has been sizzling from the outside this season, shooting over 50% from beyond the arc. His back-court partner D.J. Richardson also shoots well from distance, as do starting forward Bill Cole and reserve guard Brandon Paul. OSU will have to be diligent in guarding the outside if they hope to come away with a win.
Lest a team be tempted to forget about the big men, senior forward Mike Davis will make them pay. Davis makes the most of his opportunities, shooting 54% from the field. With a little help from his performance coach, Davis bounced back from a couple of rough outings to pull a double-double against the rugged Spartans. Rounding out the starting line-up is 7'1" senior center Mike Tisdale. Tisdale has a nice touch for a big man and he will surprise you with his range. Tisdale also shoots over 80% from the free throw line, and so teams trying to catch up against the Illini will have a hard time finding a good candidate to foul.
Buckeye Breakdown:
After struggling to stave off the upset against Penn State, the Buckeyes jumped out to an early lead and never looked back in their victory against Iowa on Wednesday night. William Buford and David Lighty led the charge from outside as the Hawkeyes used a sagging zone defense to try to control Jared Sullinger. Lighty was particularly impressive as he poured in 18 points on only 7 shots from the field. More ominously for future Buckeye opponents, Lighty hit 6 of 7 from the free throw line, seemingly erasing a season-long weakness and making him extremely difficult to defend. 
OSU coach Thad Matta was disappointed with his team's defensive effort against Penn State, and it showed on Wednesday as they suffocated the Hawkeyes into 40% shooting, including a dismal 1-7 from 3-point range. One thing that I have noticed is that many of the players on the team (especially Sullinger) do not "show" around the picks, thus enabling opposing teams to run pick-and-roll plays for easy buckets routinely. All of that changed against Iowa, as the players showed consistently around the picks, forcing the Hawkeye ball-handlers to turn and attempt a reversal, and in many cases forcing a turnover. Aaron Craft in particular was a defensive force on Wednesday, and his play will be extremely important in containing McCamey and preventing him from penetrating and dishing off.
Etc
Illinois is trying to win consecutive home games against ranked opponents for the first time in 10 years, since defeating No. 4 Michigan State (Feb. 6) and No. 13 Wisconsin (Feb. 13) during the 2001 Big Ten race.
Ohio State has won their last nine Big Ten road contests since falling at Minnesota 73-62 Jan. 9, 2010.
The Buckeyes are 60-4 when No. 1 in the AP Poll and 3-1 atop the coaches poll.