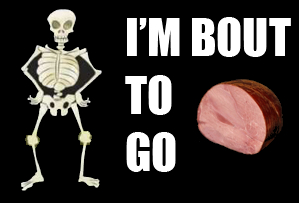 The weekend's over. January 2k11 is almost gone too. It's Super Bowl week, however, Ohio State dodged a bullet and remains undefeated nearly halfway through the conference season, and let's be real: this weekend was full blown pork. Unfamiliar with the definition? Screw the platitudinous, generic Kanye and Jay-Z song; sure the beat is live and all, but the verses summate to the worst thing 'Ye's had his fingers on in some 16 months. And while the song fails to establish itself as some kind of hamnthem (see what I did there?), the spirit none the less remains alive and well as ever.
College hoops went absolute apes--- this weekend. If you missed it, well then... We've got some ground to make up don't we?
 Weekend in the Ham-ptons. Thursday evening set the tenor with Michigan State falling to Michigan at Breslin and Indiana topping the Illini, but ham doesn't reach a simmer with just one night in the crock pot. Saturday saw a seemingly endless stream of heavily favored road teams struggle to edge their inferior hosts -- or worse. Probable #2 Pitt (depending on where the pollsters slot red hot Texas) went into Malcolm Jenkins' homestead and nearly fell victim to former Robert Morris headman Mike Rice and the State University of New Jersey before ultimately prevailing 65-62.
Fifth ranked Connecticut? Fate wasn't quite so kind. Despite a 9-point home lead with but 7 minutes to go, Jim Calhoun's bunch failed to close things out and ultimately fell victim to the #19 Louisville 79-78 in double OT. Kemba Walker filled up the stat sheets finishing with 21 and 6 boards, though was but 2-10 from beyond the arc. While he succeeded in only recording a single turnover, missing that many shots from long range can, in many ways, amount to opportunities for points for the opposing side. The win in Austin in OT looks a little less magical now in context.
#7 Nova? Toast, 69-66 to 20th ranked Georgetown. The Jimmer and 9th ranked BYU? Victims to former Indiana point guard Steve Alford's New Mexico Lobos 86-77. #10 'Cuse? Chipotle'd by Marquette and now sufferers of four straight losses, 76-70. And that's to say nothing of #11 Texas A&M (losers to Nebraska 57-48), Bucky Badger (whom fell to Tailor Battle and State Penn 56-52), and a handful of other favorites.
And what about Sunday you say? Oh, Sunday was rich. This level of rich. Long-time ESPN analyst turned St John's headman Steve Lavin and co. trolled America's favorite team to hate to the tune of Duke 93-78 in a game that at one time was a 30-point deficit for the Blue Devils. Ham-pton comes alive, indeed.
 Hammer? I hardly know her! So much of the power brokers in college hoops had a weekend they'd love to forget. The little guys took notice, and well, let's just say they got in to the act too. While the upsets are far more relative, the results are none the less, in many ways, even more spectacular.
Exhibit A: Trailing by 2 after a made free throw with 2.4 seconds to go, Weber State can do nothing but act on a wing and a prayer against then unbeaten in conference Northern Colorado (the other, other UNC). And then this happens:
Exhibit B: Former NCAA tournament darlings the Jaspers of Manhattan are having what can only be considered a brutal year. 1-9 in conference and hardly fairing better out of league with a 3-18 mark. MAAC (the extra A is for awesomer) foe Marist aren't so hot themselves accumulating a 3-7 conference record and a 4-18 body of work heading into this one. So what happens when Marist clings to a 59-57 lead with 2.0 seconds to go? H.A.M., y'all. H.A.M.:
(H/T: Rob Iracane. While WOW is nearing the end of its brilliant run, he's still a scholar and a gentlemen in our books. Follow him people.)
Ham will strike at the least (or most depending upon how you look at things) opportune time. You can either embrace it or be engulfed by the ham-mentum. The choice is yours. You have 24 hours.
 Cardale Still On The Table? Don't rule out the possibility of Glenville signal caller Cardale Jones joining the Buckeye QB fray, or more realistically deferring the decision and going to Europe prep school for a few months and finding himself and then getting with the program. Contrary to the conventional wisdom, Jones appears to be making up his mind to either join the Buckeyes on a delayed basis or heading to Toledo to play for former OSU defensive backs coach Tim Beckman and the Rockets. That's not to say the recruiting process hasn't been a challenge:
"It's worn on me a lot," Jones said Friday afternoon. "Stuff like this, having to give interviews before a basketball game and seeing college coaches at my basketball games. . . . It got to be so much the other day, I broke my cell phone. Just threw it against the wall.

"It was a dumb thing to do, right?"
With signing day but two days away, hopefully getting his name on that piece of paper provides Cardale the peace he clearly deserves at this point in the rat race. It wouldn't suck one bit if the name on the letter head was The Ohio State University either.
 With respect to Cousin Mose, gallimaufry: Former Buckeye Antoine Winfield had an interception in the Pro Bowl en route to the NFC's 55-41 victory. Cory Leslie is faster than you are. Anthony Crater isn't exactly setting the world on fire in Tampa. Uh huh, yeah. 1-31-07: Never forget.