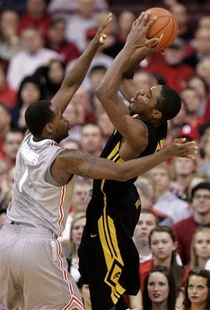 In a game apparently sponsored by Pillsbury, Ohio State forced 23 turnovers while committing 20 themselves but still had more than enough to bake the Hawkeyes 70-48 tonight in an all-too-empty Value City Arena.
The win improved Ohio State to 19-0 overall and 6-0 in conference play.
Challenged by Thad Matta to turn up the defense after some sketchy efforts as of late, the Buckeyes did exactly that holding Iowa to 36% shooting in the 1sthalf and 40% overall (17% 3FG) in addition to forcing the 23 turnovers leading to 20 points. Aaron Craft was front and center of the defensive charge, as usual, recording a career high seven steals in 25 minutes of action.
David Lighty led the way with 18 points including an uncharacteristic 6/7 from the stripe while William Buford added 15 points and Jared Sullinger 13 points and nine rips.
Deshaun Thomas added nine points while Jon Diebler struggled hitting just 1/8 shots, all threes, in a three point, five rebound, four assist night.
Looking to avoid another close shave with the Hawkeyes, Ohio State got going early thanks to the artist formerly known as Dallas Invisidale. The big fella that had scored just two points in the last three games threw down back to back hammer dunks of feeds from Buford and Sullinger, respectively, as OSU jumped out to a 6-0 lead.
After Iowa countered with two buckets the Buckeyes went on a 14-4 run started by a Diebler triple from the corner, his 400thcareer field goal, off a nice feed from Craft and finished with a Craft trey from the top of the circle giving OSU a 20-8 lead with 11:00 left in the half. Excellent ball movement saw the Bucks assist on their first seven field goals.
The Hawkeyes cut the lead to eight after a Bryce Cartwright drive but the Buckeyes responded with another run, this time a 12-4 spurt giving OSU a 35-19 lead with 4:40 remaining. Lighty fueled the run with a conventional three point play before assisting on a Buford three. Moments later, he capped the burst with a high flying baseline drive and dunk.
Buford led the first half charge with 11 points (3/4 FG) while Lighty added eight points and pulled down three boards, the first giving him 500 for his career. Dallas was indeed offensive with seven points (surpassed 500 pt plateau with 1stbucket) and Sullinger chipped in six points and five boards.
Despite a 40-23 halftime edge, the Buckeyes were careless with the ball turning it over eight times though they were hot from the floor connecting on 54% overall and 46% from distance.
Iowa struggled to keep pace after Melsahn Basabe picked up his 2ndfoul at the 7:26 mark. They switched to zone and even employed a 2-2-1 press at times but it didn't slow the Buckeyes from building the insurmountable 17 point lead at intermission.
The 2nd half was slightly damaging to the eyes as the teams combined for 25 turnovers with Ohio State winning the scoring battle 30-25. One particular sequence saw the teams combine for six turnovers before a point was scored. Despite OSU's sloppy play, Iowa never got closer than the 17 point halftime spread meaning intermission guests Quick Change were easily the most exciting thing to happen after the opening 20 minutes.
For the game, OSU shot 47% overall and hit 80% from the stripe (12/15) while edging Iowa on the glass 34-30.
Andrew Brommer led Iowa with 12 points and Melsahn Basabe was held to 11 points and four boards after hurting OSU the first time around.
Next up for Ohio State is a 12:00 noon, Saturday showdown at Illinois.