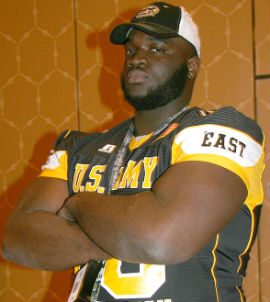 The Buckeyes are Sugar Bowl champions and the 2010 season has come to an end for the Scarlet and Gray faithful, but certainly not for the coaching staff. Before Jim Tressel begins to worry about who his starters at some key positions are for the first five games of next season, The Vest and the rest of the coaching staff have to worry about finishing up the remaining spots in the recruiting class of 2011.
Last week was the pinnacle of the high school football season, as two primetime all-star games took place, featuring the nation's top senior stars. The Army All-America Bowl has been around for quite some time and used to be the mecca of America's young talent, but the media horse of ESPN and a growing popularity with the sponsor brand has brought the Under Armour game to national prominence as well. No matter your preference, both games brought fans tremendous entertainment this past week and gave the country a glimpse of the next group of college football stars.
Heading into the two games, Ohio State had five prospects committed to coming to Columbus next season, with several other recruiting targets participating as well. Two of those prospective Buckeyes made announcements this weekend, and Jim Tressel went one for two, landing DB Doran Grant of St. Vincent-St. Mary, but missing out on Miami (FL) Pace DB Jabari Gorman. The remaining uncommitted prospects will take some visits in the coming weeks before making their announcements on or around National Signing Day (February 2), but all had solid showings last week in their respective all-star contests.
It's time to take a look at the both the committed and uncommitted prospects who participated in last week's games and evaluate their performance, projection at the next level, and chances they each wind up as a part of Buckeye Nation in the next month.
Under Armour Game
The cream of the crop for OSU in this contest had to be Braxton Miller. The 6-2/200 quarterback showed all week in practice why he has a great chance to begin 2011 as Ohio State's starter behind center. Miller, at the same point in their careers, appears to be a better passer than Terrelle Pryor and  has a tremendous ability to make plays with his feet as well. The more I watch him, the more he reminds me of Troy Smith, and it's not just the versatility, but also the poise in clutch situations and ability to lead his team both on and off the field. The Buckeyes are getting a tremendous player in Braxton Miller and I am certain he will be a star in Columbus. I don't know if he'll be the starter next season, but after enrolling in classes last Thursday, he definitely puts himself in a great position to compete for playing time right away.
Another verbal commitment to play in this game was the "other Miller", DE Steve Miller. Not the biggest defensive lineman on the board (6-3/230), Miller makes up for it with a non-stop motor and tremendous strength against both the run and the pass. He was consistently beating the nation's top linemen all week long in UA practices and showed why ESPN ranks him as OSU's top recruit in this class. While Braxton is better known to the fans, Steve could be the Miller who is a household name by next season's end, as there is a good chance Buckeye fans could get a glimpse of him on special teams and in various defensive formations next season.
The last player who was committed heading into this game was OLB Ryan Shazier of Plantation High School in Florida. Shazier played most of his high school career at defensive end, but made a smooth transition to linebacker during UA practice. While there were certainly lapses in coverage and a difficulty in adjustment at times, Shazier looked very good overall and closed on ball carriers as good an anyone in St. Petersburg. Also enrolling early last week, Shazier will have a leg-up on fellow freshmen and could see immediate playing time as a pass rush specialist, as well as on special units.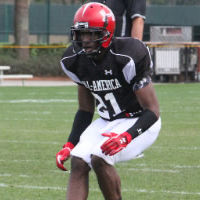 As for the uncommitted prospects, there was Doran Grant, Jabari Gorman, Jadeveon Clowney, Darius Jennings, James Vaughters, and Ja'Juan Story. The aforementioned Grant and Gorman made their announcements for the Buckeyes and Florida respectively and both were very good throughout the practices and game. Grant is definitely the better of the two, and while he has to work on tackling, he has elite coverage skills that will find him in the two-deep as a true freshman.
Clowney was everything he was cracked up to be and is by far the best player I have ever watched at the high school level. There was no answer for this stud from South Carolina, as opposing linemen tried double and triple teaming him to no avail. Clowney was either in the face of quarterbacks all day long or stuffing runners behind the line of scrimmage to the frustration of White Team head coach Mike Ditka and offensive coordinator Keyshawn Johnson. It is unknown whether Clowney will take an official to Ohio State yet, but if he wants in this class, you find a way to take him.
Jennings didn't play in the game due to a concussion, but certainly belonged on the roster. This stud athlete from the Baltimore area is capable of playing quarterback, wide receiver, and defensive back at the next level, and has narrowed his college choice down to Ohio State, Virginia, and Wake Forest. He visits the Deamon Deacons next weekend and will make a decision shortly after that, but it is likely he will decide between the Buckeyes and the nearby Cavaliers.
Finally, both WR Ja'Juan Story (Florida) and LB James Vaughters (Stanford) are currently committed to other schools, but both will visit OSU this month (Story this weekend, Vaughters January 28). Urban Meyer leaving UF, and now Harbaugh leaving Stanford, create great opportunities for Jim Tressel to get in on both players, and both would be excellent catches, as they showed in practice and the game why they are among ESPN's top 50 players in America.
Army All-America Bowl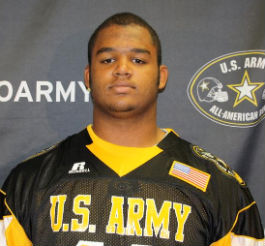 The only committed players the Bucks had in the AAA Bowl were C Brian Bobek and DT Michael Bennett. I had my doubts about Bobek heading into last week, but the nation's top ranked center sure shut me up. Bobek looked like an absolute stud at center and gives me great confidence in filling the middle once Mike Brewster departs Columbus after next season. This kid has all the intangibles to be a leader on the offensive line and Jim Bollman is sure to groom him into the next great Buckeye center.
Bennett, on the other side of the ball, started the game off with a bang, recording a sack on the first series of the contest. He was very disruptive after that as well, until he was stopped. No, not by a lineman on the West team, but by an arm injury that will no require surgery to insert plates and some screws. The injury shouldn't slow him down too much and he is expected back in time for fall camp, but let's all hope for a speedy recovery for the next Big Mike.
The uncommitted Buckeye prospects in this game, included OL Aundrey Walker and LB Curtis Grant. Both players have visited OSU, but neither will announce until Signing Day. Walker, who was regarded as the top offensive lineman at the game after a week of practice, favors the Bucks and Michigan State, but still has to visit USC, Pitt, and Penn State before making his decision. Grant, who showed great strength and tremendous explosiveness, visited Ohio State and they currently lead for his services, but he still has to visit Florida and UNC before announcing his decision. The Bucks sit in great position for both players, but will have to hold on in the next month before they officially declare their decisions.
Wrap-Up
To wrap-up, all the Buckeye commitments and targets had great weeks in St. Petersberg and San Antonio last week. With Doran Grant now in the fold, the Bucks have 20 players committed to a class that will probably number 23 players. Leaving three spots open, I think the Bucks will finish with Curtis Grant, Aundrey Walker, and Ja'Juan Story, with James Vaughters definitely a possibility. Anything can open between now and National Signing Day on February 2, so stay tuned to 11W for the latest recruiting updates and news as it comes.