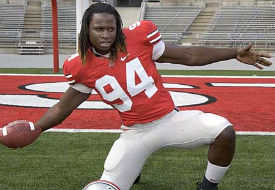 All's Well That Ends Wells When Thad Gibson left early for the NFL, Keith Wells was thought to have a shot at earning quality playing time this year. That thought ended before the season, though, as Wells had to leave OSU due to academic reasons. The Georgia native didn't go too far though, enrolling at Columbus State to sort out his issues in the classroom. His return has been rumored for a bit, but it's looking more and more like Wells will be back in Scarlet and Gray starting this spring, as his grades are in order and the staff is willing to take him back. This is a good thing, as Cam Heyward and Dexter Larimore depart from the defensive line and there is a lot of uncertainty in who will line up across from Nathan Williams next season. Look for Wells to compete with Solomon Thomas, Melvin Fellows, Garrett Goebel, Adam Bellamy, JT Moore, and Darryl Baldwin for playing time in 2011. 
 Defensive End Savior If Keith Wells can't get the job done, it looks like the Bucks have made ground on someone who can. In addition to locking down a visit from the top JuCo lineman in Cornelius "Tank" Carradine for this weekend, it appears Jim Tressel has also convinced the nation's top high school player to take an official visit. Jadeveon Clowney will apparently visit the weekend of January 28th, according to Bucknuts ($), who confirmed through Clowney's high school coach. They always say "look for the visit" when it comes to recruits, and that has happened here, so interest in OSU from Clowney should not be overlooked. I still think he ends up down south (other visits are to South Carolina, Clemson, FSU, and Alabama), but the fact that he is visiting and that JT gets the last visit is certainly a good sign. 
 Urban Legend Everyone has caught the news now that Florida head coach Urban Meyer has stepped down, effective after the Outback Bowl. Bob Redman of Scout says something must be wrong with Meyer, saying he was shocked at the news after Meyer told his freshman the Sunday after the UGA game that he would be there for there entire careers. Redman must have forgotten who he was dealing with here. On the other side of the spectrum, Will Brinson of CBS speculates a Meyer-Tim Tebow reunion, suggesting Meyer could be a Denver Broncos head coaching candidate. I truly think Meyer is not going to coach next season and will accept an administrative role with UF to help ease in the next coach and help finish off this recruiting class and limit the damage of de-commits and transfers. 
Meyer leaving is great news for the Buckeyes for a number of prospects. Jabari Gorman was essentially down to OSU and Florida, and now the Buckeyes should see their odds to land the good friend of commit Jeremy Cash improve. That could change if either Miami or Florida hire someone to his liking, but stability has to be a factor here. Curtis Grant is another prospect who had UF and OSU in his top two, and being from Virginia, this can only help the Bucks. WR Ja'Juan Story and LB/DE Ryan Shazier are UF commits who had the Bucks high on their list before becoming Gators, so watch out what happens to them as well.
Meanwhile, the stellar freshman class that Urban just signed, including one-time Buckeye lean Sharrif Floyd, appears to be a little freaked out by the news. Makes you wonder if guys like Floyd and Sentreal Henderson would be in Columbus if they had known what was heading their way.
 Minnesota Mustache Man Familiarize yourself with new Minnesota head coach, Jerry Kill, in this question and answer piece (Part I) (Part II) with Adam Rittenberg. I wasn't a big fan of the Kill hire and thought the Gophers could have gotten a bit of a bigger name to come to the Twin Cities, but it will be interesting to see what kind of success he has after enjoying time at Southern Illinois and Northern Illinois. At worst he can bring the Gophers the best prospects from Illinois that Northwestern and the Illini pass on right? Plus, he's downright entertaining compared to the relatively boring community of Big Ten coaches. Oh yeah, Kill also has a kill-er mustache. 
 Indiana Hired A Coach? Yes they did, and while news didn't really spread far or wide, their man is Oklahoma offensive coordinator, Kevin Wilson. Interesting hire for a team that's offense was pretty solid and needed a tremendous amount of help on defense, but Wilson is someone who can definitely play off his successes with the Sooners and bring some better talent into Bloomington. Rittenberg's take on the hire is here and this will definitely be another situation to keep a close eye on. If he can get IU consistently to a bowl game, he will become a legend there.