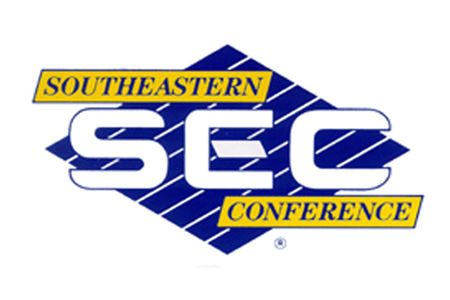 0-9.
We all know what that record signifies. Ohio State has never beaten a school from the Southeastern Conference in the post season. ESPN, CBS and every other network shoves it down your throat.
Players, coaches, fans and the media have all their theories on why Ohio State can't beat SEC schools. If you go back and look at the seasons and games, though, it isn't that much of a revelation to say the better team won. A nine-game sample size is extremely big when it comes to football. When you lose nine times to teams from a certain conference, it isn't a coincidence.
The losses have come under legends such as Woody Hayes and Jim Tressel and also under the often scrutinized John Cooper. Ohio State has lost in national championship games to SEC teams and in middle-tier bowls such as the Outback.
This season Ohio State has once again been afforded the chance to redeem themselves. They get that opportunity in front of a national television audience in one of the most prestigious bowl games. It is also where "The Streak" began.
The first game Ohio State played against an SEC foe was the 1978 Sugar Bowl vs. Alabama. The 9-3 and eighth-ranked Buckeyes took on the No. 3 (11-1) Crimson Tide. It was actually a surprise that the two teams were matched up. Notre Dame also had one loss and many thought an Irish-Crimson Tide show down was too good to pass up. The Sugar Bowl had other ideas, though, and felt matching Bear Bryant and Woody Hayes against one-another was a golden opportunity. It also marked the first time a Big Ten school had played in the Sugar Bowl.
Ohio State and Alabama had two of the best offenses and defenses in the country that season. You certainly would have believed it watching 'Bama, but not the Buckeyes (not the offense anyway). The Crimson Tide racked up almost 400 yards of offense and 25 first downs en route to a 35-6 shellacking of the Buckeyes. The score was 20-0 before Ohio State even put points on the board. The 'Bama defense pressured Rod Gerald into three interceptions. Amazingly, Alabama fumbled the ball 10 times, but only two were recovered by Ohio State.
Ohio State would go 12 years without matching up against an SEC team in a bowl game. But over the next 20 years, starting in 1990, it would happen on nine different occasions, including this season.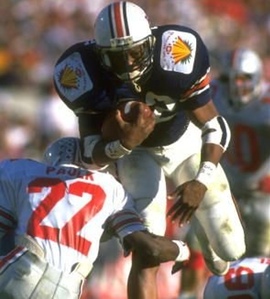 In John Cooper's second season, he guided the Buckeyes to their first bowl game under his guidance. Ohio State was selected for the Hall of Fame Bowl where it met an Auburn team that was ranked in the Top 10. The game is most remembered for Zack Dumas's hit on Stacy Danley. Unfortunately for Ohio State, that play actually swung momentum to Auburn's side and started a 28-point surge that ended with the Tigers winning 31-14. Auburn limited Ohio State to just 81 yards in the second half. This was the beginning of a dismal record in bowl games for Coop.  
Three seasons later the state of Florida was again the site of a Buckeye loss to the SEC. This time it was the Citrus Bowl in Orlando. The Kirk Herbstreit and Robert Smith-led Buckeyes lost a 21-14 heartbreaker to Garrison Hearst and the Georgia Bulldogs. The game was the first and only meeting (until 2020) between the historical powers and Hearst, an All-American, racked up 163 yards on the ground. The Bulldogs scored the winning touchdown late in the fourth quarter after an Ohio State turnover deep in Georgia territory.
The Buckeyes were back in Orlando two years later to play an Alabama squad that had its national title hopes dashed in the SEC Championship Game. Ohio State struggled through a 9-3 season that included the infamous 63-14 thrashing to Penn State but on the positive side, Coop finally beat Michigan after six consecutive losses. The game itself was bizarre. Alabama outgained Ohio State 521-276, but should/could have lost the game. They won 24-17 on a 50-yard pass play from Jay Barker to Sherman Williams in the final minute. The Buckeyes blocked a punt and field goal, had 12 tackles for loss and recovered three 'Bama fumbles to keep things close.
Following the 1995 season, Ohio State entered the Citrus Bowl heartbroken. While Eddie George had won the Heisman Trophy a few weeks prior, the Buckeyes hopes at a Rose Bowl and national championship were dashed by Michigan and Tim Biakabutuka. The game was a marquee matchup, though, pitting two one-loss teams and star players against each other. Tennesee-Ohio State. Peyton Manning-Eddie George. The game was knotted at 14 in the fourth quarter before two Tennessee field goals provided the final margin, 20-14. George had 101 yards and a touchdown, however, the game was marred when it was revealed Tennessee had used illegal spikes in the rainy and muddy conditions.
The Buckeyes would get a five year break from the SEC and after an embarrassing display against South Carolina that cost Cooper his job, they probably wish it would have been 500 years. Surprise, surprise, Ohio State was coming off yet another loss to Michigan heading into the 2001 Outback Bowl. Despite that, fans were confident and why not? The Buckeyes were going against the upstart Gamecocks from South Carolina. Lou Holtz was a legendary coach, but Cooper had already defeated him twice in decisive fashion while he was at Notre Dame. Well, former Mr. Football in the state of Ohio, Ryan Brewer, would come back and haunt Cooper. Brewer had 214 yards of offense and scored three touchdowns in the 24-7 beat down. The margin, Brewer's performance and team conduct was alarming. Ultimately, those things coupled with Cooper's record against Michigan led to his ouster the next day.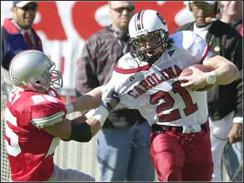 The two teams would play one another again the very next season in the same bowl. Jim Tressel was in his first season and had just beaten Michigan in Ann Arbor. It was Ohio State's first victory over Michigan in three seasons and the first in the Big House since 1987. Needless to say, the excitement was palpable in Columbus. There was one big question heading into the game: would Steve Bellisari start? The senior captain was suspended from the final two games of the regular season after being arrested and charged with DUI. Bellisari didn't start, but he did play arguably his finest game as a Buckeye. After South Carolina took a 28-0 lead, Ohio State rallied to tie the game at 28 before a last second field goal lifted the Gamecocks to victory.
What happened in the 2007 BCS National Championship Game in University of Phoenix stadium still leaves Buckeye fans scratching their heads. How did that happen? What did I just see? How could everything go so wrong? Just when Tressel was about to be crowned a King, he lost his midas touch. The Buckeyes rolled through the 2006 season and were heavy favorites to win a second national title in five seasons. Instead, Heisman Trophy-winning quarterback Troy Smith was disastrous, as was every other facet of the Ohio State football team, en route to a 41-14 humiliation. Ted Ginn returned the opening kickoff, but it was all downhill from there. Roy Hall twisted Ginn's ankle in a celebration pile up. The Buckeye offense could not move the ball and the defense could not stop Florida to save their lives.
The next season Ohio State found itself playing for another national title. This time the opponent was LSU. Despite the previous year's meltdown to Florida, Ohio State and its fans were extremely confident entering the game. And why not? LSU had already lost twice. In eerily similar fashion to the 2007 title game, OSU jumped out to a quick 10-0 before the apocalypse arrived again. LSU rattled off 31 straight points to take a 31-10 lead. The Buckeyes cut the lead to 14 and had the ball, but Todd Boeckman and a porous offensive line spelled doom for Ohio State. LSU won the game 38-17 to captures it second national championship in five years. 
A win could do wonders for Ohio State's national perception, but with Tatgate swirling, who knows if it will be positive or negative. One thing can be said, though: Last season Ohio State got the proverbial BCS monkey off its back with a victory over Oregon in the Rose Bowl. If the Buckeyes beat Arkansas Tuesday night, the same can be said of the SEC.
In the what have you done for me lately world that we live in, high profile loses hurt the perception of your program and anger fans. Losing to an SEC school in the Sugar Bowl is not the way to end a season that began with national championship aspirations. It sounds silly considering Ohio State's stature, but a victory against Arkansas could be a program defining win.
With USC, Texas and Florida all struggling this season, you can make an argument that Ohio State is the gold standard of college football the past decade. Other teams might have won more national titles in that span, but no team has consistently been at the top like Ohio State.
A 12-1 season in 2010 will add another carat.