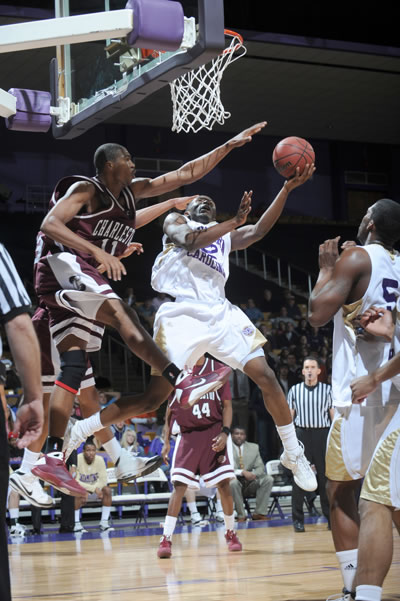 Now that the young Buckeye hoopsters have shaken off the rust of the finals layoff and rallied for a convincing win over IUPUI, they will have a bit of a breather as the Catamounts of Western Carolina come to town for a Sunday afternoon contest. OSU freshman sensation Jared Sullinger, coming off a record-breaking 40-point performance in the win over IUPUI, will look to continue his dominance. Meanwhile, coach Thad Matta will likely take advantage of the opportunity to get his younger players some time on the court.
WCU will have the unenviable task of attempting to break a 3-game losing streak on the road against the #2 team in the nation. The Catamounts are 0-11 all-time against Big Ten teams, but they gave #1 seed Purdue quite a scare in the 1996 NCAA tournament before falling 73-71. This will be the first meeting between OSU and WCU.
The game will be played in historic St. John Arena, a much cozier venue than the cavernous Schott. The Buckeyes have not taken the hardwood for a real game in St. John since defeating Delaware State 70-42 there back in 2008. Ohio State's all-time record at St. John is 430-151 including a 50-game winning streak from 1960-1964.
| # | Name | PTS | REB | ASST | POS | # | Name | PTS | REB | ASST |
| --- | --- | --- | --- | --- | --- | --- | --- | --- | --- | --- |
| 44 | William Buford | 11.5 | 5.0 | 3.8 | G | 4 | Keaton Cole | 8.5 | 2.0 | 2.0 |
| 33 | Jon Diebler | 11.4 | 2.0 | 2.4 | G | 5 | Trey Sumler | 7.5 | 2.9 | 1.7 |
| 23 | David Lighty | 13.4 | 4.9 | 3.6 | F | 12 | Mike Williams | 15.0 | 3.8 | 3.9 |
| 0 | Jared Sullinger | 18.1 | 9.9 | 0.9 | F | 32 | Tawaski King | 5.2 | 4.5 | 0.1 |
| 52 | Dallas Lauderdale | 4.1 | 4.7 | 0.1 | C | 50 | Richie Gordon | 8.8 | 5.4 | 1.2 |
Opponent
Western Carolina played on the road Friday night, losing 73-50 to Campbell. After the game, the team drove through the night to get to Columbus by Saturday morning, and so fatigue might play a factor in the game at some point. The coach of the Catamounts is a familiar face, former Ohio University coach Larry Hunter. Hunter took over the WCU basketball program in 2005 after serving 4 years as an assistant at North Carolina State. He brought with him an up-tempo style that emphasizes rapid ball movement and quick shots. His all-time record as a head coach is 559-297.
The Catamounts employ a 10-man rotation, and they use a 3-guard line-up most of the time. 5'10" point guard Keaton Cole was flanked by 6'2" guards Trey Sumler and Mike Williams on Friday night, but expect to see a lot of 6'4" guard Harouna Mutombo (nephew of former NBA great Dikembe Mutombo) as well. On the front line, 6'8" forwards Richie Gordon and Tawaski King started on Friday, but expect to also see a lot of 6'8" forward Blake Gallagher. Hunter will also play guards Brandon Boggs and Preston Ross during long stretches of the game. Mike Williams leads the team with an average of 15 points per game, but he was held to only 2 on Friday. Expect to see WCU launch a lot of 3-pointers; they average almost 22 attempts from long range per game.
Buckeye Breakdown:
Coach Thad Matta was clearly not happy with his team's defensive effort in the first half on Thursday, and the halftime locker room could not have been enjoyable for the players. Dallas Lauderdale started the 2nd half on the bench, and overall he played very few minutes against the smallish IUPUI team. With WCU having a similar small line-up, you might see very little of DL and a lot of Aaron Craft. The team seems to move better with Craft in the game, and he's much better at getting up in the face of potential 3-point shooters. I'm wondering how long it will be before he breaks into the starting line-up for good. 
In general, OSU has way too much talent for a program like Western Carolina to handle. The game should get out of hound very early on, allowing coach Matta to substitute liberally. If you are anxious to see some of the younger players get action early and often, this will be a good game to attend. Besides, St. John Arena is a wonderful place to watch a basketball game. I saw several games there when I was a student and there are very few bad seats there. Tickets will probably be plentiful, and so if you don't have plans on Sunday afternoon, do yourself a favor and come watch a great team play a bad (but entertaining) opponent in an excellent old arena.
Ohio State 104, Western Carolina 66 
Etc
In their first 7 games, Ohio State has had 4 players score 20 points or more: Jared Sullinger, David Lighty, John Diebler, and Deshaun Thomas.
Thad Matta served as an assistant coach for one season at Western Carolina, 1995-1996. It was that WCU team that won the Southern Conference tournament and almost upset Purdue in the NCAA tournament. 
Western Carolina's marching band, known as "The Pride of the Mountains", received the prestigious Sudler Trophy from the John Philip Sousa foundation in 2009.