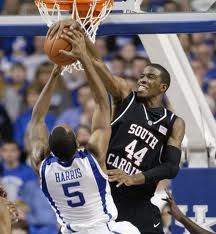 Ohio State heads into the more challenging part of their December schedule today as they face a tough (albeit unranked) South Carolina team. On Thursday, the Buckeyes made short work of Florida Gulf Coast on the strength of a career high 29 points from Jon Diebler, but the Gamecocks will offer a much more difficult test. This will be USC's second trip to a Big Ten venue this season, having already fallen to Tom Izzo's Michigan State team in East Lansing back on 11/16.
When speaking to the press this week about South Carolina, OSU coach Thad Matta likened them to Florida State because of their defense and rebounding prowess. I think that's a bit generous, since they do not have the size that the Seminoles boasted. However, they are a team that pounds the glass hard, as they are currently sixth in the nation in rebounding averaging over 43 caroms a game. 
The Buckeyes are well-rested after playing most of their bench in the last two games against inferior competition. The starters will be looking to shine in a high-profile game against an SEC opponent on national television. Will Buford looks to continue his excellent play of late, while David Lighty will try to break out of a mild slump. 
| # | Name | PTS | REB | ASST | POS | # | Name | PTS | REB | ASST |
| --- | --- | --- | --- | --- | --- | --- | --- | --- | --- | --- |
| 44 | William Buford | 12.4 | 5.3 | 3.9 | G | 23 | Bruce Ellington | 13.4 | 3.5 | 4.1 |
| 33 | Jon Diebler | 13.2 | 2.0 | 2.4 | G | 2 | Brian Richardson | 8.5 | 2.3 | 1.4 |
| 23 | David Lighty | 11.9 | 4.1 | 4.0 | F | 30 | Lakeem Jackson | 9.8 | 6.5 | 2.6 |
| 0 | Jared Sullinger | 17.2 | 8.6 | 0.8 | F | 15 | Malik Cooke | 9.4 | 7.8 | 1.0 |
| 52 | Dallas Lauderdale | 5.1 | 5.2 | 0.1 | C | 44 | Sam Muldrow | 9.5 | 6.3 | 0.1 |
Opponent
South Carolina coach Darrin Horn utilizes a long bench, regularly playing 10-11 players even in close games. The spark plug is 5'9" freshman point guard Bruce Ellington, a former football star in high school who decided to concentrate on basketball at USC and currently leads the team in scoring. Ellington is shooting only 36% from the field, but somehow he's hitting 44% from 3-point range. Giving him support in the backcourt is fellow freshman Brian Richardson, a better defender at 6'4" and also a threat from beyond the arc. Coming off the bench with instant offense is 6'2" sophomore guard Ramon Galloway, averaging 9 points a game and shooting over 40% from 3-point range. Galloway contributed 22 points in USC's double-overtime win at Western Kentucky. 
The Gamecocks' front line is anchored by intimidating 6'9" senior center Sam Muldrow. Muldrow averages over 6 rebounds a game but is also blocking 2.4 shots per game. Ohio State will need to be wary of Muldrow when going inside to their big men. Lending support are forwards Malik Cooke (6'6") and Lakeem Jackson (6'5"), the top two rebounders on the team. Also expect to see a lot of 6'9" senior Johndre Jefferson and 6'9" freshman Damontre Harris. When Jefferson and Harris are in with Muldrow, USC really does resemble Florida State. 
South Carolina is a versatile offensive team that can shoot accurately from distance and rebounds relentlessly when they miss. Their defense is stifling, as they have limited their last three opponents to an average of 32.7% shooting. However, they do not shoot free throws well, hitting at less than 62% on the season. Ellington and Jackson have been particularly awful from the line, shooting 55.6% and 47.8% respectively. If the game comes down to free throws at the end, Ohio State has a distinct advantage, although they would do well not to foul Richardson as he has made 15 out of 16 on the season.
Buckeye Breakdown:
The nine 3-pointers that Jon Diebler hit on Thursday (in 13 attempts) increased his 3-point shooting percentage to a sizzling hot 49.2%.  Unfortunately, Buford, Lighty, and freshman Deshaun Thomas have struggled of late from beyond the arc which decreases the team's percentage. Still, expect the Buckeyes to take a lot of shots from outside this afternoon as they try to avoid the long arms of USC's interior defenders. Jared Sullinger will need to be mindful of fouls as the Gamecocks will undoubtedly take the game to him in the paint at every opportunity. 
One measure of how effective a team is at handling the ball and moving it around is the assist-to-turnover ration. Ohio State currently has a sparkling 1.5-to-1 ratio, but they would love to move it closer to 2 by avoiding costly turnovers against the long arms of the South Carolina defenders. Horn likes to press full-court and trap ball-handlers, much like Florida attempted to do against OSU earlier in the season. Buckeye fans hope the results are the same as they were against the Gators, as they continually broke the press for easy baskets. 
On the other hand, don't look at USC's assist-turnover ration unless you're into ugliness. The Gamecocks have more turnovers than assists, as they have a tendency to go one-on-five rather than moving the ball around. Their rebounding prowess makes up for the lack of shooting and ball movement, but it might be difficult to leverage that against a good-shooting and generally unselfish team like Ohio State. Expect to again see lots of Aaron Craft off the bench in place of Dallas Lauderdale if OSU has any problem at all with the press. Also expect to see Lighty break out of his slump with lots of easy baskets when they break the press. Do not expect to see Matta use a lot of his bench in this one, although Thomas may have to play extensive minutes if there is any foul trouble on the front line. 
Etc
Ohio State is shooting 46.3% from 3-point range in the month of December.
Entering the week, Big Ten teams were off to an 82-20 start (.804), which is the best winning percentage among all of the major conferences (Big Ten, ACC, SEC, Big-12, Big East, Pac-10).
South Carolina has never been to the Final Four and has made only 8 appearances in the NCAA tournament.