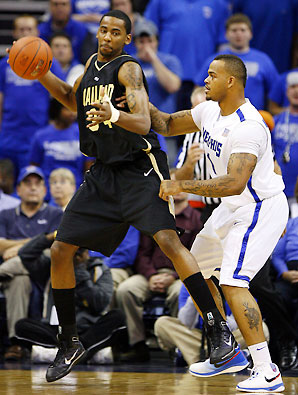 Ohio State today enters the midpoint of a 3-games-in-7-days stretch that will finish off their non-conference schedule and guide them right into Big Ten play.  The team was buoyed on Tuesday by David Lighty's epic first-half performance on their way to an easy victory over NC-Asheville.  This followed similarly epic performances by Jared Sullinger and Jon Diebler in their previous two games. 
Lighty went 9/12 from the floor and 5/7 from 3-point land in the opening half Tuesday on his way to 23 points.  He finished with 29 points in the game, becoming the 3rd different Buckeye player to score at least that many in a game on the season and in the last 3 games.  Meanwhile, Diebler and backcourt mate Will Buford continued their solid shooting as they combined for 23 points to support Lighty.  The perimeter players shot so well that star forward Sullinger took only 7 shots on the night.
If Ohio State's schedule this week seems busy, that of their opponent today will seem dizzying.  The Golden Grizzlies will be playing their 3rd game in 4 days, and their 5th in the last 10.  Oakland has seen the heights and depths of the sports cycle this season, upsetting then-seventh-ranked Tennessee in Knoxville on 12/14, but then getting drilled at Michigan 69-51 only 4 days later.  On Tuesday, the Grizzlies lost an exhausting 103-102 contest to Valparaiso in the Lou Henson Award Holiday tournament.
| # | Name | PTS | REB | ASST | POS | # | Name | PTS | REB | ASST |
| --- | --- | --- | --- | --- | --- | --- | --- | --- | --- | --- |
| 44 | William Buford | 12.5 | 4.8 | 3.6 | G | 2 | Larry Wright | 10.6 | 4.8 | 3.6 |
| 33 | Jon Diebler | 12.6 | 1.9 | 2.5 | G | 23 | Reggie Hamilton | 16.1 | 2.2 | 4.1 |
| 23 | David Lighty | 13.2 | 3.9 | 3.8 | F | 4 | Will Hudson | 13.5 | 7.2 | 1.0 |
| 0 | Jared Sullinger | 17.6 | 10.2 | 1.2 | F | 15 | Drew Valentine | 5.1 | 3.8 | 1.3 |
| 52 | Dallas Lauderdale | 5.1 | 5.0 | 0.1 | C | 34 | Keith Benson | 17.4 | 10.4 | 1.4 |
Opponent
Oakland is a team that has taken the high road in regards to scheduling this season and suffered for it, losing on the road against West Virginia, Purdue, and Illinois and dropping a heart-breaker on a neutral court against Michigan State.  In that game, the Grizzlies were led by 6'2" senior guard Larry Wright, who had 21 points on 7/10 shooting and 4/5 from 3-point range.  Overall, the Grizzlies shot over 47% from distance against the admittedly road-tired Spartans, and the Buckeyes would do well to stick closely to Wright.  It might also be a good idea to keep an eye on 5'11" point guard Reggie Hamilton and 6'3" freshman guard Travis Bader, who will probably be first off the bench.  Hamilton and Bader have combined to make 66 3-pointers already this season, shooting around 37% from beyond the arc.
The main man on the Grizzlies frontcourt is 6'11" senior center Keith Benson.  Benson leads the team in scoring and had 17 points, 12 rebounds, and 3 blocks against the Spartans.  He also racked up 26 points and 10 rebounds in Oakland's signature win at Tennessee.  Benson is a serious NBA prospect and probably one of the better centers that OSU will see this season.  He is supported up front by bruising 6'9" senior forward Will Hudson.  Hudson led the team with 21 points and 9 rebounds in their 78-70 win over Austin Peay on 11/27.  6'4" forward Drew Valentine wraps up the starting line-up, but expect to see Bader come in for him frequently during the game.  Valentine had a great game against MSU, scoring 11 points and going 2/2 from distance. 
Ohio native Greg Kampe has spent 26 years coaching at Oakland and has over 450 victories there.  During his tenure, the school has moved up from Division III to Division I and made their first NCAA tournament appearance in 2005.  His team went back to the big dance last season after going 17-1 in the Summit League and winning the conference tournament.  They were a 14 seed and they lost 89-66 to #3 seed Pitt.  Despite the rough inter-conference schedule, the Grizzlies stand at 7-7 on the season and 2-0 in the Summit.  
Buckeye Breakdown:
The excellent play of Ohio State's perimeter players will surely serve them well going forward, as it is always dangerous to rely heavily on a freshman to carry your team, even a great talent like Sullinger.  The Buckeyes played an excellent floor game on Tuesday, out-rebounding Asheville 42-25 and dishing out 20 assists versus only 11 turnovers.  However, rebounding remains a concern going into the Big Ten season, especially considering the lack of any meaningful contribution from Dallas Lauderdale.  The 6'9" senior played only 13 minutes on Tuesday due to foul trouble, and during that time he managed to grab only 1 rebound.  Good thing Michael Jordan doesn't play with him.
Coach Thad Matta used the bench liberally on Tuesday in the 96-49 blowout win, but don't expect to see the same today unless the game gets out of hound early.  Still, I am looking to see more minutes from Deshaun Thomas, who played a nice game on Tuesday, scoring 13 points on 5/9 shooting and grabbing 8 rebounds.  We might even see more of Jordan Sibert, who had 7 points on 3/7 shooting against the Bulldogs.  Mostly, I'd like to see the team play defense the way they have the past two games, holding South Carolina to 38.3% shooting and limiting NC-Asheville to 32.5% shooting overall and 26.7% from distance.  Oakland is an up-tempo team that averages 81.6 points per game while giving up 75.6 to opponents.  If OSU holds them down the way they did South Carolina and Asheville, it will go a long way towards making these potential giant-killers feel the fatigue of their current schedule. 
Etc
Oakland is Ohio State's second Summit League opponent this season, having already played IUPUI.
Oakland coach Greg Kampe is a 1978 graduate of Bowling Green State University with a bachelor's degree in business and journalism. He started his coaching career as a graduate assistant at Toledo before accepting the full-time assistant coach's position in 1979.