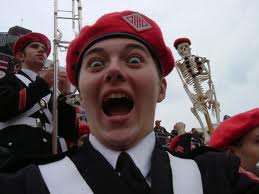 Good Monday morning, internet. Welcome to the best part of waking up. No Monday blues here/case of the Monday's/Orgy nu metal covers of New Order or anything of that fashion; just a few quick salient points and links you may have missed this weekend while you were busy shoveling snow or having your identity stolen from Gawker Media (<3 u Gizmodo, for serious).
 YOU GET A COACH! AND YOU GET A COACH! AND YOU GET A COACH! Oprah's final episode of favorite things was bizarre (you'd think she'd know better than to run a sports themed episode during the same time as the Heisman trust's annual ceremony?) None the less, daytime television's queen gave prizes to tens of thousands of lucky Americans lavish gifts in the form of new head coaches for their alma matters Saturday and Sunday. The first out of her bag of goodies (which literally made some dude look like this) was a magical, cutting edge, brand new, revolutionary Will Muschamp, for the University of Florida. Having to succeed the nearly irreplaceable Urban Meyer and his 2 national titles, the one-time defensive coordinator of MNC grossing in their own right LSU Tigers and former Auburn assistant (under now Texas Tech coach Tommy Tuberville) returns to a comfortable competitive environment in arguably the only posher job than the one he was ear marked to get in Austin. And yeah, worry not about the high risk poker act associated with bringing in a first time head coach with a defensive background on a team with major offensive question marks, because at least the players/recruits like him, right?
"I wanted to see them get Jon Gruden because it would be such an honor to play for him. He's a great coach ... and Bobby Stoops too."
Oy.
Florida haters can at least take solace in the fact that despite 24+ hours of waffling, it's sounding like Texas running backs coach (and Texas folk hero) Major Applewhite could join the Gators as Muschamp's new offensive coordinator. Applewhite, while successful in 2006 as the principle play caller at Rice (and who's success could still be in many way at least partially attributed to offensive guru/head coach Todd Graham), struggled mightily in the big seat as Alabama's offensive coordinator in Nick Saban's first year in Tuscaloosa. So much so did Applewhite fight with his own ability to find consistency during the 2K7 season that many speculated that had he not accepted the step down to coach running backs under now ousted playcaller Greg Davis with the Longhorns, he likely would've been relieved of his duties by Nick Saban anyways. But hey, he can't be as bad as Steve Addazzio, right? Let the run of mythical national Muschampionships begin.
 My body is a temple (and their coach is from one) Miami (of Florida) wouldn't allow one of the other 3 historical football powers in the state during the last decade make a move without making a splash of their own: On Sunday night, Bruce Feldman cracked DaUinci code and revealed tie-clad Al Golden would shower himself onto South Beach as the new Hurricanes headman. Golden, a former Penn State tight end, was believed by many to likely stay out of the mix at both The U and Pitt to keep himself in play whenever the smoke finally bellowed from below to indicate Penn State had chosen a new pope. However, who knows what the time line on that would look like nor does a move to Miami really necessarily kill that possibility anyways. 
While Al Golden may not be a marquee name to most, the dude performed absolute witchcraft during the last several years by making Temple relevant. Despite being robbed for a worthy bowl appearance this year, Golden managed to get kids in the Philadelphia/New Jersey area interested in, heck, EXCITED about staying home and playing football there and that's nothing short of a minor miracle. If he can close the gates around the Miami/Fort Lauderdale and surrounding metro areas, watch out Jimbo Fisher, et al. (okay, really just he, Skip Holtz, and the aforementioned Coach Boom). Plus, the guy likes to work out to Europe's immortal "The Final Countdown", possibly making this the most inspired hire of the 2010/'11 college football cycle:
Just wow.
 GRAND OL OPRY'D As seen in the space formally known as "Good Shizzy" and across the twittersphere, Gus Malzahn is being earmarked by the Washington Post (better known as WaNgToPo in my household) as bound for Vanderbilt. While certainly not impossible, Auburn message boards (and bloggers) have been racing like hell to discredit the report ever sense and have now convinced themselves that Malzahn has turned down the private-Nashville based institution based on a package composed of little more than sheer delusion (I kid; kind of). 
While the Vandy job is certainly not the place a coordinator of Malzahn's stature and pedigree typically goes to make his first impact as a head coach, the reported/rumored $3-$3.5 million dollar asking price is also not something ordinarily afforded someone in their first go at being a head man. I guess the real questions (besides whether he agrees to term with the school or not) become will he stay on long enough to lead the Tigers offense in their national title effort and what kind of distraction will it be? While Bo Pelini's pending ascension to the top ranks of the Nebraska Cornhuskers proved to be no such issue against the Buckeyes in 2008, Mark Richt's departure for Georgia infamously put the brakes on a year of successful offense for the Seminoles and in part helped Bob Stoops put his name on the national landscape. It would seem unlikely Vandy wouldn't afford him the opportunity to help deliver Auburn their first national title in nearly fifty nears; they're Vanderbilt for pete's sake, they can wait.
Also: does this mean Vandy outkicked their coverage so emphatically that they may have out-hired both Florida and Miami? Is this real life?
 Potential Future Vacancy Michigan athletic director/noted pizza tracker aficionado Dave Brandon is sticking to his guns and refusing to conduct a formal review of Rich Rodriguez' future with the program until after their bowl. His logic seems airtight:
Q: You are taking a lot of heat for waiting on your evaluation of Rodriguez. Do you care about being criticized for sticking with your plan?

 

A: Have I (been criticized)?

 

Q: People are saying, "Why is he waiting? This is ridiculous. Recruiting is a mess."

 

A: I don't think recruiting is a mess. I met with recruits last weekend. I'm going to meet with recruits (before the Big Chill). The coaches are actively recruiting. Coach Rodriguez and I are just fine. We spend a lot of time together. He has a very clear understanding, and has from Day One, as to what the plan is. What I want is for everyone to focus on the fact we still have a game to play. It's a real important game. Everybody whines for the last two years because we haven't gone to a bowl game. Well, now we're going to a bowl game. I sense that's important to people.
Good to know those 3-star 260 pound lineman and 5'7 defensive backs unable to get offers in their home states are still excited about the future direction of the program. I suppose as long Stanford still hasn't played before that process begins all's not lost. And besides, at least this guy's always game.