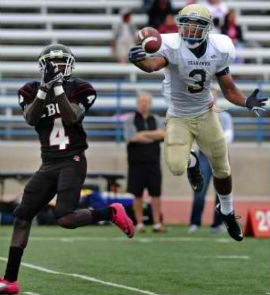 Jim Tressel and the coaching staff are trying to close out a tremendous 2011 recruiting class that currently features 18 players who have verbally pledged to don the Scarlet and Gray. The staff hosted most of those players this weekend on official visits, as well as some other top uncommitted prospects such as OL Aundrey Walker of Cleveland Glenville.
Hopefully this weekend was successful and the Bucks can get Walker to come on board soon, but next week may turn out to be an even bigger recruiting weekend for Ohio State. The staff will bring in LB Ryan Shazier on Wednesday and Thursday and follow that up by bringing LS Bryce Haynes, LB Ejuan Price, DE Emmanuel Bawa, and DB Byron Moore, among others. While all of those prospects would bring a ton of talent to the 614, the secondary may be the biggest concern heading into next season, making Moore the most prized player out of the group.
Moore spent the last year at Los Angeles Harbor College after redshirting the 2009 season while at USC. The 6-1/190 defensive back can play both corner back and safety, but would likely fill a void at safety for the Buckeyes next season if he decided to come to Columbus.Even better, because he redshirted at USC last season, he would have three seasons to play three years for the Buckeyes and ultimately comes in as a redshirt sophomore. We caught up with Moore this week to get his thoughts on Jim Tressel and Ohio State, who his favorites are, what player he likes to compare himself to, and more.
1. You left USC and attended Harbor this year. Can you tell us a little bit about your season at Harbor this year and how things went for you both on and off the field?
The season at Harbor couldn't have been any better. Coach Peabody and his staff welcomed me with open arms when I arrived there. I was the defensive player of the year on our team and in our conference, so I was glad to get back to playing football again after redshirting at USC. 
2. It appears you are ready to make your return back to Division 1 football. What schools are you currently looking at?
My top 5 in no order is LSU, Tennessee, Ohio State, Oregon State, and Ole Miss.
3. What visits have you taken already and what visits do you have scheduled?
I have only taken a visit to Tennessee and loved it. I am visiting Ole Miss on December 10, Ohio State on December 17, Oregon State on January 14, and LSU on January 21.
4. Where does Ohio State stand on your list? Do you have a favorite?
Ohio State is obviously a serious option for me. I had over 20 offers to major schools so to have made my top 5 and get a visit, all these schools are getting a serious in-depth look from me.
5. What are you looking for in your next school? 
I just want to go somewhere to play football and get my degree. Wherever I feel the most comfortable where I can do that, will be the school I go to.
6. What things will play a factor in your decision? 
Basically playing time, and my position coach and how well can he develop me for the NFL and get me ready. I know that I can get a great education at all my options.
7. When do you expect to make a decision? When do you expect to enroll in your next college or university?
I won't make a decsion until Signing Day and I will be enrolling in June after i complete my AA degree.
8. Have you spoken to Coach Tressel yet? If so, what did he say to you? If not, who have you spoken to from OSU and what have they told you?
Coach Tressel calls me every week. I think he is the head coach I talk to the most out of all my options. He basically tells me he needs me to come in and be the piece to the defense that will help Ohio State continue their tradition of winning. I also talk to Coach Haynes and he just tells me he will coach me hard and the opportunity to play is there.
9. What player in the NCAA or NFL (past or present) would you compare your skill set to?
My favorite corner right now is Darrelle Revis from the Jets. I want to have my own island like him (laughs). But I love how he plays man-press basically every play.
10. What are your greatest strengths? What are some things you need to continue to work on?
My strength is basically my competivite nature. I don't like to lose at anything, so I'm always trying to out-do my oppenent. I feel like I always have to work on my whole game. If i want to be the best I have to get better everyday and every time I touch the field.