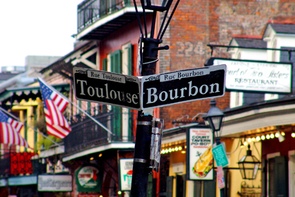 With the exception of one talented return man who spent Wednesday stranded at O'Hare, most of the rest of the Buckeye football team and their support staff arrived in New Orleans Wednesday morning, courtesy of two chartered B737s out of Rickenbacker Airport. Since we strive to bring you all of the bits, relevant or not, we can also report that "Despicable Me" was shown as the in-flight movie and a 4-by-6-inch slab of meatloaf in the form of a Block O was served.
After arriving around lunchtime, the team was bused to their hotel on Canal Street, where they will stay for the next five days. After acclimating a bit, and waiting on teammates flying in on their own, a team meeting was held at 5pm and then the players went to Zea Rotisserie & Grill on St. Charles Ave for some regional grub.
Aside from Hall, four other Buckeyes -- Dane Sanzenbacher, Mike Brewster, Jack Mewhort and Jake Stoneburner -- faced some travel frustrations of their own arriving too late to enjoy the gumbo on the team's first night in town.
On the schedule for today: a Fellowship of Christian Athletes breakfast early, then Jim Tressel will meet with the press for his first media availability of bowl week at 9am, followed by the team's first practice in New Orleans at the Superdome at 12:45pm.
Still want more? Doug Lesmerises has video of the team's arrival.