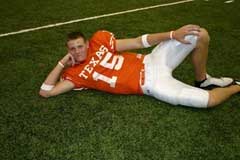 Much of the post-bowl announcement chatter surrounding the Ohio State-Arkansas match-up has followed the usual media narratives: can Ohio State get the SEC monkey off its back? Can Bobby Petrino join Nick Saban as the second coach to win a BCS bowl at two different schools? Will Ryan Mallett solidify his status as a top-15 pick with a good performance against the Buckeyes? Ohio State fans' primary concern, aside from stopping the postseason slide vs. the SEC, is the play of the secondary. As Alex wrote a week ago when talking about the emergence of Travis Howard: 
[A]n injury and talent depleted secondary has been the weakness of the 2010 Silver Bullets. Wisconsin aside, the formula to move the ball on the OSU defense this year has been by attacking them through the air...
It's true: the secondary hasn't been anything special this year. Though Howard is developing nicely, nobody in the starting four of Jermale Hines, Chimdi Chekwa, Devon Torrence and Orhian Johnson has approached the playmaking, game-changing ability of predecessors like Kurt Coleman and Malcolm Jenkins. It's not necessarily fair to compare this group to such recent Buckeye legends, but the expectations are there. The fact remains that what little success opposing offenses have had against Ohio State has mostly come through the air (I say "mostly" because, as we all now, Wisconsin mauled the Ohio State front seven in Madison). For two quarters, Penn State was able to pick on Devon Torrence with consistent success in building a 14-3 lead, mostly on the arm of a walk-on sophomore QB. Against Wisconsin, Chimdi Chekwa was victimized on a critical third down pass to prolong Wisconsin's game-clinching drive that put the Badgers up 28-18 with under five minutes remaining. Michigan, Iowa and even Minnesota experienced at least some success moving the ball through the air for anywhere from a quarter to a half.
And yet, the kids are alright: Ohio State is fourth in the country in pass defense, as well as pass efficiency defense, tied for tenth in interceptions. They're also letting opposing QBs complete just 54 percent of their passes.  As a unit, they're marginally better in pass yards per game allowed and pass efficiency defense than the 2009 unit. Where they haven't held up is in interceptions, where they have only 18 compared to last year's 24. But that's more or less nitpicking: this is a unit 110 out of 120 FBS teams would kill to have.
So clearly, it's not all doom and gloom, and for all their mistakes, they do a lot of things right. Still, they'll have to do just about everything right if they want to limit an Arkansas offense that finished 3rd in the nation in passing. Arkansas has put up some very impressive statistics through the air: they have five receivers with 500 or more yards receiving (though one, Greg Childs, is out for the season and won't play) and 34 touchdowns on the season. Ryan Mallett is third in the nation in pass efficiency, behind only Cam Newton and Kellen Moore. From the look of things, this aerial attack is every bit as potent and explosive as Oregon's ground attack was coming into the Rose Bowl last season.
The last time Ohio State faced an aerial attack this powerful was in 2008, when Colt McCoy and the Longhorns' 7th-ranked passing offense squared off against the Ohio State defense in the Fiesta Bowl. The Longhorns boasted two 1,000 yard receivers in Quan Cosby and Jordan Shipley, as well as two other capable targets who had notched 400+ on the season. It certainly seemed like a mismatch in favor of the 'Horns against an Ohio State secondary that  ranked just 25th in the country in passing defense, and 13th in pass efficiency defense. The unit had already been toasted by USC and Mark Sanchez for four touchdowns, and Buckeye fans, for the first time in a long time, were unenthused about the prospects of the Buckeye D holding up to the very same Texas offense that outgunned record-setting Oklahoma just a couple months earlier.
However, McCoy was shaky for much of the night in Glendale, finishing with 414 yards that came on a whopping 58 attempts. The Buckeyes made him work for every yard: the Longhorn QB was held to his lowest yards/attempt on the season, earning him his lowest efficiency rating on the season as well. The result was a 21-17 Buckeye lead late in a game where really no one had given them a chance against a Texas team out to prove it belonged in the national title game. The Buckeyes achieved this late lead by disrupting Texas' "horizontal offense" with form tackling short of the first down marker. It was little more than the classic "bend-but-don't-break" approach (which helps explains McCoy's final yardage total), and had Anderson Russell made that fateful tackle on Texas' game-winning touchdown, we'd have been hailing Heacock's genius. But he didn't, and Texas won, so we forgot about a relatively solid performance by a seemingly-overmatched Buckeye secondary that had underperformed for much of the year. 
It'll be hard to replicate that performance in New Orleans, but not impossible. The biggest difference between that Texas team and this Arkansas team is that Arkansas has a definitive #1 tailback in Knile Davis, who has been coming on strong in these last few games. Shredding Mississippi and UTEP is nothing to write home about, but South Carolina and Mississippi State are legit top-20 rush defenses, while LSU is a relatively legit top-40. So while the focus of the defense should be limiting Mallett and the passing attack, the key to the game might actually be the play of Ohio State's front seven and their ability to make the Hogs one dimensional by taking away Knile Davis. In 2008, they were able to completely remove the Texas rushing game from the equation, forcing Texas to pass and making the 'Horns one-dimensional. If the defensive line and linebackers can wrap up Davis for short gains and consistently get to Mallett, the (unfairly?) maligned Buckeye secondary will be able to breathe much easier.