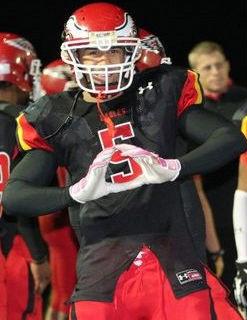 If you hadn't caught wind of the news over the weekend, Waldorf North Point (MD) LB Conner Crowell committed to Ohio State before senior night at his high school on Friday. Crowell became the 18th member of the OSU recruiting class of 2011, and chose the Bucks over his other finalist, Penn State, as well as offers from various schools such as UNC, Stanford, West Virginia, Rutgers, Kansas State, Virginia, Maryland, UConn, and others. This commitment is great news for the Buckeyes, not only because they get a tremendous talent in Crowell, but also because they filled a gaping need at the linebacker position and plucked a gem out of a region of the country they don't normally delve to far into.
As a player, Crowell is a great pick up. He stands at 6-1 and weighs about 220 pounds, making him physically prepared for the position at the next level. In his junior season in 2009 he recorded 97 tackles, 4 sacks, 3 INTs, and 2 defensive TDs. He has a great ability to change direction quickly in pursuit of the ball carrier and closes tackles with great form and explosiveness. In OSU's defensive system he will likely start out playing the SAM or MIKE positions, but I can see him fitting in at any of the three slots down the road. He will have to get better in pass coverage before coming to Columbus, but his ability as it stands today may allow him to see times, at least on special teams, right off the bat.
The linebacker position was one that the staff needed to fill, especially after losing in state products Jordan Hicks (Texas) and Trey DePriest (Alabama) the last two recruiting seasons. Unable to land a player at the position thus far this year, getting Crowell allows the staff to focus their needs elsewhere instead of sweating out the decisions of Ejuan Price, Curtis Grant and Anthony Wallace, the other two backers currently remaining on their board. With Andrew Sweat, Etienne Sabino, Storm Klein, Dorian Bell, Jordan Whiting, David Durham, and Double Nickel all returning at linebacker next year, Crowell can provide even more depth, but still take the time to learn the system and develop both mentally and physically in his adaptation to the college level and lifestyle. This commitment was tremendously important in securing the success both in the present and future of Luke Fickell's system.
Finally, the fact that the Buckeyes flat out stole a player from Penn State, in an area that the Nittany Lions and assistant coach Larry Johnson own, is just fantastic. Around here we love to stick it to the PSU fan base every chance we get, so nabbing Crowell from Joe Pa certainly is a reason to get giddy. This pick up also helps expand the Buckeye recruiting range outside of the standard midwest-Florida boundaries, as now Crowell and Dominic Clarke will be Buckeyes from the Mid-Atlantic region, adding to an ever-growing "Buckeye Nation". This can help with another 2011 class member in Darius Jennings of the Baltimore area, as well as future stars in the region. 
With Crowell's commitment, there will be room for about 4-5 more players in this class. The Buckeyes will have their eye on filling the remaining slots with cornerbacks Doran Grant and Jabari Gorman, defensive ends Jadevon Clowney and Cornelius Carradine (JuCo), aforementioned linebackers Price, Grant, and Wallace, as well as the Glenville duo of WR Shane Wynn and OT Aundrey Walker. Athletes Damian Swann, Darius Patton, Akise Teague, and Darius Jennings, QB Cardale Jones, DE Andre Sturdivant, Prep School) Erik Howard, and former Buckeyes Duron Carter and Keith Wells are also in the mix to end up in this class.
I think when it's all said and done, the Bucks add Doran Grant, Gorman, Carradine, Walker, and one of the linebackers, with Carter and Wells possibly returning based on their academic situations, although right now it seems Wells is more of a possibility than Duron. It will be interesting to see how things finish out the rest of the way, so stay tuned to 11W for the latest news on capping off the class of 2011. 
Here is a feature on Conner Crowell:
Here are a few highlight reels of Crowell: