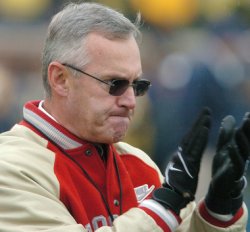 After a much needed bye, the Buckeyes get back at it this week hoping to go on a run reminiscent of November's past with eyes on sharing the Big Ten title and earning an 8th BCS bowl game nod in nine years.
Turning in a unbeaten November is a must if Ohio State hopes to achive both of those remaining goals and looking at the numbers, they've got the right guy at the helm to accomplish the task. While January victories have proved a tougher get for Jim Tressel (4-3 in BCS games, 4-4 in January bowls overall), The Vest has owned November at Ohio State posting a stellar 26-4 record heading into this week's matchup with the Nittany Lions. Since 2005, he's 14-1 with the lone loss coming to Illinois, 28-21, back in 2007. In fact, the Illini are responsible for half of Tress's four November shortfalls (2001) with Purdue (24-17 in '04) and Michigan (35-21 in '03) also pulling off the tough task.
Last year's November run saw the Buckeyes shut down PSU in State College 24-7 before the thrilling OT victory over Iowa setting up the ho-hum 21-10 win in Ann Arbor. The defense keyed the victory over Joe Pa, forcing PSU into seven 3-and-outs while holding Daryll Clark to 125 yards passing. Penn State's favorite son, Terrelle Pryor, also had a hand in the win throwing two TD passes in the 2nd half, turning a 10-7 halftime lead into the 24-7 final score.
Facing a Paterno squad fresh off an emotional comeback win (400!) over Northwestern, the Buckeyes start the week as a lofty 17.5 point favorite and will also play host to the ESPN College Gameday crew. While a win seems like an afterthought in the eyes of the oddsmakers, the Buckeyes need to come out free of rust because Penn State will show up ready to play. Somewhat concerning is the fact Tressel is just 2-4 in games following bye weeks during his tenure at Ohio State but the extra time means Dorian Bell, Donnie Evege, Jake Stoneburner and Ross Homan, among others, were afforded extra time to get healthy. Homan is the most needed out of all those guys, obviously, and he's also the furthest away from 100% according to most reports.
Looking at the BCS standings, Wisconsin sits at 7th with Ohio State moving to 9th. WOPR and his compatriots continue to hate on the Buckeyes and while we should get some computer love (not that kind) if we can run the table, capturing the highest BCS ranking in-conference (and a BCS berth) is no gimme. The silver lining is that a BCS game (Sugar) is still very much within reach even if Wisky and OSU win out and Auburn/Oregon play in the MNC. What's your take? How do the Buckeyes fare this November and will they reach a BCS bowl? History is on their side, now they just gotta go win the games.
Switching to hoops for a moment, I just want to remind everyone to get on Aaron Craft bandwagon early so you can say you knew it was coming to all your friends come March. We all know Sully is going to be a guy who puts up double-doubles on a regular basis but Craft is the freshman who can take this team to the next level.
Evan Turner's departure left a hole at the point and while Matta is saying all the right things and insider reports plus the exhibition opener indicate The WB has improved his ball handling, there's still lost value in having Buford run the point. He's too good a rebounder to lose his length on the glass and too slowfooted to check guys like Kalin Lucas or Talor Battle in the open court (not his fault - who isn't) so why waste him there? Diebler also probably doesn't have the juice to run the point plus doing so likely kills his ability to run off as many backcuts and baseline screens for fear of nobody rotating back on D and while Lighty could probably handle the defensive duties from the PG slot, he's too valuable in the paint to spend heavy minutes out top.
Because of some of these factors, Matta has been talking about a PG by committee approach but I have to believe his underlying hope is Craft seizes the job sometime in mid-late December as he continues adjusting to the college game. Matta is smartly touting the group-PG plan to avoid putting pressure on Craft early, but if the kid can handle the job, the bench just got longer and Buford, Diebler and Lighty get to play their regular positions. If Craft can log even 20 effective minutes per game at the point, OSU can play matchups going big when necessary (Diebs, WB, Lighty, Dallas, Sully) while also having defensive flexibility against uptempo teams because Craft will have a just as good or better chance of slowing Lucas/Battle than anyone other than potentially Lighty. If Craft can handle the ball and play D (which is a lesser concern, imo), Ohio State can employ increased man-to-man this year, which should help limit the amount of offensive boards for opponents.
I know, there's more than few "if's" there but I expect Craft to deliver the goods. He certainly got off to a hot start yesterday with 12 points, eight dimes, four boards, two steals and zero turnovers in 26 minutes. He doesn't really need to score much considering the surrounding cast but even as a true pass-first PG, he's still a gym-rat son of a coach that Diebler has taken under his wing from a shooting perspective. So, while Sully projects to be the most dominating Buckeye this year, it's Craft that may be the missing link that helps Matta deliver another Big Ten championship and a deep run in March.