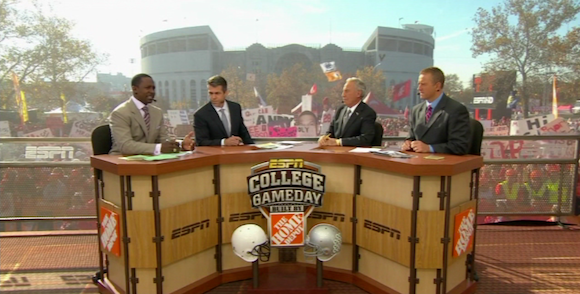 Hey look! It's GameDay! And it's in Columbus! In front of the Shoe! I know that place.
(P.S.: if they let Desmond sing Victors or whatever the hell it's called on top of the stadium again, there will be blood)
Come for Herbstreit having a give and take with Matt McGloin; stay for the group of games before PSU gets their comeuppance.
| TIME | MATCHUP | NETWORK |
| --- | --- | --- |
| 12:00PM ET | Indiana at #7 Wisconsin | ESPN2 (HD) |
| 12:00PM ET | #13 Iowa at Northwestern | ESPN (HD) |
| 12:00PM ET | Miami at Georgia Tech | ESPN GamePlan/ACC Network (where avail.) |
| 12:00PM ET | Michigan at Purdue | Big Ten Network (HD) (Regional) |
| 12:00PM ET | Minnesota at Illinois | Big Ten Network (HD) (Regional) |
| 12:00PM ET | Ole Miss at Tennessee | CBS (HD) |
| 12:00PM ET | South Florida at Louisville | ESPNU (HD) |
| 12:21PM ET | Vanderbilt at Kentucky | SEC Network/ESPN GamePlan |
| 12:30PM ET | Kansas State at #17 Missouri | FSN (HD) |
| 2:30PM ET | #15 Utah at Notre Dame | NBC (HD) |