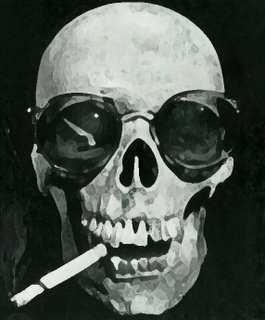 BASKETBAW! That's right, I'm leading off with this: the hoopyball Buckeyes open their season tonight against North Carolina AT&T A +T. It isn't the greatest OOC opponent, but as the Chicago Tribune points out, the Buckeyes are soldiering on as the 5th-ranked team in preseason polls despite the loss of Naismith Award winner Evan Turner, and a show of support from Buckeye faithful, even against a patsy, would likely be a boon for their confidence, especially for the talented freshmen. There are some high-profile recruiting targets visiting too, so here's hoping the home crowd is energized and puts on a good show. After dispatching the Aggies, the Buckeyes will hit the road, taking their talents to Gainesville, Florida for a contest against the 11th-ranked Florida Gators. That game, as well as a return trip to the Sunshine State to play the 'Noles later this month, will define the OOC season for these young Buckeyes, and it's all happening over the course of the next three weeks.
 I wanna go back, I gotta go back (to the BCS). The football Buckeyes don't control their own destiny for the Rose Bowl, as we all know. But while we know we have to hope Wisconsin loses to Michigan and the Buckeyes top Iowa next Saturday, what do we have to hope for if we want to simply make the BCS? Adam Rittenberg breaks it down: 
For a BCS at-large spot, the Buckeyes should root for ...

A Wisconsin loss and an Iowa win. Ohio State needs to leapfrog Wisconsin in both the league standings and the BCS standings to have the best chance for an at-large berth. The Buckeyes also want Iowa to keep winning so a potential victory Nov. 20 looks as good as possible.
Miami to beat Georgia Tech. Ohio State's BCS computer profile really could use a boost from Miami, which looked like a pretty good win on Sept. 11 before rapidly losing its luster. The Buckeyes should be big Hurricanes fans the rest of the way.
Illinois to beat Minnesota. The Buckeyes beat Illinois on the road and need that win to look as good as possible for their BCS profile.
Arizona State to beat Stanford. This wouldn't help Ohio State as much as it would Wisconsin, but anything that hurts Stanford's BCS at-large profile helps the Buckeyes.
For reasons stated above, losses by Oregon, Auburn, TCU, Nebraska and Oklahoma State, and poor performances by both Boise State and LSU.
Okay, so that's a lot to root for. It seems many have resigned themselves to playing Bama/Auburn/LSU in the Capital One bowl already, but looking at this, none of these (save the ASU upset) are entirely out of the question. Auburn still has to play at Alabama (and Cameron Newton might not even be eligible anymore at that point), while Oregon still has a difficult home date against Arizona in the coming weeks. So, it's not out of the question, and I don't think there's any reason to give up hope.
My Rex Ryan crystal ball says that Wisconsin represents the Big Ten in the Rose Bowl while the Iowa/Ohio State winner heads to the Fiesta or Sugar Bowl. There are a lot of teams in the mix right now that don't quite hold up to Ohio State in terms of traveling fanbases (really only Nebraska holds a candle to the Buckeyes in this regard), and that actually plays a pretty big role in deciding who goes.
 Ain't goin' nowhere no how. Terrelle Pryor insists he will return for his senior season. Not a surprising move, and a smart one in my opinion. Not to hate on TP, but after Vince Young's checkered NFL career, I'm not sure any franchise is willing to take a gamble on so similar a player. Some say returning for a senior season that features multiple tough road games (Miami, Nebraska, Michigan) opposite a depleted defense will inevitablly hurt his draft stock, but in my opinion, the offense will likely stay pretty solid. Boren, Browning and Sanzo graduate, but every other starter returns. The lone real wild card is DeVier Posey, but after a year like the one he's had, I think he's coming back too. Your thoughts? Homerism aside, is it a good move or dumb move? And do you trust him, given how many players say they're coming back only to depart a couple months later?
 Speaking of next year's defense... Depth on the line should not be a problem (though experience likely will be). Allow Ken Gordon to elaborate: 
Here's a look at who is returning and who is incoming at that position for next season:

DT/DE John Simon
DE Nathan Williams

Key returning reserves (4)

DT Adam Bellamy
DL Garrett Goebel
DL Johnathan Hankins
DL Solomon Thomas

Others returning (4)

DL Darryl Baldwin
DL David Durham 
DE Melvin Fellows
DL J.T. Moore

Incoming freshmen (5)

DT Michael Bennett
DE Chase Farris
DT Joel Hale
DE Kenny Hayes
DE Steve Miller

And I didn't even count former Buckeye Keith Wells, who may return to the team.
Gordon uses this to explain why some players don't see the field much at Ohio State, which I assume he's doing for the more casual fans out there. But I took something else from the story: despite all the attrition Ohio State will see on the defensive side of the ball after this season, there will still be 15 guys who can step onto the field and contribute at arguably the most vital position group in a conference like the Big Ten. Now, as Gordon points out, only 8 or 9 of these guys will see the field much, but if injuries become a problem, it'll be a different situation from, say, the havoc that Angry Ohio State Defensive Back Hating God has wreaked this season. I'm really, really looking forward to seeing this collection of talent over the next couple years.