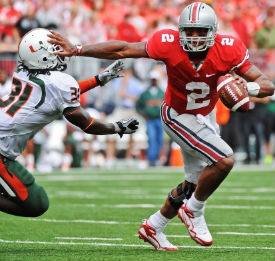 Pryor For Heisman While it doesn't seem likely, this ESPN Insider article is saying there's still hope for Pryor (and Blaine Gabbert) to take home the bronze statue. Right now, in my opinion, the Bucks would have to win out and Pryor would have to continue or better his current pace on yards and TD to INT ratio in order just to get an invite to New York. To bring home the prize, he'll have to get over his quad injury and put up more gaudy ground numbers than he has the last few weeks. With his evolution as a passer and the Bucks' growing more towards the pro-style offense (with Boom toting the rock), don't expect that to happen. 
The Heisman front-runner, Cam Newton, has put up those monsterous running numbers though and many Buckeye fans have wanted to know why Pryor is not as good as Newton. Duane Long makes the case that Newton is the better runner right now, while Pryor is the better quarterback, and has the stats to back it up. He does say he believes Newton will be better better suited for the NFL at the position at career's end, but for now, he likes TP and so do I. 
 Give Us More Day Games For a while on this site, I have been trying to convey that the Buckeyes, and most college football players, prefer day games over night games. Besides the added cost in both money (for extra security) and time (clean-up maintenance and drunks), this was one of the reasons, if not the main reason, the Miami game was played at 3:40 instead of 8. Going into a night showdown in Minneapolis this week, Terrelle Pryor backs me up and tells Tim May of The Dispatch that the team would prefer to play in the afternoon. The logic makes sense, and the reasoning:
"I hate night games," Pryor said. "You sit around all day, and you just want to go play."
 Minnesota Is Coachless Speaking of Minnesota, they do indeed have an interim coach in Jeff Horton, but he's in a lame duck situation. The Gophers search is currently being conducted with a consulting firm down in Georgia, but a decision won't be made until after the season when they can see who is available. The Dispatch has an article on the  position at the school and the difficulties the next coach will face, The Daily Gopher has a short list of potential candidates, and Joe Schmitt serves up a surprising name for the job in Miami's Randy Shannon. I think the school absolutely needs to make a "Tubby Smith splash" for the football team and think Mike Leach would be a good fit in that he is a name known nationally and his offense would be unique enough to be competitive year after year in the conference. While Glenn Mason did similar things and got canned for it, a solid 8-4 every year wouldn't be so bad for this program as it stands today. 
 Kurt Russel Digs The Buckeyes As Johnny mentioned the other day, it was speculated that the filming done on the field last week was for a pilot for USA coming soon. That is not the case and the promised Dispatch article is here. The movie, called "Touchback" will star Kurt Russell as a football coach and wad directed by OSU graduate Don Handfield. Handfield said he's been working 15 years to make his dream a reality and he's definitely seeing his hard work pay off. Once again, pictures courtesy of Jim Davidson can be found here. Be sure to check out more on the storyline at it's IMDB page and stay tuned for a release date.
 Death To The BCS Besides supposedly being a great book, the statement is basically what SI.com's Andy Staples says should happen after the Oklahoma-Mizzou game. Trailing by 9 points from their own 7-yard line, with a little over 2 minutes remaining, Stoops chose to punt instead of going for the comeback, a move made in order to lose by single digits instead of a more gaudy looking 16 points. On Monday Stoops confirmed this by saying:
"It's a long year. Who knows how poll people look at scores? Had we had a reasonable amount, some kind of field position, had we shown any signs the previous three plays of making a play, we would have (gone for it). But I didn't see that."
I'm all for saving embarrassment and not letting the other team have the ball just yards away from another score, but where did the attitude of never giving up go? And to actually admit that the polls would be effected by his team's margin of defeat? Is this why Oklahoma is still ranked ahead of Ohio State? If so, that is completely ridiculous and in my opinion, voters should penalize Stoops for such a move rather than "reward" the team in the polls. Yes Andy Staples, this is indeed the BCS system's fault, but unlike you, I can blame Stoops for such a move.
 Recruiting, Recruiting, Recruiting Linebacker Connor Crowell is set to announce his decision and is down to Ohio State and Penn State. I think the Nittany Lions win out, but landing the Maryland star would be a huge get, considering the Bucks don't have a linebacker in the class. You know Crowell will be a good one because he's from Maryland and crab cakes and football, are what Maryland does. If they miss out on Crowell, a name that has surfaced before, but didn't make much noise, is Curtis Grant from Richmond, Virginia. Grant claims Ohio State will definitely be one of his official visits, along with Florida and UNC. For someone counted out by Buckeye recruitniks, this is a great sign, as he is one of the nation's best at the position. Finally, many have clamored for Cardale Jones to be a part of the 2011 class, but it seems the staff isn't thinking the same way. An offer is out ($) to 2012 California junior Shane Dillon and this Matt Barkley look-alike is feeling the Bucks early. He has OSU on the top of his short list, followed by Oregon, Stanford, Miami, and Cincinnati. Watch him do some drills with Jim Tressel's friend and QB-guru George Whitfield here. If I had room I would take both, but it appears that will likely not happen based on the staff's past history and the number of quarterbacks already on scholarship.
 Old Friends Become One-Week Enemies Rich Cimini of ESPN New York has a nice article on longtime friends AJ Hawk and Nick Mangold. The former Buckeyes will square off this weekend and are likely to connect on a few plays throughout the game. Hawk, thought to be an odd man out before the season, has had a nice year in Green Bay, while Mangold has emerged as the league's best center. While Bobby Carpenter, Vernon Gholston, and Teddy Ballgame appear to be busts, it's nice to see these two, along with Laurinaitis, Beanie, and Hartline, continuing to keep OSU's reputation in the league going strong as stars like Winfield and Galloway fade out.
 Some Potluck Magic Say hello to Matt McGloin, who will be the starter this Saturday night for Penn State, giving Michigan a better chance to become bowl eligible this weekend. Speaking of the Wolverines is the 2010 season going to end up like 2009 all over again? Adam Rittenberg provides a Big Ten personnel round-up and I continue to get stomach aches every time I see the Buckeye injury list. Finally, Pat Forde states the case for the unbeatens this weekend and the forecast is not looking good for most, including Sparty.