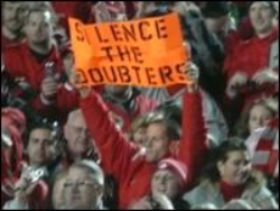 "Silence the Doubters" If you missed it in "Buckshots", that is the new motto for the 2010 Ohio State Buckeyes, created by everyday fan Eric Hanscel. Hanscel has gone from "Joe Buckeye Fan" to semi-celebrity status through that little phrase that he originally put on his neon orange posterboard sign at OSU games (both home and away) in 2008 when Terrelle Pryor, "Block O", and a majority of the impact veterans on this year's team made it's way onto the scene in Columbus. The slogan made it's way onto a t-shirt at a pre-season Ohio State picnic, where many players took notice, liked the theme, and even wanted a shirt or two for themselves. The motto currently rests on a long red banner hung outside the parking garage on the corner of Woody Hayes and Cannon drives so that the team can see it when it walks from The Blackwell through SJA for Skull Session.
Hopefully the Buckeyes can indeed silence the doubters this season and bring home a MNC to the Woody Hayes Athletic Center. One way they plan to do that is to deflect all the attention surrounding the team being placed as #1 in all polls accounted for. Terrelle Pryor apparently called a players-only meeting after it was announced the team would be ranked first in the newest polls. He addressed the team, acknowledging how important the honor was, but made sure that the players knew they needed to stay focused and wanted to avoid anyone getting a big head over the new title at the top of the college football world. The "Tressel-ization" of Terrelle Pryor continues and if you're a Buckeye fan you have to smile ear to ear at the way this kid has come in as a self-proclaimed "punk" and emerged as the real leader of a team that is willing to follow him. These intangibles are invaluable when it comes to making a run at the MNC this year and it's good to see the Buckeyes have what it takes off the field to make sure the job gets done on the field.
 One player who can help "silence the doubters" is Jonathan Hankins. The 6-3/335 freshman defensive tackle, know as "Big Hank" has certainly been an impact player in his first season in Columbus, providing the team with a long-needed true nose tackle and giving starting nose tackle Dexter Larimore a breather every now and then. Dave Biddle has a nice little write-up on #52, who may play a very big role in stuffing the Wisconsin running game this Saturday.
 Impact freshman are hard to find. When you find a recruit who can see the field in their first year in college, you have to go all-in for them. It seems that's what Ohio State has done with Jadevon Clowney, the #1 overall player in the country by virtually all recruiting services. Clowney was not really on the OSU radar in the beginning of the process and vice versa, but the Bucks' good play on the field coupled with a late recruiting pitch officially has Ohio State in Clowney's top four and in line for an official visit. Being that he's never been to Columbus, getting him on campus is the first step (Michigan game perhaps?). Anything is possible after that so continued to stay tuned for updates.
 Speaking of the success OSU has had on the field this season, Ross Fulton continues his good work on the "x's and o's" with an IU and mid-season breakdown of the Buckeyes. Sans Illinois, the Bucks have been pretty deadly on the offensive side of the ball and have virtually locked down all six of their opponents on defense. Many critics are trying to scrape up anything they can against the Buckeyes by saying that their schedule has been weak, but in my opinion I think you have seen a very well balanced attack that will continue to grow more dangerous to foes as the running game evolves. I also have a hunch that if Pryor never got hurt against Illinois you would have seen his passing numbers improve in the second half, or at least seen him rack up a bunch of yards on designed runs a la the Miami game.
 One team that hasn't been great on the field or on the recruiting trail this season is Penn State. The Nittany Lions have struggled in 2010, behind the inept offense led by freshman quarterback Rob Bolden, injuries that have plagues both sides of the ball, and a defense that lost it's best players from last year's team. Those three things are obviously making things sad in Happy Valley, but there is also the question of holding Joe Pa accountable. I think you can compare this situation to the Bobby Bowden at FSU issue in the sense that recruits want stability at the top of the program and there is a big question mark when it comes to that area for Penn State. Joe Pa can only hold on so long and PSU doesn't even have a "coach in waiting" in place as the Seminoles did with Jimbo Fisher. You saw how recruits flocked to Tallahassee after Bowden "resigned" and how the excitement behind Fisher has lead to success on the field so far this season. Is Joe Pa holding Penn State back? Is PSU just a program that has to rebuild rather than reload? Only time can tell, but right now I'm leaning towards the former.
 Finally, throwing a little basketball in the mix, practice is set to start soon and Lee Caryer has a nice preview on the 2010-2011 basketball Buckeyes. With four returning starters back, the Bucks will primarily have to figure out how to replace Evan Turner. Do they play Buford/Lighty at the point and start Jared Sullinger? Do they go with the freshman Aaron Craft and let Lauderdale and Sully battle it out to start at the five? Is there another option like starting DeShaun Thomas? It will be interesting to see what Thad does come opening night (as he doesn't have the answers right now), but one thing that is for sure is that this team is too deep to go with a 6-man rotation like last season. Buford, Lighty, Diebler, and Dallas provide leadership, while Sullinger, Craft, Thomas, Sibert, Smith (when he returns from injury), and Weatherspoon provide support and lay out the future of the program. I think the season depends on how Buford develops into the number one scorer, how quickly the freshmen can adjust to the college game and contribute, and as well as what Thomas, Sullinger, and Weatherspoon can provide inside the paint in addition to what Ft. Lauderdale already brings to the table.