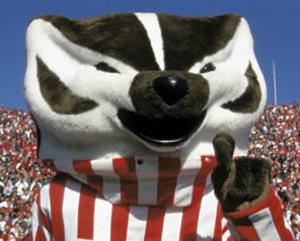 Well, I don't think anyone thought Ohio State would get to the top of the polls this quickly. But they did, and now it's time for them to show the country (countless doubters) that they are deserving of the top spot. Terrelle Pryor will certainly arrive in Madison full of confidence. The Big Ten Co-Offensive Player of the Week had one of the best games of his career last Saturday against Indiana. Pryor set career highs for completions (24) and passing yards (334), and he did it all in less than three quarters of work. It was his sixth career game of 300 or more yards of total offense, which equals an OSU record.
Pryor shared the honor with Wisconsin running back John Clay. In the Badgers 41-23 beatdown of Minnesota Saturday, Clay tied a career high with three touchdowns. He ran for 111 yards.  
Ohio State will try to end a two-game losing streak as the No. 1-ranked team in the nation Saturday night. The last time the Buckeyes were ranked first was the 2008 BCS National Championship Game (2007 season) where they lost, 38-24, to LSU. Prior to that, Ohio State was No. 1 when they fell to Illinois, 28-21, in Ohio Stadium on Nov. 10, 2007.
Ohio State is 6-1 all-time against Wisconsin as the No. 1-ranked team. The lone loss came in 1942. The Paul Brown-coached Ohio State Buckeyes finished that season 9-1 and won the school's first national championship. On the flip side, Wisconsin is 3-5 vs. the No. 1 team at Camp Randall Stadium. Ohio State is 66-11-1 all-time when ranked No. 1. 
That's the end of the history lesson, though. It will have nothing to do with what happens Saturday night. Turnovers, special teams, crucial/big plays at key moments, quarterback play, etc. will be the deciding factors. Another component is injuries. Jim Tressel talked about all of these Tuesday at his weekly press luncheon. 
Tressel on Wisconsin:
As you turn the page and get ready to go on the road again, hopefully we learned some lessons when we went on the road as to the difficulty of the task and just how good you have to be in every phase of the game. We felt like we played a good team on the road in Illinois. We're back on the road again playing another good team on the road in Wisconsin. Wisconsin's very physical on both sides. Their offense gets a lot of publicity for being physical, but they are, but their defense is a physical bunch. I think that defense, Number 99, Watt, is one of the many, we've got obviously the Cameron Heywards and the Clayborn and the kid at Purdue, and there are some real good ones, but in my mind, Watt matches up with a lot of those guys. He's knocked down like six balls already this year, six-foot-six kid, plays on the edge. He's very difficult for a tight end to handle when he has to block them.

And they're a physical defense as well as being a very physical offense. I think their offense starts with the toughness that their quarterback shows. Their quarterback stands in there and holds that ball until the last second when the receiver is ready to break and runs when he has to run, kind of plays a little bit in the shadow of their rush game, which their rush game is -- it deserves all the kudos that it gets, but their quarterback just kind of whatever the team needs him to do, he does, and he's a veteran. He's got a veteran offensive line who are very, very physical. Their tight end position is always one of the deepest and best utilized tight end corps in the Big Ten.

Their running backs, I think Number 20 has added another dimension to -- obviously John Clay is extraordinary, but you bring in that tempo change guy and all of a sudden, he hits you with a different type look and I think he's added a great look. I think in the last three games he's rushed for 300 and some odd yards and is a good player. He's their kickoff return guy as well. So they're all that everyone expects them to be.
It might surprise people to know Ohio State is just 33-10 on the road under Tressel. That isn't all that impressive. Granted, winning on the road is tough enough. Doing it in the Big Ten is a whole 'nother story. J.J. Watt will be as good as any defensive lineman the Buckeyes face all season. Watt leads the Big Ten with six pass breakups and ranks second in the conference with 8.5 tackles for loss. He will certainly make a few plays Saturday. Putting pressure on Pryor will be huge, especially since he might not be the elusive guy we've seen the past two and a half seasons. 
The Scott Tolzien talk is pure TresselSpeak. Yes, he's a veteran and is tough, but he also isn't that great. That is the reason he lives in the shadow of the running game. Wisconsin has always had a bruising back. Now they have a two-headed monster with John Clay and James White. Everyone knows about the junior, Clay, who was last year's Big Ten Offensive Player of the Year. White, though, has made quite the splash as a freshman. He is the nation's third-leading rusher among freshman, compiling 485 yards on 63 rushes (7.7 avg.). Among all players, he has the sixth-highest average per rush. The OSU defense will have its hands full. 
REPORTER: How would you describe Camp Randall at night in your experience?

COACH TRESSEL: We've been there twice, I think, since I've been here, at night. First time there, I would describe it as rainy and wet, but physical and tough and exciting and electric. And then the second time we were there, it was a little bit earlier in the season type game, I think, and it was electric and you could just feel the energy in the place, but on the field there was a lot of hitting going on, and so I guess regardless of the weather, it's a physical place.
There's no question that Camp Randall is one of the toughest places to play in country. Since 2004, Wisconsin is 40-4 at home, the best record in the Big Ten. One of those losses came to Ohio State two years ago in a bandless night game. Like Tressel said, it will be physical. There is no doubt about that. This game could be the poster child for Big Ten football. It was already going to be raucous and electric, but Ohio State's No. 1 ranking really will add even more. Taking the crowd and energy out of the game would be a huge help to Ohio State. The longer Wisconsin hangs close or has the lead, the worse off Ohio State is. I don't  care if they are No. 1 ---- if Ohio State has to drive 80 yards in the final few minutes to win the game, I would not be too confident. The Buckeyes have been no threat when trailing late in games the past few years. 
REPORTER: I want to ask Brandon Saine, it seemed after the game he talked about how his role has changed a little bit and he wasn't getting quite as many reps at practice and tailback. Was that maybe a response to not having Jake Stoneburner and you needed to have another guy out there that could catch the ball or is this where he'll be going forward primarily as a slot receiver?

COACH TRESSEL: You know, as an evolution occurs on any team, you always sit there talking about, how do we get our best guys on the field, and that's how position changes happen in spring practice, for instance, guys switch from one side of the ball to the other or whatever. So that's an ongoing discussion. We want Brandon on the field as much as we can get him. I don't remember any discussion in relation to Jake Stoneburner because they do different things and so forth, but we want to find ways to get B. Saine the ball and on the field and we added another responsibility to him as well as a contain guy on our kickoff coverage and he made a heck of a hit and he did that when he was young and then he got the knee thing as a freshman and then he got the hamstring as a sophomore, so he kind of drifted away from that, but we added that, we want to get our best guys on every team, it doesn't matter who it is, to see if we can become the best team we can be.
People have been highly critical of Saine the past few weeks for his shoddy running game. However, it has been clear since his freshman season that he has great hands. Why not use him more in the passing game? I think this is a great move by the coaching staff. He is a weapon and if they can get him more involved, I say do it. As the season progresses, a receiving corps of Posey, Sanzenbacher and Saine could wreak havoc. It could also create more carries for Jordan Hall (and possible Jaamal Berry). Lord knows, all of Buckeye Nation has been clamoring for him long enough. Also, it was nice to see all three of them on the kick coverage unit against Indiana. They have really clamped down on special teams the past few weeks. 
REPORTER: Is Stoneburner back?

COACH TRESSEL: He was back doing individual drills on Sunday night. I'm told that he's probable, but that was said cautiously with let's see how he does banging into people a little bit today, so I think we'll have a little better idea after today.
I think Stoneburner's presence would go a long way for Ohio State Saturday. He is such an asset in the passing game for several reasons: he can block, he can catch and because he can catch, he must be covered. If he can't go, I don't think it hampers Ohio State considerably, but he adds a lot to the offense if he is healthy. I have a feeling he will play. 
REPORTER: Do you think you need the two-way threat of Terrelle this week? Is he ready to provide that? And also looking back on the game where he led the late drive up there, the last one?

COACH TRESSEL: Sure. We feel going into every game that we need the two-way threat because sometimes the best decision that a quarterback makes is to tuck it and take off and it just so happens when he tucks it and takes off, it could be 60. So that's huge to us, having that ability. Do we have to design a whole bunch more runs?

REPORTER: I just mean is he ready if it's there?

COACH TRESSEL: Yeah, he's ready.
In all likelihood, Ohio State will need Pryor's legs Saturday to win. He doesn't need necessarily need the yardage numbers, but there will be times he needs to scramble for first downs on third down and things of that nature. Unfortunately for Ohio State, I don't think he'll be very elusive. Tressel might say he is ready, but he also said that last week. Anyone that was at or watched the Indiana game knows he was nowhere near 100 percent. On the bright side, it was evident that the injury did not affect the passing game. Ohio State will not be able to run the ball down Wisconsin's throat, nor will they be able to pass all over them without having an affective run game. Read between the lines there and you can tell I'm not exactly optimistic about OSU's chances.   
The "and so forth" count: A measly two.