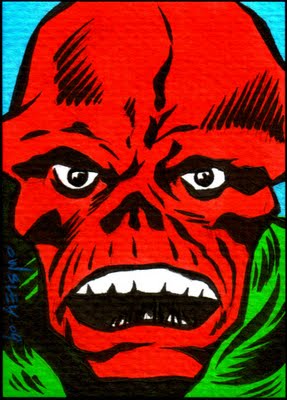 Beat your parents home so you can sneak into the mail and photoshop that puppy because we're talking report cards. You've seen our take on the complete clinic administered to the fine engineers of Purdue University, now further dwell in the awesome by checking out another report card. The Dispatch's Ray Stein had high marks generally across the board, with one rather notable exception (aside from the Boilermakers, natch):
Fun quotient (2 leaves)

Hey, Block O: Show up! If there were doubts about Wisconsin's superiority over OSU in the "student fans" department, the empty rows at the top of both end-zone sections should answer them. Other seats went empty, as well, and the lack of drama didn't glue the patrons. Elvis impersonator?
The students by and large mostly do good work on Saturdays (with the notable exception of the loathsome 'mic guy'). I get there are plenty of circumstances and social affairs that would keep a potential hangover (no pun intended) game against the likes of Purdue as low priority, but you only get 20-25 of these in your Buckeye career; cherish each and every home game no matter who the opponent because it's going to cost you the donation equivalent of a black market kidney to get the same package after you get that piece of paper. 
Another quick aside related to sub-standard stadium ambiance: for the love of God stadium powers that be, please stop piping in noise. I heard from multiple sources that at times TBDBITL were blared out by obnoxious blared in non-sense. Leave that to the likes of Indiana and let the living, breathing organism that is the Buckeye faithful do its thing.
 "@#!* it dude, let's go bowling." ESPN's Big Ten observer/analyst Adam Rittenberg has the goods on where the Big Ten's bowl situation looks as of now. The truly interesting shakeup will come if, say, Ohio State and Wisconsin win out but Michigan State falls to Iowa next week before winning the remainder of their games. Essentially we'd enter into the same log jam that faced the Big XII South in 2008 when Texas Tech, Oklahoma, and Texas all entered with identical records and league marks. Ultimately Oklahoma played for the league's conference championship game (a burden of wealth Ohio State fans won't have to potentially worry about until next season) with Texas being the benefactor of the league's other possible BCS at-large berth.
With a gluttony of talented one'ish lost sides in the Big Ten this season, the league will unquestionably get a second bid, but the interesting debate will become who deserves it. Rittenberg waxes prophetic that Wisconsin simply may have lost the wrong week as it's probable that Ohio State's highest BCS ranking (the tie-breaker in such a scenario) would send the Buckeyes to Pasadena and leave either the Fiesta/Sugar/Orange the shot at their choice of Michigan State and Wisconsin. Sparty, given the lack of BCS appearances in their history and a fan base hungry to embrace such a situation, would probably get the nod, but it's not as though Wisconsin fans aren't known to travel in bunches as well. Regardless of who goes where, it seems likely one school will be particularly deflated to be heading to Orlando to face an SEC foe (which on a bit of a tangent, I can't say I'd be totally let down to have the opportunity to get that monkey off our backs).
Also potentially compelling to Ohio State fans and followers is the scenario by which Sparty does the unthinkable and wins the remainder of their games. Michigan State's destination would depend upon where the chips fell from a BCS standpoint, but either the vacant Big Ten representation in Pasadena or the trip either Phoenix, New Orleans, or Miami would then be contingent upon choice. Arguably "more deserving" sides who've won head-to-head in like situations have been burned in the past and Ohio State's reputation for traveling nationally could make the politics to unfold interesting to say the least.
 *Insert M*A*S*H reference here* And strangely not for the M*A*S*H unit the Ohio State defense has been running for roughly the last week or so. Due to Iowa and Wisconsin's desire to reboot their soon to dormant rivalry, it's looking probably that aside from potentially meeting in a Big Ten Championship scenario, Ohio State and Iowa may not see each other for for the next 4 years. Depending upon which way the scheduling authorities in the league office decide to lean, in order to face Wisconsin in 2013 and 2014, Iowa would have to either dodge Ohio State in both seasons, or skip Illinois, whom the Hawkeyes haven't seen since 2008. Given the marketability of an Iowa/OSU TV slot to the likes of ABC/ESPN, I find it more and more probable that the Illini may be on the outside of the conference political window looking in, but the possibility still lingers. I personally would still love for the league to move to a 9-game conference scheduling model in order to facilitate a better slate of games that don't include the likes of Eastern Michigan. But given the costs associated (the potential to have to give up a home game every other year for some very highly grossing programs), the idea may be little more than a fantasy for the time being.
 Cash Rules Everything Around Me In case you didn't hear, Kent Read Kent Write Kent State (zing!) totally changed their facebook status from 'In a Relationship With' Purdue to 'single' only to change it to 'In a Relationship With' Alabama a short time later. In order to facilitate such a last second change of plans for the 2011 season, Kent State paid Purdue $425,000 to make the arrangement happen. Clearly the Golden Flashes were terrified of the budding football super power in West Lafayette and instead wanted the chance to pick on the easy target, cupcake Crimson Tide instead. While the fine folks of Indiana seem mystified and can't fathom why Kent State would renege on the deal (and find it unthinkable that Alabama would pay Kent State a million dollars), they're right: the Tide are paying KSU $1.2 million to make the switcheroo. Coming out of the deal with more than double the money they were set to? I'd say the Golden Flashes are in a pretty position to make a golden flash flood come to fruition if they so desire.
 The South. Yup. cowboyintn1979 wants you to know that he quits; he can't take the demons anymore. Even if you're unfamiliar with the lunatic fringe Alabama Crimson Tide videos our shirtless amigo proliferated back in the day, he's still a picture of perfect SEC'dom. Good luck wth retirement, sir. The AARP card and the retirement gift cases of FOUR LOKO (seen stage left) are in the mail: