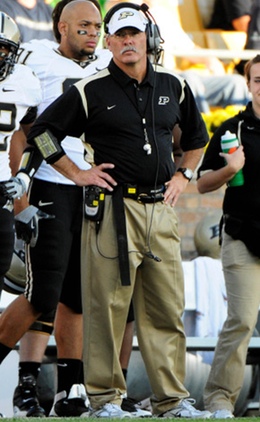 After Purdue upset Ohio State last season in West Lafayette, first-year coach Danny Hope famously (infamously?) said to "get used to it".  If the 49-0 drubbing the Buckeyes hung on the Boilermakers today is what he was referring to, consider us happily acclimated.
The party started with a heady play on the game's opening kickoff.  Jordan Hall patiently waited on a Carson Wiggs kick to roll out of bounds and Ohio State started action on their own 40.  Boom Herron took a handoff on the first play from scrimmage 17 yards and after a facemask was tacked on, the Buckeyes moved to Purdue's 28.  Four straight runs out of Boom and OSU was up 7-0, just 1:55 into the contest.
Purdue was held to a punt and then forced the Buckeyes into a three-and-out, before Jermale Hines recovered a ricochet fumble on the ensuing punt. At Purdue's 39, the Buckeyes were quickly back in business and capitalized eight plays later when Boom took it in from the two.
Purdue punting and Ohio State scoring touchdowns was repeated over and over in the first half as the Buckeyes raced out to a 42-0 halftime lead, totaling 415 yards of offense (to Purdue's 47), ringing up the largest first half total of the Jim Tressel era in Columbus.  28 of the points came in the explosive second quarter, with Jordan Hall, DeVier Posey, Dane Sanzenbacher and Corey Brown all reaching the end zone.
The second half was markedly less exciting as you'd expect, nursing a 42 point lead.  In fact, the Ohio State offense totaled -11 yards in the 3rd quarter, but the team did hit pay dirt once more when backup quarterback Joe Bauserman hit backup fullback Spencer Smith for a 23-yard touchdown midway through the fourth quarter.
Despite the blowout, there was a bit of drama towards the end of the game when Purdue lined up for a 56-yard field goal with 24 seconds remaining, hoping to spoil the Buckeye shutout, but alas, the kick fell short and OSU had its first blanking since shutting out New Mexico State 45-0 last Halloween.
In the end, it was a solid all-around performance as the Buckeyes dominated a decent Purdue team that had entered the game atop the Big Ten standings with a 2-0 mark. Let's not get ahead of ourselves: Purdue is not a great football team (or likely even a good football team as the Toledo defeat attests to), but I don't think too many of us anticipated the game getting this far out of hand.
The Buckeye defense recorded a season-high nine TFLs and held the Purdue offense to just 118 yards on the day. Aaron Gant filled in admirably at safety and Orhian Johnson and Storm Klein both recorded their first interceptions of the season (first of his career for Johnson).  Andrew Sweat looked great in the WIL spot, tying his career-high with eight tackles, leading the team with 2.5 TFLs and forcing a fumble.  On somewhat of a down note, Corey Brown (Pittsburgh variety) was injured late in the game and Tressel indicated he could be out for a while, further depleting a banged-up secondary.
On the other side of the ball, Pryor came out hot, finishing the first half 16/21 for 270 yards and three touchdowns.  He did have two interceptions and honestly, both of them were passes he never should have thrown, but he also showed an ability to escape pressure and find the open receiver, which he did on a couple of plays in the first half, most notably when he avoided Purdue's Ryan Kerrigan to find a wide open Zach Boren for an 18-yard gain.  Speaking of Kerrigan, thank God this is the last we'll have to see of him.  The terrorizing end finished with a sack (his sixth career sack against OSU!!) and 2.5 TFLs. He did most of his damage early, abusing a gimpy J.B. Shugarts before the tackle was taken out in the second because of his lingering foot injury.
As well as Kerrigan played, the Buckeyes actually had a pretty slick plan to attack him, running right at him and targeting his side with screens. For what it's worth, Andrew Norwell actually held his own against Kerrigan in the second half, so the man can be blocked, but at the same time, I won't be sad to never see him again.
Bullets
It's hard to overstate just how hard Boom has been running the ball lately.  His strong start helped trigger the blowout.
Speaking of running well, Jaamal Berry showed once again why he should be receiving more carries.  True, most of his production came during garbage time, but he has vision on the field that the other running backs don't seem to have.
Corey (Philly) Brown looks to be entrenched as the team's third wideout. Bad news for Taurian Washington, but if his acrobatic touchdown grab is any indication, the future looks bright indeed.
Six different Buckeyes scored touchdowns against Purdue. This is a Good Thing™.
Boom now has a touchdown in seven-straight games.
DeVier Posey has caught a pass in 22 consecutive games, the longest active streak in the Big Ten.
The Bucks moved to 20-2 under Tressel after a loss.  His teams have only loss consecutive games once during his time in Columbus (2004).
The lopsided margin was the largest in the 53 game series with Purdue.
The first half output was the most scored by Ohio State since putting up 45 on Northwestern in 2007.